Tsunami Ready tag on Odisha villages
With this India has become the first country in the Indian Ocean region to achieve this honour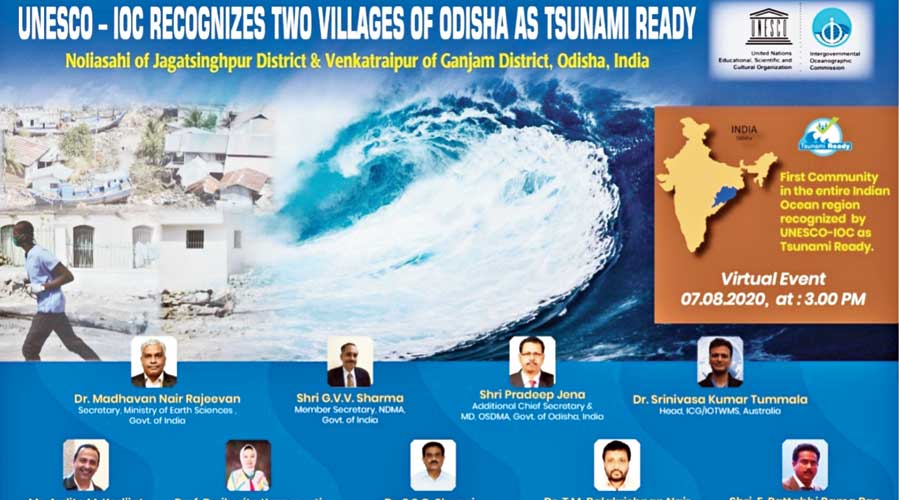 A screen shot of the virtual event
Sourced by The Telegraph
---
Bhubaneswar
|
Published 11.08.20, 01:27 AM
|
---
Two coastal villages of Odisha, the first in the country, were on Friday declared "Tsunami Ready" by Unesco.
With this India has become the first country in the Indian Ocean region to achieve this honour, informed Odisha government. Unesco also handed over the 'Certificate of Recognition' to the state government on Friday.
Additional chief secretary and managing director, Odisha State Disaster Management Authority (OSDMA), P.K. Jena said: "The Venkatraipur (Boxipalli) village of Rangeilunda block in Ganjam district and Noliasahi village in Ersama block of Jagatsinghpur district have been recognised by the Intergovernmental Oceanographic Commission (IOC) of Unesco for their high degree of preparedness to face a natural disaster like tsunami. The two villages are completely ready to face any kind of tsunami and certificates were handed over to the communities of Venkatraipur and Noliasahi as Tsunami Ready villages in a virtual event."
Indian Ocean had first witnessed an earthquake-triggered tsunami on December 26, 2004. It killed more than 2.3 lakh people in 14 countries of the Indian Ocean region.
The Indian Ocean Tsunami Ready Programme of IOC-Unesco is a community performance-based programme that facilitates tsunami preparedness as an active collaboration of the community, community leaders, and national and local emergency management agencies.
OSDMA has implemented the Tsunami Ready programme in the state.
The ministry of earth sciences had established a national board that visited different places and selected six villages in Odisha for this purpose.
Jena said: "Disaster Management Plans at different levels have been prepared to address tsunami disasters. Regular tsunami mock drills are being conducted at the tsunami prone villages as a part of International Tsunami Drills (IOWaves) and National Tsunami drills. The Early Warning Dissemination System (EWDS) for Last Mile Connectivity has been set up in the tsunami prone villages. This system addresses the existing gap for disseminating tsunami warning up to the community level. Regular awareness campaigns are being carried out in the tsunami prone area."
Odisha which witnessed a Super Cyclone in 1999 that left more than 10,000 people dead has been able to reduce the vulnerability of its people to natural disasters by building up resilience of communities over the years.
"We as a state have learnt to live with disasters by strengthening our disaster preparedness from the community to the highest levels of administration. The State set up the first Disaster Management Authority of the nation in the aftermath of the Super Cyclone of 1999. Since then, Odisha has been marching ahead in the field of disaster management with the core principles set by the chief Minister, Naveen Patnaik," said Jena.
Jena said: "The state achieved this through intuitive planning and creating infrastructure in advance, empowering the communities to take charge of the situation through community-led efforts, decentralised governance through empowerment of Panchayati Raj Institutions (PRIs), use of technology in planning, monitoring and management.
The officer said that with the award from the top world body Odisha has turned a role model in tsunami preparedness. "Now we plan to make the balance 326 villages and Urban Local Bodies tsunami ready in one year's time," Jena added.
The virtual event was organised by the Intergovernmental Coordination Group for the Indian Ocean Tsunami Warning and Mitigation System (ICG/IOTWMS) Secretariat in Perth, Australia and Indian Ocean Tsunami Information Centre (IOTIC) in Jakarta, Indonesia. Dr M. Rajeevan, secretary, Ministry of Earth Sciences (MoES) and G.V.V. Sharma, Member Secretary, National Disaster Management Authority (NDMA), Govt. of India graced the event.
International delegates including Dr Srinivasa Kumar Tummala, Head-ICG/IOTWMS, Ardito M. Kodijat, Head, Indian Ocean Tsunami Information Centre (IOTIC), Prof. Dwikorita Karnawati DG, BMKG(Meteorology, Climatology and Geophysical Agency of Indonesia) & Chair, ICG/IOTWMS of UNESCO-IOC participated in the programme.
At the national Level, Dr. S.S.C. Shenoi, Vice-Chairperson, UNESCO-IOC, Former Director, INCOIS & Former Chairman of the National Board on implementation of Indian Ocean Tsunami Ready; Dr. T.M. Balakrishnan Nair, Director (I/C) Indian National Centre for Information Services (INCOIS) and E. Pattabhi Rama Rao, Head-TWG, INCOIS  & Member-Secretary, National Board on implementation of Indian Ocean Tsunami Ready were present at the virtual event.