Modi grandstanding first step towards talks table
Trade is the only way forward for both India and China
Ties cold as of now, Modi's grandstanding first step towards talks table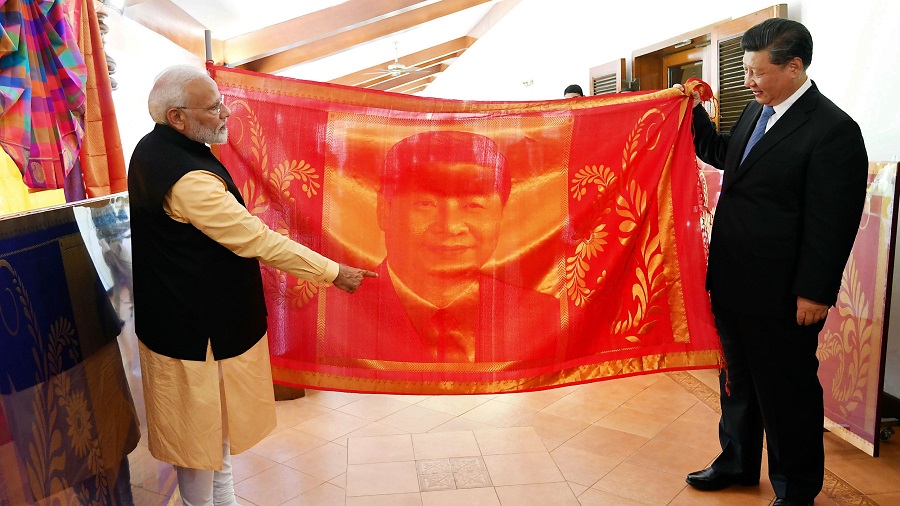 ---
New Delhi
|
Published 04.07.20, 08:40 PM
|
---
Prime Minister Narendra Modi, in a morale-boosting speech, told troops in Ladakh that India's "enemies have seen your fire and fury" and took a swipe at China, declaring the "Age of Expansionism" over. He also warned that no-one should mistake India's commitment to peace as weakness.
The Prime Minister's words have been interpreted by some as a sign of India's determination not to be pushed around in resolving the Galwan Valley standoff. But others believe Modi was grandstanding for a domestic audience dismayed by his muted earlier response to China's incursion and that he's he now hoping to head to the negotiating table in quest of a more permanent border settlement.
Modi's speech in Ladakh, site of a deadly border clash in mid-June which claimed the lives of 20 Indian soldiers and an unknown number of Chinese troops, brought a swift retort from the Chinese foreign ministry spokesman who warned tersely that, "India should not make a strategic miscalculation on China."
The Prime Minister's surprise trip came after a week in which India has hit back at China's moves in Ladakh with a ban on the wildly popular TikTok and other Chinese apps, customs hold-ups which are now being lifted and the threat to bar companies from our giant neighbour from highway-building contracts. There has also been a threat to reduce commercial ties with countries with which we have territorial disputes.
US hails app ban
India's app ban has been hailed by US Secretary of State Mike Pompeo who praised it saying, "We welcome India's ban on certain mobile apps that can serve as appendages to the CCP (Communist Party of China) surveillance state." But there are worries India could end up hurting itself more than anyone else with its crackdown on Chinese-origin products and services at a time when its economy is shrinking dramatically due to the Covid-19 pandemic. India runs a $50-billion trade deficit with China which is its second-biggest trading partner after the US.
"We are taking a cannon to every nail we have to hammer," says one China scholar, who points out that the app ban will cause job losses and also deprive Indians of services available in other parts of the world.
Investments hold key 
Most crucially we also run the danger of losing further Chinese investment at a time when global investors are tightening their purse-strings. Maharashtra, for instance, has already put on hold three major Chinese projects including the Great Wall Motors automobile project at Talegaon near Pune. Great Wall had signed a memorandum of understanding with the state and said it would invest around $1 billion in the project.
Also, Chinese investment conglomerate Fosun had said it would invest around Rs 800 crore and partner a Mumbai-based real estate developer.
China has, indeed, used trade as a weapon in its battles with several other countries including Japan, Australia and its neighbours like Vietnam, South Korea, the Philippines and even Indonesia.
But with its muscular economy, China's in a stronger position to withstand trade counter-measures by the countries it takes on. Most seriously, India would find itself in dire difficulty if the Chinese blocked supplies of active pharmaceutical ingredients which we import to make commonly used drugs like paracetamol and industrial components.
Blocking Huawei tricky
Also, blocking companies like Huawei from huge telecom projects allows the remaining Western players to quote higher prices than they might if the Chinese company was in the ring. In the power sector, for instance, Chinese emission control gear is often around 20 per cent cheaper than equipment from elsewhere and is used by both private and public-run players.
Beijing has reacted mildly so far to the Indian commercial moves. One of its little-noticed moves was to block the website of Indian news channel Wion. China's foreign ministry spokesman Zhao Lijian, meanwhile, called on India to "work with China to safeguard the overall situation of bilateral relations."
China's looking to disengage to some extent from the United States and it is scouting for new directions to push its manufactured goods. It's biggest market is Europe and it's also looking at Africa and Asia as the next big places for its ambitious business houses. They're also keen on India but realise that there could be complications. "They continue to look at India as a potential market. But they realise the border could complicate things," says Manoj Kewalramani, Chinese Studies fellow at the Takshashila Institution.  
Nevertheless, the Chinese have played down the border dispute to some extent. Initially, the hashtag IndiaChina was trending and got around 2 billion views but it was blocked later. Since then, the People's Daily has only covered India twice and not on the front page. Says Kewalramani: "Their media hasn't really covered it (the Ladakh clash) with the intensity we have."
US ties at the core 
Kewalramani also points to the essential dilemma that will dog all attempts between India and China to reach a better relationship. India has a clear goal: it wants the borders demarcated to prevent further Chinese demands or incursions. 
However, the Chinese want to be sure India will not enter into a close alliance with countries like the United States. Says Kewalramani: "They have to take us on trust. What they want from us is an intangible." The heightened border tensions come against the backdrop of New Delhi's deepening strategic embrace of the US, highlighted by the US president Donald Trump's visit to India in February, and closeness to Japan. 
The way forward could be extensive trade and business that would give both countries a strong disincentive to get into a warlike situation. In a nod in that direction, Modi, in his speech asserted that, "this is the age of development." Still, as things stand now, chances of China and India working together to achieve that goal look to be a long way off. The goodwill and bonhomie between the two countries, displayed by Chinese president Xi Jinping and Modi at their informal summit last October, look to be over for now.