Tory drop from Ambani ocean
Reliance Europe makes contribution to Conservatives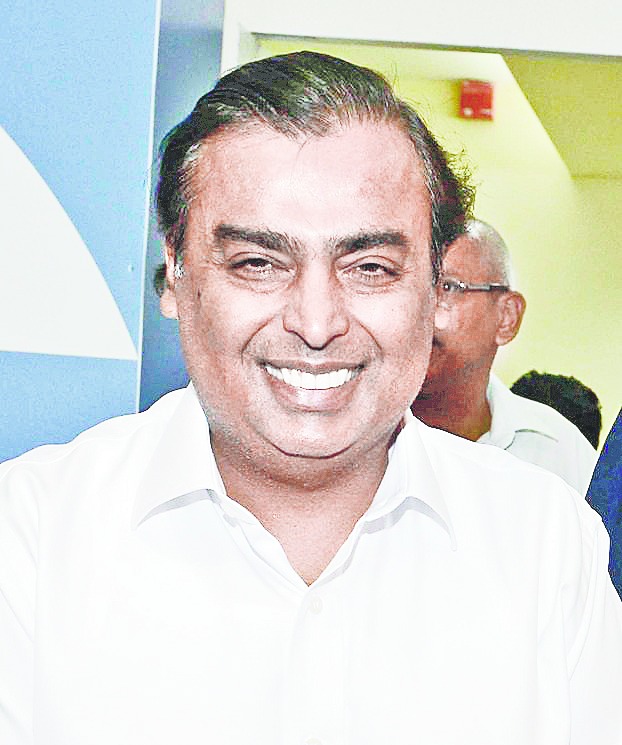 ---
Published 02.08.16, 12:00 AM
|
---
Aug. 1: Reliance Europe Ltd, a London-based Mukesh Ambani company, made a cash contribution of £25,000 (a little over Rs 22 lakh at current exchange rates) to Britain's Conservative Party in December last year.
It's the first time that an Ambani-owned entity has officially contributed to a political party outside India. It is not known why the company decided to make the contribution or indeed whether it will do so in the future.
The payout shows up in the UK Electoral Commission's website as a cash contribution to the Conservative and Unionist Party which has a docket number of C0240025.
The donation was received by the party on December 21, 2015, and reported to the commission on January 28 this year. The commission is Britain's independent election watchdog and a regulator of party and election finance.
Ambani isn't the only Indian businessman who has been backing the Conservative Party, which was led by David Cameron before the Brexit vote in June forced him to quit office.
Anil Agarwal, the non-resident Indian who owns Vedanta, one of the world's largest natural resources companies, contributed a lot more: £98,673 - all of it in cash - on December 18 last year, again to the Tories.
Agarwal lives in London and the payment was made in his individual capacity.
Non-resident Indian businessmen living in the UK have been big contributors to Britain's political parties. Data reveal that Calcutta-born and raised Lakshmi Niwas Mittal, owner of Arcelor Mittal, one of the world's biggest steel-makers, for instance, contributed over 5 million pounds to the Labour Party between 2001 and 2010, spanning the regimes of Labour leaders Tony Blair and Gordon Brown.
The 66-year-old Mittal, who has an estimated wealth of $11.2 billion, has a home in London's Kensington Palace
Gardens. All of his contributions to the Labour Party were also made in cash and in his individual capacity. Mittal hasn't officially made any political contribution since April 2010.
But the big surprise is to see an Ambani-owned entity on the list of political contributors in the UK. Ambani, who lives in Mumbai, is the richest Indian in the world with his wealth estimated by Forbes magazine at $18.9 billion.
Reliance Europe has its office at Devonshire House, 60, Goswell Road London. It was incorporated on July 16, 1990.
In an April 7 filing with Companies House, the registrar of companies in Britain, Reliance Europe said in a statement that in the year ended December 31, 2015, the company had made a donation of $38,208 to the Conservative Party. Past filings with the UK companies' registrar show that it has never made a contribution to any political party before.
The company reports its income in US dollars. "The income agreements are usually short term, thus reducing the exchange rate risks to a level considered acceptable by the directors," the company said in its April filing.
Reliance Europe lists Mukesh Ambani as a company director along with John Reginald and Moodanidamboor Krishna Shetty. Shetty - a British national - is also its company secretary.
The principal activities of Reliance Europe are to render advice and maintain an active investor relations programme for the parent company, Reliance Industries, in Europe and the US. Reliance Industries floated global depository receipts that are listed on the Luxembourg stock market and predominantly traded at the international order book of the London Stock Exchange.
Reliance Europe is also tasked with maintaining banking relations for the group, providing advice on competitive strategy for the Reliance group, liaising with research establishments, consultants and think tanks.
In the year ended December 31, 2015, Reliance Europe reported a turnover of $4.75 million, down 6.8 per cent from $5.1 million in the previous year. It earned an after-tax profit of $280,764.
Reliance Europe has two shareholders: Reliance Industries and group entity Reliance Industrial Infrastructure Ltd, both owning a 50 per cent stake each.
"The directors believe the parent undertaking is Reliance Industries Ltd," the company said in an April 21 filing relating to its full accounts.
During the year ended December 31, 2015, Reliance Europe received a consultancy income of $4.75 million from Reliance Industries.
It also provides guarantees for the outstanding loan amounts due from another Reliance group entity via letters of credit to banks. These sums are in turn guaranteed in full by Reliance Industries.
"The directors consider the company to be in a strong position at the year end and able to take advantage of any expansion opportunities that may arise," the filing said.
In India, Mukesh Ambani's Reliance group donates money to political parties through People's Electoral Trust, an unlisted, not-for-profit company formed in November 2013. Just months before the general elections of 2014, several business houses, including Reliance, Aditya Birla group, the Bharti group, Vedanta group and the Mahindras formed such electoral trusts to fund political parties and lift the veil of secrecy that shrouded payments in the past.
Under section 293A of the Companies Act, 1956, a company can donate up to 5 per cent of its profits in a year and is bound to make a full disclosure in its profit and loss account. Under section 80GGB of the Income Tax Act, all contributions to a political party also qualify for a full tax waiver.
Political parties in India cannot, however, receive funds from foreign companies or Indian entities owned by foreign parents.