Toolkit sedition: judge rips into government case
Additional Sessions Judge Dharmender Rana systematically demolished the prosecution case on all the accusations made against the environmental activist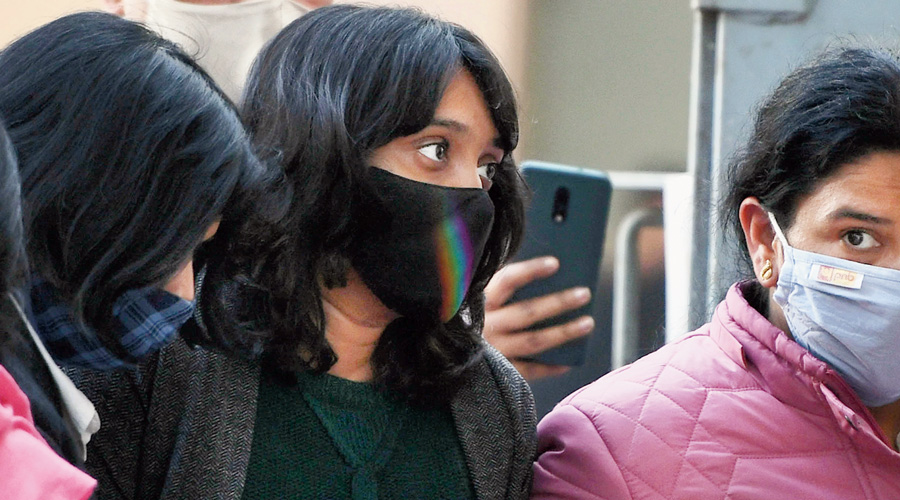 ---
---
The judge hearing the Disha Ravi bail application has ripped into the government's case against the 22-year-old activist, saying the evidence against her is "scanty and sketchy" and that, "placing any further restraint upon her liberty… would be neither logical nor legal."
In a blistering judgement, Additional Sessions Judge Dharmender Rana systematically demolished the prosecution case on all the accusations made against the environmental activist, crucially pointing out that citizens, "cannot be put behind bars simply because they choose to disagree with the State policies" and adding that, "citizens are conscience keepers of government in any democratic nation."
"An aware and assertive citizenry, in contradistinction with an indifferent or docile citizenry, is indisputably a sign of a healthy and vibrant democracy," the court said.
Rana added that in view of the prosecution's "sketchy" case, "I do not find any palpable reason to breach the general rule of bail" against a 'blemish-free' young lady with no criminal record and, "firm roots in society".
The headline-making case began nine days ago when Delhi Police arrested Ravi from her home in Bangalore and flew her to Delhi the very same evening, slapping charges of sedition and "promoting enmity between different groups," against her. The police also accused the young environmental activist of collaborating with pro-Khalistan groups. Besides that, it accused her of creating a "toolkit' which was a guide for an online campaign to support the four-month-old Punjab farmers' protest. The police argued that the toolkit had helped to spread violence. Ravi has denied all of the charges.
Rana also dismissed as baseless the allegations that Ravi conspired with the Poetic Justice Foundation (PJF), an obscure Canadian-based organization that is said to have pro-Khalistani leanings. Ravi had participated in a Zoom meeting with around 70 people in which two people named Mo Dhaliwal and Anita Lal, said by the police to belong to the Poetic Justice Foundation (PJF) had taken part. The judge said. "There is not an iota of evidence brought to my notice connecting the perpetrators of violence on 26.01.2021 with the said PJF or the applicant."
The judge said, adding, "In the absence of any evidence... it cannot be presumed by resorting to surmises or conjectures that she also supported the secessionist tendencies or the violence on 26.01.2021, simply because she shared a platform with people who have gathered to oppose the legislation."
Driving home the point, the judge further remarked: "There is nothing on record to establish any direct link between the applicant/accused and Mo Dhaliwal and Anita Lal. Furthermore, there is nothing on record to suggest there was any call, incitement, incitement or exhortation… to foment violence on 26.01.2021."
In his 18-page judgement, the additional sessions judge also reproduced the text of the toolkit, said to have been uploaded by Ravi, which suggested farmers' supporters should create a 'Tweetstorm' by sending tweets to the agriculture minister and various international organisations. Besides that, the supporters could organise protests "near Indian embassies, govt offices, media houses," around the globe. The toolkit also suggested supporters could stage protests near the offices of the Adani and Ambani groups – farmers say these two giant conglomerates will be the main winners if the farm acts are allowed to stay on the statute books.
The judge said, "The perusal of the said 'Toolkit' reveals that any calls for any kind of violence is conspicuously absent. In my considered opinion, Citizens are the conscience-keepers of government in any democratic nation… The offence of sedition cannot be involved to minister to the wounded vanity of the governments."
He added: "Creation of a WhatsApp group of being editor of an innocuous Toolkit is not an offence. Further, since the said toolkit or PJF has not been found to be objectionable, mere deletion of the Whatsapp chat... also becomes meaningless."
Quoting from earlier case law on sedition, he added: "Difference of opinion, disagreement, divergence, dissent, or for that matter, even disapprobation are recognised legitimate tools to infuse objectivity in state policies." He also quoted a couplet from the Rigveda which says: "Let noble thoughts come to me from all directions."
On Ravi having beenin touch with climate change activist Greta Thunberg, the judge added that the freedom of speech granted under Article 19 of the Indian Constitution includes, "the right to seek a global audience. There are no geographical barriers on communication… as long as the same is permissible under the four corners of the law."