Violation of Cigarettes and Other Tobacco Products Act
Indian tobacco sellers use FB to bypass restrictions and sell bidis
Vital Strategies, a public health group, has documented 271 instances of direct, and 73 instances of indirect marketing that linked the product to lifestyle or festivals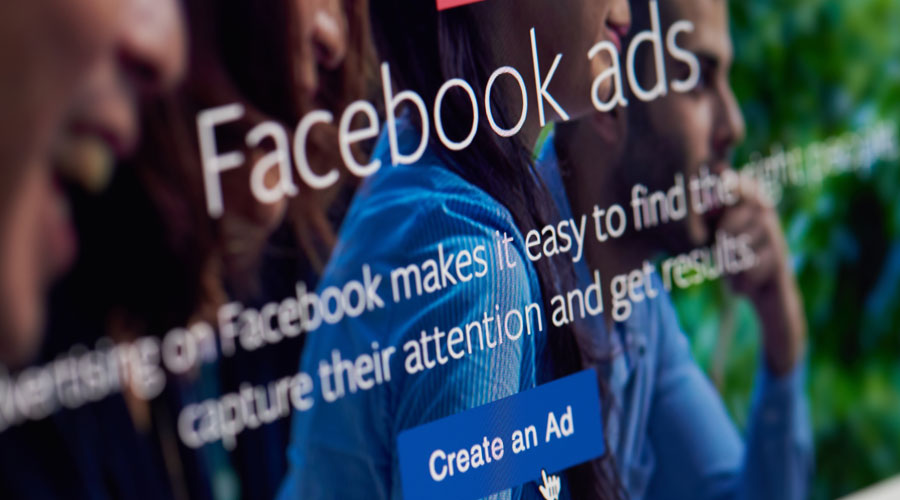 Facebook policy does not allow the promotion of tobacco products, according to the social media giant's website.
Shutterstock
---
New Delhi
|
Published 11.11.21, 02:36 AM
|
---
Some tobacco product sellers in India have used Facebook to bypass marketing restrictions and promote sales of bidis, a public health group said on Wednesday after documenting what it described as over 340 instances of canvassing over 9 months.
Facebook policy does not allow the promotion of tobacco products, according to the social media giant's website.
Vital Strategies, the public health group, said that between December 2020 and August 2021, it had documented 271 instances of direct marketing through images of bidis and 73 instances of indirect marketing that linked the product to lifestyle, celebrations, festivals or remembrance days.
One bidi manufacturer placed the image of its brand beneath a poster offering best wishes to women on International Women's Day on March 8. Another image showed a man on the bonnet of a fancy car and a bidi packet in his hand with the brand visible. Others used Mahashivratri and New Year's greetings to promote their brands.
The findings bolster concerns that sections of the tobacco industry are relying on social media platforms to promote products, skirting India's Cigarettes and Other Tobacco Products Act of 2003, designed to protect youths and consumers from harmful marketing.
Nandita Murukutla, the vice-president for global policy and research with Vital Strategies, said in a media release: "Our report is a call to action for governments to surveil (sic) and address tobacco marketing on digital media."
"It is also a call for social media companies, Facebook in particular, to close down tobacco marketing that facilitates sales of this deadly product."
Surveys in the country have suggested that among India's 267 million tobacco users, nearly 72 million smoke bidis and nearly half of the users had smoked their first bidi before their 10th birthday.
Health groups estimate that bidi sales are eightfold higher than cigarette sales in India.
Nearly a quarter (24 per cent) of bidi marketing on social media used messaging depicting bidis as part of an aspirational, fun, or luxurious lifestyle. About 20 per cent of bidi marketing used messages linked to community celebrations such as birthdays of famous figures, religious festivals or the New Year.
Among the 344 instances of direct or indirect marketing, 337 (98 per cent) were observed on Facebook and seven (2 per cent) on Instagram, also owned by Facebook that has been rebranded as Meta Platforms.
"It was surprising to see the dominance of Facebook — we wouldn't typically associate users of bidis to also be Facebook users," said Vaishakhi Mallik, associate director with Vital Strategies. "But through Facebook, messages and images also circulate into other social media such as WhatsApp groups."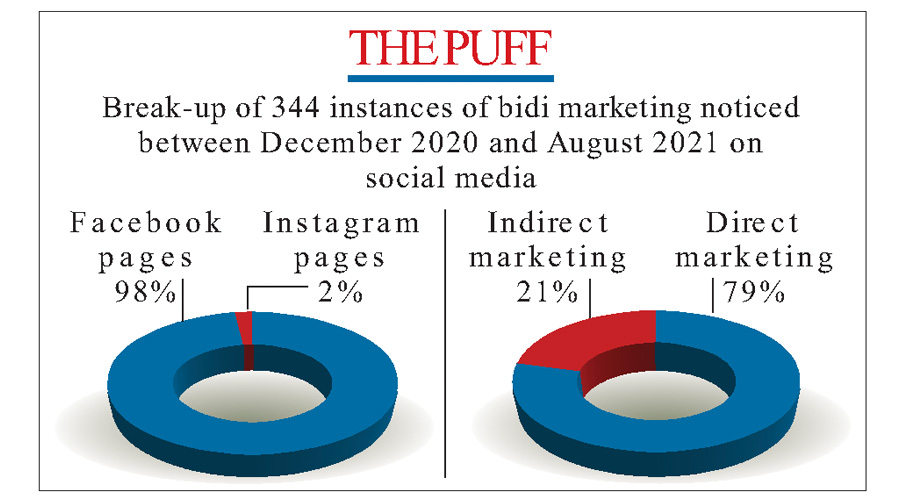 Mallik said social media giants had a duty of care, especially to their younger users. "Though bidis are more harmful to health than other tobacco products, they have flown under the regulatory radar for far too long," she said. "Our findings point to the need for more careful and stringent surveillance of the bidi industry's branding and marketing efforts — both online and offline."
Amit Yadav, a senior technical adviser for tobacco control at the International Union Against Tuberculosis and Lung Diseases, said the survey was the first to demonstrate how bidi companies were openly leveraging social media platforms to promote harmful products in violation of India's COTPA regulations.
"This data should support efforts by state governments in enforcing tobacco control measures, while providing policy-makers evidence-based proof of bidi marketing," he said.
Facebook policy on tobacco and related products says: "Ads must not promote the sale or use of tobacco products and related paraphernalia. Advertisements must not promote electronic cigarettes, vaporisers or any other products that simulate smoking."
The Facebook website lists the following as examples of what is allowed:
# Blogs or groups connecting people with tobacco-related interests, as long as the service does not lead to the sale of tobacco or tobacco-related products.
# Anti-smoking campaigns and e-books, counselling services for smoking addiction and smoking rehabilitation programmes or facilities.
According to the policy, the following are examples of activities that are not allowed:
# Tobacco or tobacco-related products, including cigarettes, cigars, chewing tobacco, tobacco pipes, hookahs, hookah lounges, rolling papers, vaporiser devices and electronic cigarettes
# "Buy cigarettes and e-cigarettes here today!"
The Vital Strategies team that used software tools to scan digital media found that Facebook had hosted at least 30 distinct pages for bidi companies, some of which appeared to be using their pages to facilitate sales of their products.