Tip from PM to party: Befriend media
Modi's media class skips headline management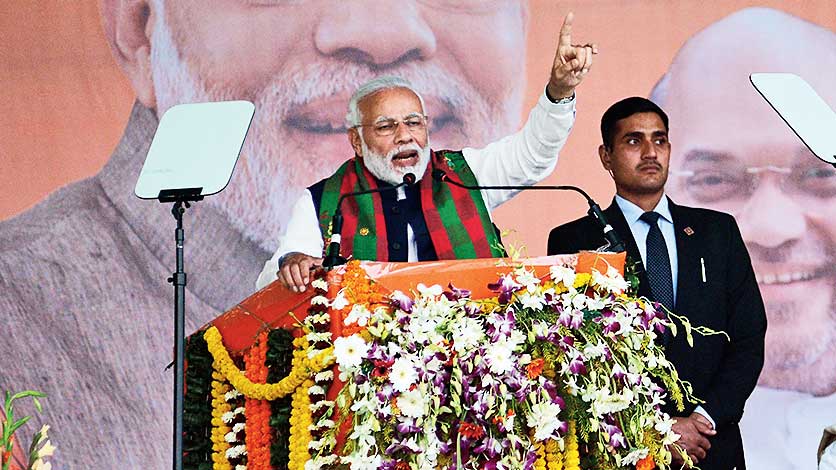 Prime Minister Narendra Modi in Odisha's Baripada on Saturday.
Picture by Ashwinee Pati
---
New Delhi
|
Published 06.01.19, 10:25 PM
|
---
Narendra Modi, who has enjoyed a dream run across large swathes of the media but has never faced a news conference as Prime Minister, on Sunday gave his party a crash course on the inner workings of the newsroom.
Considering the time available, the Prime Minister did a comprehensive job and asked his party to make friends with "foot soldiers" in the media. But he omitted any advice on how to nurture a cherished talent that detractors have spotted in his government: "headline management".
Modi also made a distinction between media company owners and journalists, whom he called "foot soldiers".
Modi shared his insight with his party in response to a question from a BJP worker, K. Shiva, from the Kurnool Lok Sabha constituency in Andhra Pradesh.
"Aap itna kaam kiya, lekin mediawala party ko badnam kar raha hai, (You have done so much work but the media is giving a bad name to the party)," Shiva complained, after showering praise on Modi for implementing welfare schemes. The Prime Minister was interacting with party workers via videoconferencing through his mobile application,
Shiva's lament coincided with stirrings of criticism from media outlets that had been considered pliable over the past few years. So much so that Arun Shourie, a former editor and BJP minister, had said the Modi government "believes managing the economy means managing the headlines".
The first signs of en masse defiance had emerged last month after the state election results were declared, showing BJP defeats in three heartland states. The next day's headlines are certain to have had Modi and his lieutenants choke on their morning milk or coffee.
Since then, a series of what the government would call "negative reports", covering such "sensitive topics" as jobs and farm distress, have been surfacing in the so-called friendly media.
Back to Shiva. Although the BJP worker had asked the question in Hindi, Modi appeared to have come prepared to answer it in English.
The BJP is said to be filtering questions with diligence after a party worker from Puducherry recently left Modi red-faced with a question on tax collection and the middle class.
After a few awkward moments, Modi had hurriedly switched to the next questioner by saying "Puducherry ko vanakkam". The salutation has since then become a synonym for an excuse to scoot when faced with a tough question.
This time, Modi was a picture of confidence. "Can I tell you a reality?" Modi asked Shiva, seeking to calm him.
He went on: "In India, everyone complains about the media. There are people whose lies appear every day on the front page and in prime time; still these people complain about the media. And, if somebody is not getting coverage, then also they complain about the media."
This is being seen as a reference to Congress leader Rahul Gandhi who had described the recent interview of Modi to a news agency as "staged".
Modi added: "The simple thing to do is to try and understand the media. (The) media is not a single unit or entity. There are different aspects in media. There are camerapersons, there are desk teams, there are reporters and then there are the businessman owners."
He praised the "camerapersons and reporters", calling them "foot soldiers", and asked the party workers to befriend them.
"The ordinary camerapersons and reporters are as sensitive and passionate about issues of our nation like a political worker, like us. And they also work very, very hard. During elections they run around so much in the heat dust and harsh weather. You, as BJP karyakartas, have to make friends with the foot soldiers of the media," Modi said.
"Talk to them, even beyond the press meets. You do this. Remember to always raise the people's issues. Our photos may not (appear) in the press but it is important the issues (are) highlighted. You must also be up to date with your facts."
Modi said he was speaking on the basis of personal experience and recalled: "Your question has taken me back to the days when I used to work in the party organisation. I had to deal with the media and what I shared with you is based on my own experience."
Old-timers recall that Modi, as national secretary and then general secretary of the BJP in Delhi in the 1990s, was very media-friendly. He used to do a lot of homework about individual reporters' personal leanings and backgrounds, a veteran journalist said.
"Television had just arrived and Modi would be available for appearances before the camera at short notice," the journalist recalled.
Modi told the party worker how in 2001, when the country was mourning the untimely death of Congress leader Madhavrao Scindia in a chopper crash, he was sad because he had lost two of his friends.
He named them: Gopal Bisht and Ranjan Jha of Aaj Tak. The two, along with some other reporters, were travelling with Scindia.
"Never be de-motivated and (do) build good relations with media," Modi said. He thanked the workers for "such a refreshing topic".
Modi later uploaded the footage and tweeted: "I urge friends in the media (to) hear it as well."