Tip of Covid iceberg: Study
Evidence of silent, extensive spread of virus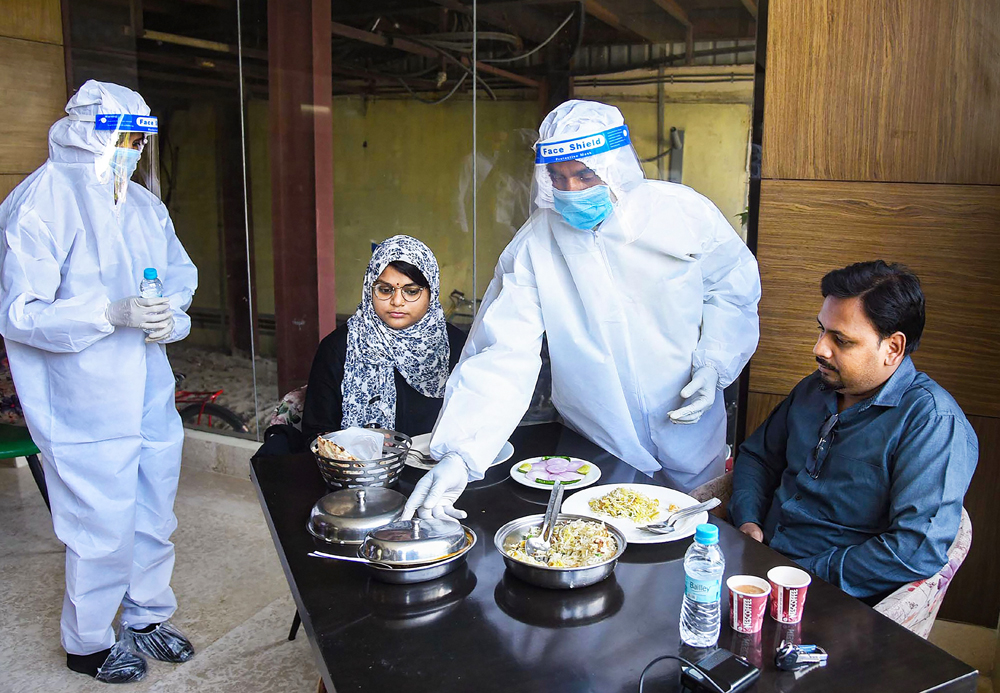 Waiters wearing PPE kits serve food to customers at a restaurant after the authorities permitted opening of eateries, during the ongoing Covid-19, lockdown, in Patna, Monday, June 8, 2020.
(PTI)
---
New Delhi
|
Published 08.06.20, 10:49 PM
|
---
The actual numbers of people infected by the new coronavirus in some Indian cities could be 100 to 200 times the confirmed cases there, public health experts have told the Centre after a nationwide survey.
The country's first survey on randomly selected asymptomatic people has found evidence of silent, extensive spread of Covid-19, with up to 30 per cent of those sampled infected in some cities, public health experts said.
These preliminary findings of the survey have validated suggestions by some public health experts that while India's daily rising coronavirus counts rely on lab-confirmed cases, the virus is likely to have infected tens of thousands more across the country.
The Indian Council of Medical Research conducted the survey with collaborating state agencies, covering the 10 hardest-hit cities and 60 districts across India, including Calcutta, South 24-Parganas, East Midnapore, Jhargram, Bankura and Alipurduar in Bengal.
Survey staff were to collect 3ml to 5ml venous blood samples from 400 people in each of the 60 districts and from 500 people in each of the 10 cities — Mumbai, Delhi, Calcutta, Chennai, Ahmedabad, Thane, Pune, Indore, Hyderabad and Aurangabad.
A senior health official said the preliminary findings did not contain the results from Bengal, where Cyclone Amphan had delayed the survey process. Analyses of the results from Bhopal, Hyderabad and Surat too are pending, the official said.
But the available results show that 15 to 30 per cent of those sampled in some cities have unknowingly caught the infection, a finding public health experts say points to extensive community spread.
The experts who shared the preliminary findings declined to name any city because the health ministry has directed them not to make the findings public yet.
The survey looked for antibodies, or Y-shaped proteins generated by the human body in response to the infection. A positive test would mean the person had been infected by the coronavirus in recent weeks.
The 15 to 30 per cent infection among those sampled in some Indian cities is significantly higher than the infection levels witnessed by similar surveillance studies in other countries.
"This suggests that containment has not worked at many places," a health expert said.
The survey findings imply that the numbers of the people infected in some cities could be 100-fold or even 200-fold the numbers of the confirmed cases there, the expert said.
Surveys elsewhere have revealed infection levels ranging from 0.5 per cent in San Miguel County in Colorado to 14 per cent in Gangelt, Germany, and New York.
A senior ICMR official declined comment on the findings or how they might influence testing or other coronavirus-linked policies.
But a public health specialist said the results would allow health authorities to identify the areas with the highest likelihood of having large pockets of transmission.
"The findings would help identify areas with extensive community transmission," said Oommen John, a public health expert with The George Institute for Global Health, New Delhi. "They could be used to design district-specific strategies."
Health experts have for weeks suggested that the numbers of confirmed cases do not reflect the true burden of the infection. They have cited two reasons: one, 80 per cent of the infected people have only mild or no symptoms and might never seek diagnosis; and two, India's testing criteria for the general population allows only those with symptoms to be tested.
Infectious disease specialists say it is still unclear whether the antibodies protect infected people from future infections.
Such protection is the rule in most viral infections but there are exceptions, a senior clinical virologist said.
"We don't know enough about this virus to say what these antibodies imply," the virologist said.
However, the large proportions of infected people in some cities suggest they are far ahead on the epidemic curve than others and their populations might be closer to "herd immunity" – a threshold level of infections in a community after which the virus does not spread easily.
Some health researchers have estimated that for this coronavirus, around 60 per cent of people need to be infected for a population to achieve herd immunity.
India on Monday recorded 9,983 new coronavirus patients, raising the number of confirmed cases to 256,611, of whom 124,981 are under medical supervision, 124,430 have recovered, and 7,200 have died.