Tiger number rises but vanishing act in Buxa
India has already doubled its tiger population, a goal set for 2022 by the world's tiger range countries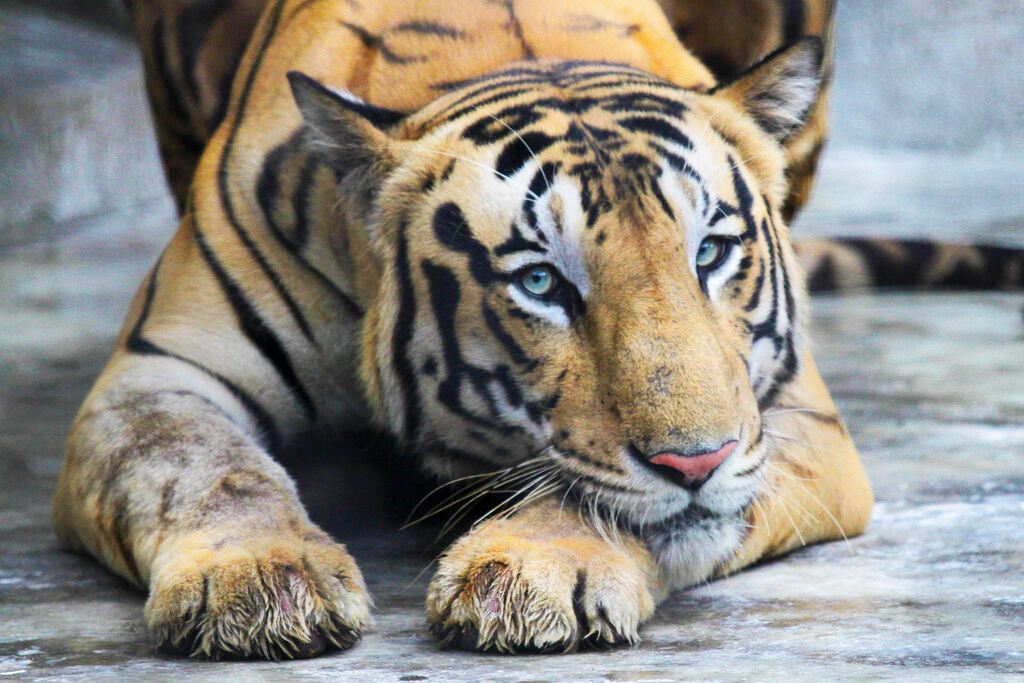 A Royal Bengal tiger rests at its enclosure at the Alipore zoo in Calcutta on Monday, July 29, 2019.
(AP)
---
New Delhi
|
Published 29.07.19, 10:59 PM
|
---
The number of tigers in the wild in India has grown to 2,967, a 33 per cent rise over four years, but tigers have vanished from three reserves, including Buxa in Bengal, the National Tiger Conservation Authority said on Monday.
The NTCA, releasing the results of a nationwide tiger census initiated last year, said the number of tigers in India in 2018 was likely 2,967, or 741 additional tigers than the count of 2,226 in 2014.
The 33 per cent rise is the highest recorded between the quadrennial counts. The earlier increases were 21 per cent between 2006 and 2010 and 30 per cent between 2010 and 2014.
The new count suggests India has already doubled its tiger population, a goal set for 2022 by the world's tiger range countries at an international conference in St Petersburg, Russia, in 2010.
Prime Minister Narendra Modi, who released the NTCA's 2018 tiger census report, said India has among the most secure habitats for tigers. He said India needs to create a balance of environmental sustainability and economic growth "to prosper both economically and environmentally".
"India will build more roads, and India will have cleaner rivers.… India will build more homes for our citizens and at the same time create quality habitats for animals," Modi said.
The states with the top three counts are Madhya Pradesh with 526 tigers, Karnataka (524) and Uttarakhand (442).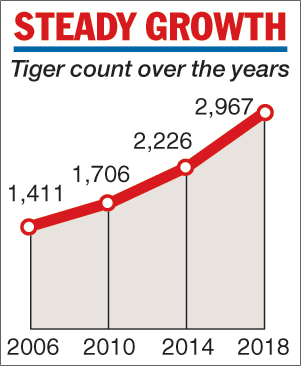 Tiger populations in the southern Western Ghats and Valmiki, among other sites, have shown improvements. But the NTCA report has cautioned that populations in the Northeast hills and Odisha remain "critically vulnerable" and need immediate attention.
The 2018 census has registered population declines in Nameri (Assam) and Pakke (Arunachal Pradesh) and did not record any tigers in Buxa (Bengal), Palamau (Jharkhand) and Dampa (Mizoram).
A 2015 review had estimated that India accounted for over 80 per cent of the global population of 3,159 adult free-ranging tigers. The country's Project Tiger launched in 1973 with nine tiger reserves and 18,000sqkm area has since expanded to 50 reserves spread over 72,000sqkm.
Despite the steady rising counts, wildlife scientists have warned that habitat loss, development pressures, and fragmentation of safe corridors between habitats continue to pose threats to tigers at several sites.
But the 2018 counts are seen as encouraging. "Given the immense pressure on India's biodiversity, the current estimates are encouraging and speak of commitment of the government, local communities and the support of citizens," Ravi Singh, the chief executive officer with WWF India, said in a media statement.
India's 2018-19 tiger count, described by the NTCA as the world's largest effort in a wildlife survey yet, had covered over 381,000sqkm of forested habitat in 20 tiger-occupied states, relying on over 26,300 cameras and foot surveys that cumulatively added to over 522,000km.
The count of tigers in the Sunderbans has increased to 88 from 76 in 2014 and 70 in 2010. An independent nationwide assessment of tiger reserves has noted that the Sunderbans tiger reserve is free of any human settlements in the core and buffer zones and tourism is well-managed.
The assessment has said tourism is well-managed in the buffer zone except for the Nethi Dhupani island located in the western range where regulated tourism is permitted with only 13 tourist boats per day.
However, the review has cautioned that over 50 per cent of sanctioned staff posts, especially at the forest guard levels are vacant and more anti-poaching camps need to be established in the southern islands.
It also said the collection of honey by villagers living in the border areas of Bangladesh and local Indian villages is a serious threat.