J&K: Delimitation commission submits final plan
Number of constituencies in Jammu and Kashmir thus rises from 83 to 90, with Jammu's share up from 37 to 43 and that of Kashmir from 46 to 47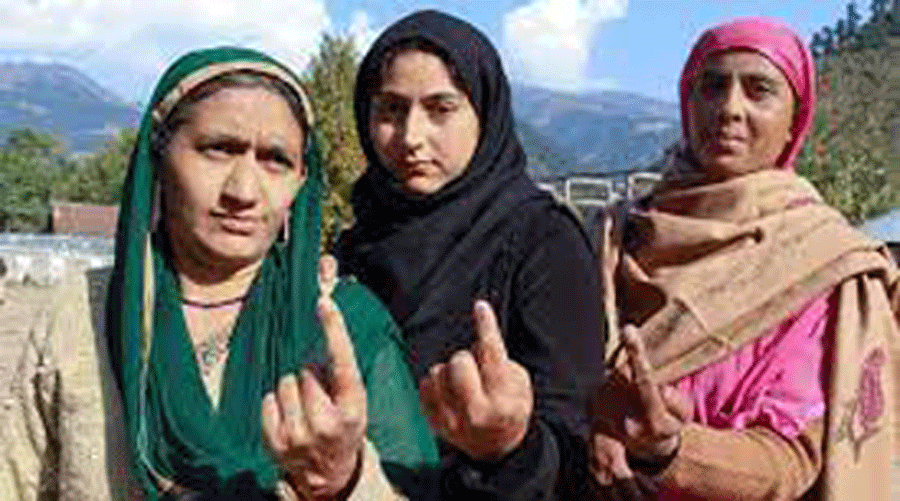 The number of constituencies in Jammu and Kashmir rises from 83 to 90, with Jammu's share up from 37 to 43 and that of Kashmir from 46 to 47.
File photo
---
Srinagar
|
Published 06.05.22, 03:02 AM
|
---
The three-member delimitation commission on Thursday appeared to strengthen the BJP's purported goal of achieving parity between the 68 per cent Muslim and 28 per cent Hindu populations of Jammu and Kashmir.
The commission, tasked to redraw the Union Territory's constituency map, notified and submitted its much-awaited final report, which will pave the way for Assembly elections.
The commission has ignored calls to rectify its "discriminatory" draft of December, which gave six additional Assembly seats to Hindu-majority Jammu and only one to Muslim-majority Kashmir.
The number of constituencies in Jammu and Kashmir thus rises from 83 to 90, with Jammu's share up from 37 to 43 and that of Kashmir from 46 to 47.
Similarly, while redrawing the Lok Sabha seats, the commission has merged the Poonch and Rajouri districts, which were part of Jammu constituency, with Anantnag constituency in south Kashmir. This will give Hindus an overwhelming majority in the redrawn Jammu seat, Muslim politicians in Jammu said.
They said Jammu's constituencies had been realigned in such a way that the number of Hindu-majority seats seemed to have risen from 25 to 33 and that of Muslim-majority seats fallen from 12 to 10.
Also, the commission has for the first time reserved nine seats for the Scheduled Tribes (mostly Gujjars), who are all Muslim but among whom the BJP has been working to make inroads for decades. Seven seats have been reserved for the Scheduled Castes.
People's Democratic Party leader Firdous Tak, who is from the Chenab Valley, said his region had been given two additional seats, taking the number to eight from six seats.
"But earlier, five of the six seats had a Muslim majority; now, five of the eight will have a Hindu majority," he told The Telegraph.
A Congress leader from Reasi said his district had three seats "of which Gool Arnas and Gulabgarh were Muslim-majority and Reasi proper had a Hindu majority".
"Now, Gool has been merged with adjoining constituencies. They have created the Mata Vaishno Devi seat, which along with Reasi are Hindu-majority," he said.
Rajouri-based activist Guftar Ahmad said Pir Panchal — which includes the Rajouri and Poonch districts — was the only sub-region where Muslim-majority seats had increased from five to six but not "without reason".
"In these constituencies, the BJP has Muslim faces who get significant Muslim votes," he said.
The commission has recommended additional seats in the Assembly for Kashmiri migrants and displaced people from PoK.
A commission statement said each parliamentary constituency would have an equal number of 18 Assembly seats.
The Centre had set up the commission unilaterally in 2020 although the erstwhile Assembly had put delimitation on hold till 2026.
The Valley is home to 56.3 per cent of Jammu and Kashmir's population, according to the 2011 census, but now has 52.22 per cent of the Assembly seats. The seats in Kashmir will have an average population of 1.46 lakh against 1.25 lakh in Jammu.