Thorny Mukul Congress - Mamata aide shares Roy's post;scramble to pre-empt defections
Read more below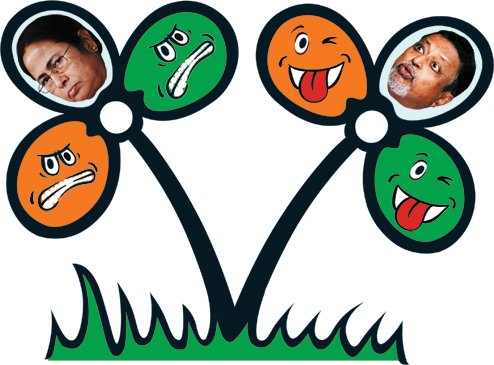 ---
---
Calcutta, Feb. 14: Mamata Banerjee today gave a trusted aide the same national post that Mukul Roy holds in the Trinamul Congress and sought to ring-fence potential defectors by distributing several of his responsibilities among them.
As the Trinamul chessboard bristled with the rapid moves, Bengal politics slipped into a countdown mode and kept its eyes peeled on which way Mukul would swing.
Assumptions that matters might be coming to a head bubbled back to the surface when Mamata appointed Subrata Bakshi as Trinamul's additional all-India general secretary. Till now, Mukul was the sole all-India general secretary- an unrivalled perch that drew a distinction from the 'secretary-general's' post of another veteran, Partha Chatterjee.
The relationship between Mamata and Mukul had gone from bad to worse ever since he had publicly distanced himself from a railway-linked deal with a Saradha company but today's snub was the most resounding yet.
'The party chief has appointed another all-India general secretary for the party.... Subrata Bakshi will have the additional responsibility as all-India general secretary,' Chatterjee announced after a 75-minute meeting at Mamata's Kalighat residence.
Mukul did not attend the meeting, choosing to spend the day at his Elgin Road flat.
Simultaneously, several restive leaders - along with some diehard loyalists - were given more responsibilities.
Dinesh Trivedi, the Barrrackpore MP who has praised Prime Minister Narendra Modi, was elevated to Trinamul national vice-president and given charge of co-ordination with other parties in Delhi.
The chief minister made Subhendu Adhikari, another MP said to be nursing many a grievance, the observer for Assam. Subrata Mukherjee, a veteran and a potential poaching target, was given charge of Tripura.
A national secretariat of the party will accommodate a varied mix of state minister Firhad Hakim and MPs Derek O' Brien and Kakoli Ghosh Dastidar. 'Mukulda used to perform these responsibilities,' said a source.
Others felt that the primary objective behind the chessboard moves was to dissuade fence-sitters and vocal critics from leaving Trinamul or at least deny them an excuse to jump ship.
Secretary-general Chatterjee did not explain why Trinamul felt the need for an additional general secretary at the national level, leaving others to speculate as much as they wanted. 'Today, it became clear that Didi is preparing the party for the post-Mukul Roy period.... She today asked Bakshida to co-ordinate with the Election Commission, something that Mukulda had always done,' said a source.
Presidents of Trinamul's district units, heads of frontal organisations and some select MPs and MLAs attended today's meeting.
Trinamul insiders said Mamata made her displeasure with Mukul's absence clear before announcing the changes in the organisational structure. 'He (Mukul) is not here. It would have been better had he attended,' a source quoted Mamata as saying.
' Aajkal aami dakleo o ashchhe na, aamake documents dichchhe na.... Aami Mukul-er opor anek kaaj-er jonyo bhorsha kortam (He is ignoring my communications to attend meetings. He is not giving me documents. I used to depend on Mukul for a number of things),' she apparently added.
Whether a Freudian slip or not, the use of the past tense (' kortam'), a Trinamul insider insisted, was a giveaway.
Aware that all eyes are on his next move, Mukul - a shrewd politician who was content staying away from the limelight as long as the organisational reins were in his hands - played it with a poker face.
'The party knows why I was away. This is a good decision and will help the organisation,' Mukul said later in response to questions on the organisational changes.
'Nobody can give power, it has to be acquired,' Roy told ABP Ananda, the news channel.
Although Mamata and Mukul have not been on the same page for some time, their recent conduct bears similarities. Both have pushed each other but stopped short of the shove - all their moves seem to be aimed at provoking the other to let down the guard and make a mistake.
By propping up Bakshi, Mamata appeared to be sending a message to Mukul that she was creating a parallel organisational structure instead of throwing him out.
It is a high-risk manoeuvre in which too much pressure could backfire. 'Nobody knows what he has exactly told the CBI and will say later. It would be a disaster if the central agency reaches the top through Mukulda. Possibly, she wants to ensure that he causes the least damage politically by isolating him,' said a source.
After Mukul was questioned by the CBI, it was reported that he had more or less told the agency that a meeting did take place between Mamata and Saradha chief Sudipta Sen in Deolo in Kalimpong.
Since the formation of Trinamul, Mukul has been at its helm as general secretary and he considers the organisation his baby. Mamata is clawing at his soft spot, expecting him to retaliate.
But Mukul, known for his ability to remain calm even in the most awkward situations, has so far not lunged at the bait. Rather, he is dancing around it - with occasional thrusts. 'The game of nerves is on and a few more rounds are still left,' said a Trinamul insider.
In keeping with the slow-burn tactics, Mukul's decision to skip the meeting today is being seen as an escalation of hostilities without declaring war. This is the first time that he has completely skipped a meeting despite being in Calcutta.
A source claimed that Mukul had heard about the meeting while he was 'overseeing' the Bongaon Lok Sabha by-election yesterday from Madhyamgram but did not receive any message asking him to attend.
An immediate factor that could change the pace of events will kick in on Monday: the bypoll results, although only the civic polls in summer are expected to throw up more reliable clues to which way the wind is blowing.
Mukul and his camp were not seen playing an active role in the bypolls. 'There were also rumours that some leaders close to Mukulda were aiding the BJP. That had also angered Didi,' said a source.
According to some Trinamul insiders, a handsome win might be used to undermine the perception that Mukul was indispensable for winning elections and might embolden Mamata to step up the heat.