This is a Kashmiri & an Indian speaking
Mohamad Yousuf Tarigami, the first detained Kashmiri politician to address a media conference, said people in his state were 'suffocating' in the lockdown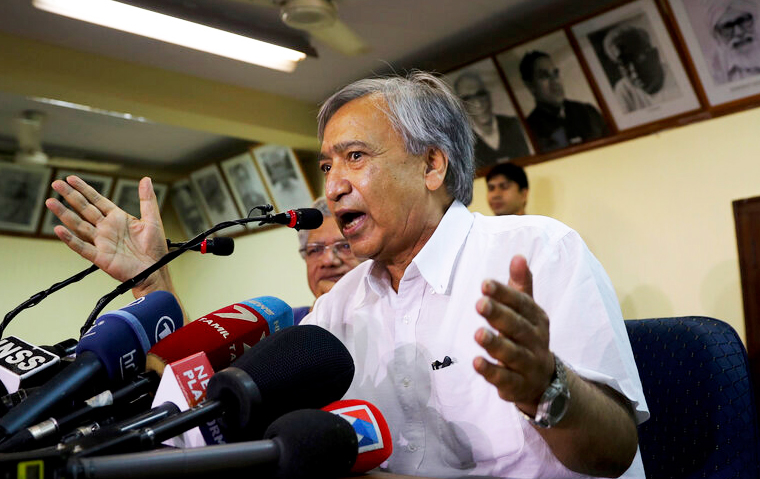 Mohammad Yousuf Tarigami addresses the media at the party headquarters in New Delhi on Tuesday
(AP)
---
New Delhi
|
Published 17.09.19, 10:55 PM
|
---
Mohamad Yousuf Tarigami, the first detained Kashmiri politician to address a media conference in New Delhi in more than a month, on Tuesday made an impassioned appeal to fellow citizens in the rest of India to speak up for the right to life in Kashmir.
"This is a Kashmiri, an Indian speaking. We must also get the chance to live," said Tarigami, a CPM central committee member who was allowed to travel to Delhi for medical treatment after party general secretary Sitaram Yechury approached the Supreme Court.
"We only ask you to take us along. An average Kashmiri asks for nothing, we don't ask for the stars, we don't ask for the heavens. We just want the chance to merge with you," Tarigami, a four-time MLA, told reporters in the national capital.
He had been detained at his Srinagar residence since August 5, although no case has been filed against him. Tarigami has been under police guard in hospital with restrictions on meeting journalists. Discharged last week, he is staying at the Jammu and Kashmir Guest House here. On Monday, the court said he was free to return to Srinagar.
Speaking to reporters at the AK Gopalan Bhavan office of the CPM central committee, Tarigami said people in his state were "suffocating" in the lockdown.
"Please listen to us. You have listened to one version. Please listen to the version of the people of Kashmir as well. We don't have to be killed…. Farooq Abdullah and all others (in detention) are not terrorists. Tarigami has not turned to be an alien element for my country. I am not a foreigner….
"Today it has been over 40 days of the clampdown, and we are told this is normality. Try it in Delhi or any other city. If your Internet and telephone do not work for a week, what will be your condition, how will businesses function, what will be the plight of children, of newspapers, the media?"
Referring to Kashmir, he added: "Today, are shops open? No. Are schools open? No. How many beneficiaries have availed themselves of the national health insurance scheme since August 5? None at all. Yet, they say everything is normal."
Seated beside Yechury, Tarigami said: "All they say is that no one is dying. People are dying slowly. There is suffocation. And that's why I appeal, not to the rulers to whom my voice may not reach, but to the common public and the poor that we also want to live. This is a Kashmiri, an Indian speaking. We must also get the chance to live."
Tarigami expressed concern over a possible fallout. "What has happened on August 5, how the people of Jammu and Kashmir have been humiliated that does not create confidence, that reduces whatever little was available here and that can only oblige those who want to further destabilise Kashmir, who want more alienation in Kashmir, who want more turmoil in Kashmir… provide fodder to the forces who want to encourage violence in Kashmir," he said.
Tarigami said that he felt more disturbed now than when his relatives were assassinated by separatists. "Taaliyan baj rahi hain sarhad paar se, 'Marhaba, Dilli waalon, jo hum na kar paye wo aap kar rahe hain (there is clapping across the border, 'Greetings Delhiites, you are doing what we could not)'."
Yechury told reporters that Tarigami would also be filing a writ petition challenging the removal of the state's special status and its bifurcation without the changes being brought before the Jammu and Kashmir Assembly.