The same old story in Chhitmahal
In the erstwhile enclaves, also known as Chhitmahal, people have very little faith in electoral politics. But why?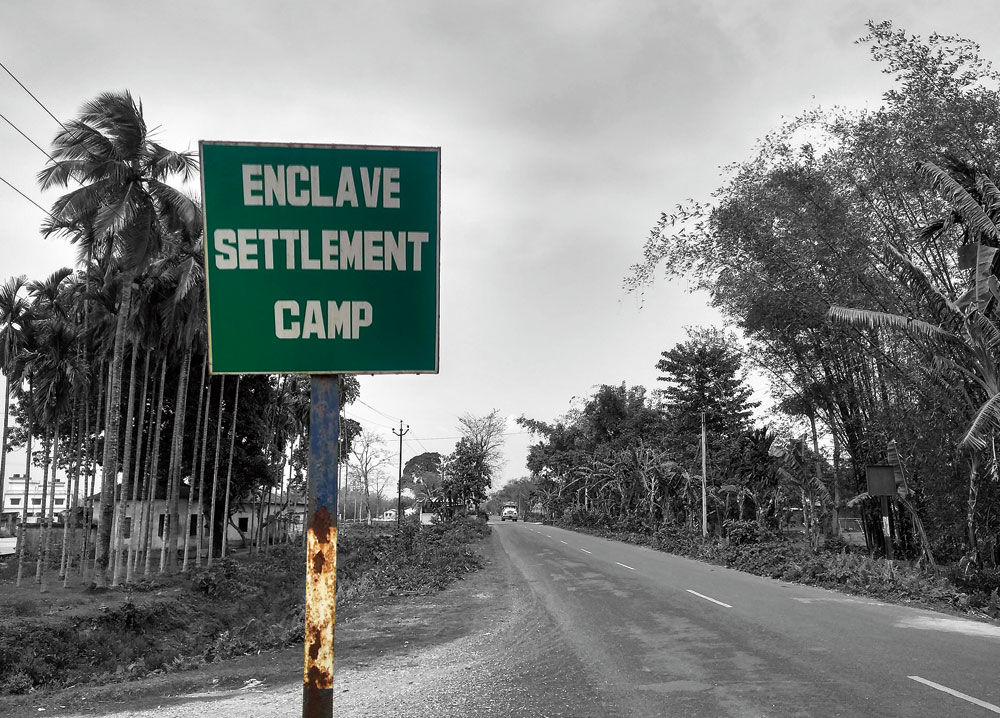 ---
---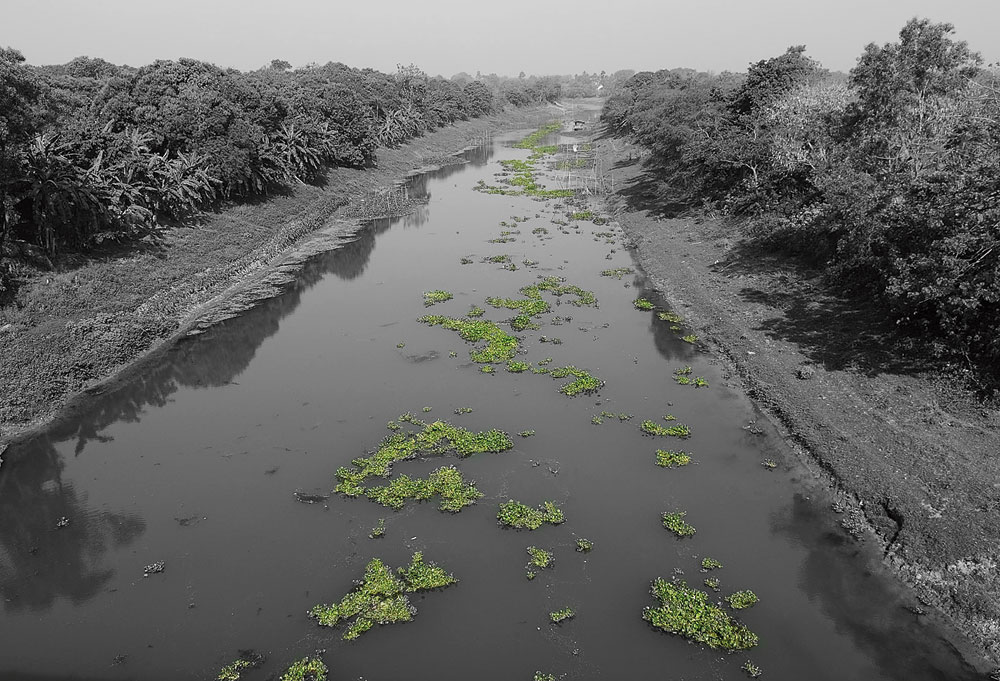 Nota People
Thousands of villagers in Bengal who have lost their homes to erosion of the Ganges are disinterested in polls. Kedar Nath Mondal, former schoolteacher and activist, has been fighting on behalf of 900 impacted families across six villages in Malda. Says the octogenarian, "None of the parties takes up the cause of these villagers. As a result young people are migrating in hordes to other states." It is believed many of the villagers will either abstain from voting or opt for Nota.
The situation of the villagers of Krishnaganj, Hanskhali and Ranaghat blocks is no better. These people live 80 kilometres northeast of Calcutta along the Churni and Mathabhanga rivers. Mostly farmers and fishermen, their livelihood is linked to these rivers that originate in Bangladesh and are polluted by industrial effluents dumped by the neighbouring country. Basudeb Halder, a fisherman in Majhdia, says, "Foul-smelling effluents make our life unbearable. It is killing all fish and aquatic plants."
The villagers have formed the Mathabhanga and Churni River Rescue Committee and have written to the Prime Minister as well as the Bengal chief minister. Says Swapan Bhaumik, committee secretary, "Despite appeals to both the state and the Centre, the simple solution — a waste water treatment plant in Bangladesh — is pending for several years." He too talks about Nota and the exodus of youths. He says, "Vote ashey jae, Churni, Mathabhangar kalo jol aro kalo hoy... Elections come and go, but the Churni and Mathabhanga, they turn a little more black every day."
At the time of the great exchange, there were 37,369 people in the Indian enclaves in Bangladesh and 14,854 people in the Bangladeshi enclaves in India. Curiously, only 922 people officially registered to opt for India — ICUC claims several thousands were left out — but not a single family from the enclaves in India exercised the option of moving to Bangladesh.
We arrive at Dhabalsuti Mrigipur, one such former Bangladeshi enclave, a couple of kilometres ahead of the camp where Swapna lives. It has some markers of prosperity — a metalled road, an anganwadi (rural childcare centre) and some pumps for irrigation. We meet Anil Roy Lashkar in his house in a bamboo grove. The walls of his home are made of dorma (bamboo) and the roof is of sheet metal.
The Lashkars are not particularly enthusiastic about the Lok Sabha elections. Says Anil, "Now we are considered citizens of India and we have got the right to vote, but most of our demands have been ignored." He continues, "Tubewells, toilets and roads are inadequate." It seems he donated portions of his land for an anganwadi and a primary school, but not much progress has been made. He adds, "I expected the local youths to get jobs here, but nothing has happened." The common allegation of the 182 families in this former enclave is that almost all of them lost some land after the exchange due to bureaucratic errors.
Our last stop is Tinbigha Corridor, the 178m x 85m strip of land that links enclaves Dahagram and Angarpota with the Bangladeshi mainland. Despite strong opposition from a large section of people in the neighbouring Kuchlibari village, the corridor was given on a permanent lease to Bangladesh to facilitate movement of its land-locked citizens. Utpal Ray is a leader of the Kuchlibari Sangram Committee (KSC), a group of citizens protesting against India's surrender of the corridor to Bangladesh. Sudhir Ray, a member of KSC, was shot when police opened fire on protesters in 1981. Says Utpal, "The BJP had been supporting our movement from the very beginning. But now that they are the ruling party, they care two hoots about our condition here." He thunders, "Why were Dahagram and Angarpota not exchanged? Why did India surrender 10,000 extra acres of land to Bangladesh? Why aren't the BJP leaders taking action against criminals who use these enclaves to traffic cattle and women across the border?"
He takes us to the memorial of Sudhir Ray. "There was a time when all top leaders of the BJP used to visit this place. Now it's a forgotten cause," he sighs. Rajorshi says, "It's clear that the exchange of enclaves has solved some problems but it has undeniably opened up new ones." Swapna stolidly adds, "Unless they bring my husband here, I am not going to budge."
No one has come here to beg for votes and just as well. Three years ago they promised us heaven and then disappeared into thin air," says the middle-aged woman. It is election time and we — writer Rajorshi Biswas and myself — are in Mekhliganj in Coochbehar district, 650 kilometres north of Calcutta. Biswas is well acquainted with the area; his 2019 book Chhitmahaler Notun Golpo is a collection of short stories based on life in the enclaves. (Chhitmahal is the Bengali word for enclave.) Our angry protagonist is Swapna Barman, who lives in one of the three settlement camps here meant for enclave dwellers who opted for Indian citizenship in 2015.
There had been 111 Indian enclaves in Bangladesh and 51 Bangladeshi enclaves in India since India's Independence. Even after Independence, the inhabitants of these enclaves were regarded as a stateless people.
But now, post the revised Land Boundary Agreement signed by Prime Minister Narendra Modi and his Bangladesh counterpart, Sheikh Hasina, the two countries swapped enclaves and the people inhabiting these were allowed to pick a nationality of their choice. The Barmans used to live in Banskata, an Indian enclave in Bangladesh. They opted for Indian citizenship.
Swapna has good reason to be feeling the way she does. In 2015, when the historic enclave swap happened, due to some bureaucratic error her husband, Balaram, was left out of the list of new Indian citizens. When she has calmed down a bit, she tells us how that year the Indian flag was hoisted in their enclave and sweets were distributed. A month later, she arrived in the camp with her children and many others.
For decades they had been living in abject poverty with no access to hospitals, schools and no protection from the police of any country. Says Swapna, "In 2010, a group of criminals tried to grab our land. My husband was not at home, so they attacked me with a shear. I barely survived." She shows us a deep scar on her left leg. Her complaints were apparently ignored by the police of both countries. But upon being granted citizenship all that was going to change, or so Swapna and her ilk imagined. She says, "Political leaders and officials told us this was going to be a temporary settlement. Within two years, we were supposed to be rehabilitated with all the rights and privileges of an Indian citizen." The recounting makes her angry yet again. She adds, "It's been four years now, yet we survive on doles like paupers. We who had 26 bighas of paddy fields and cattle and poultry. Tell me, why should we vote for anybody?"
In 2015, when there was much ado about the historic enclave swap and global attention too, every other political party — the Trinamul, the Bharatiya Janata Party and the All India Forward Bloc — fell over each other trying to claim credit for it. In April this year, Bengal chief minister Mamata Banerjee began her Lok Sabha election campaign in Coochbehar saying, "We gave land for the enclaves and took the initiative to solve the problem. No other party cared before us. The Prime Minister had no role in this." The BJP, of course, countered this claim.
We meet Bisweswar Barman at his homoeopathy dispensary in Chenakata, five kilometres from his erstwhile home — an Indian enclave in Bangladesh. Biswas has narrated in his book how Bisweswar was framed by the local people, accused of treason in Bangladesh and hounded out of the enclave long before 2015. According to Bisweswar, who is now president of the Indian Chhitmahal Unity Council (ICUC), the only union of enclave dwellers, the Centre has already allocated over Rs 1,000 crores to the Bengal government for relief and rehabilitation of former enclave dwellers. "Nothing much has happened on the ground though. But this fund is being diverted for other projects unrelated to enclave dwellers. Then again, only 987 out of 37,000-odd people who opted to be Indian citizens got their citizenship documents. We have become beggars; some say we are infiltrators." He adds, "We met the home minister [Rajnath Singh] with a demand to rehabilitate all 30,000 people trapped in the (former Indian) enclaves. We appealed for a compensation of at least Rs 10 lakh per bigha for our lost land." The members of the council had also gone to meet Banerjee and BJP state head Dilip Ghosh, but apparently neither paid them any attention. "Now we have moved a petition in the Supreme Court," says Bisweswar.
The enclave dwellers had voted enthusiastically in the Assembly polls in 2016 and in the panchayat elections in 2018. Swapna says, "We voted in two elections but nothing about our lives changed." Three other camp dwellers — Rasabala Barman, Birendra Barman and Aswini Barman — gather in front of Swapna's tenement. "We have been told this will be our chance to participate in the parliamentary elections, but we are not excited at all," says Aswini. "Sometimes we feel like going back to our ancestral land. At least we had our own home, land and dignity," sighs Rasabala. Birendra chips in, "Now they are building flats for us in some obscure corner. What use is a flat for us farmers? How will we rear cattle?" Camp residents had organised a hunger strike and refused to hoist the national flag on Republic Day this year in the hope of redress, but no political party even took note.