The plight of jailed activists in 'police state'
Try hugging your child with one arm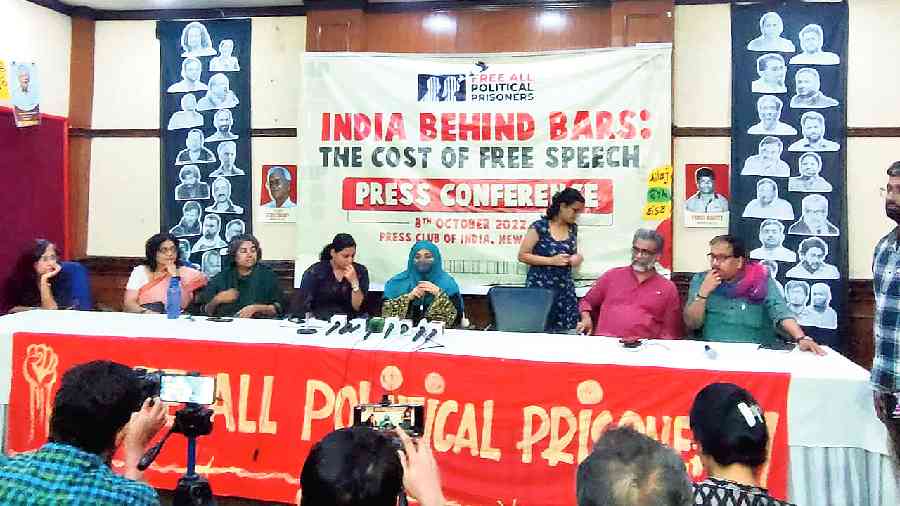 (From left) DU teachers Nandini Sundar, Nandita Narain and Jenny Rowena P, journalist Neha Dixit, Delhi riots undertrial Khalid Saifi's wife Nargis, Aisa Delhi secretary Neha Bora (walking), CPIML Liberation general secretary Dipankar Bhattacharya and RJD MP Manoj Jha at the media conference on Saturday
Telegraph picture
---
New Delhi
|
Published 09.10.22, 01:42 AM
|
---
Political leaders on Saturday shared the stage with relatives and friends of activists imprisoned in terror cases, listening to how bail remained a mirage for years and police prevented the accused even from hugging their children in court.
Besides the release of their loved ones, most of the speakers demanded a repeal of the Unlawful Activities Prevention Act (UAPA) which made bail difficult to obtain, and alleged that an "undeclared emergency" had turned the country into a "police state".
Nargis, wife of human rights activist Khalid Saifi who has been held without trial since 2020 in a Delhi riots conspiracy case, said her children were the worst hit.
"When they see him in court, he can't even hug them with both his hands as one hand is held firmly by a policeman. Sometimes, they (police) even push them (the children) away," she told the news conference at the Press Club of India.
"When some of our friends visit, my children try to play with them like they used to play with their father. When the friends leave, they feel sad and don't know how to respond."
Nargis said: "The government arrests those who speak out, and I think they are succeeding in silencing us…."
"For any cause in (northeast Delhi's) Khureji, Khalid could easily gather a huge crowd. Today, I go to the courts alone. That is because of the UAPA charge against him. People are scared," Nargis added.
Eighteen people, including students and activists, have been charged in the terror conspiracy case, which links the protests against the Citizenship Amendment Act (CAA) to the communal riots here in February 2020. Six have got bail. More than 17,000 pages of chargesheets were filed in two instalments in September and October 2020 but the trial is yet to begin.
Saifi fractured both his legs in police custody, which his lawyers attribute to alleged torture.
Miranda House assistant professor Jenny Rowena P. is married to Delhi University associate professor Hany Babu M.T. who is in a Navi Mumbai jail, awaiting trial in the Elgaar Parishad-Maoist links case.
"According to the UAPA, if the police tell the judge that Babu had written an email to a terrorist, it is enough to deny him bail," she said.
"Some Manipur terrorist group sent him an email that he did not even forward. The evidence will be tested only when it comes to trial and we don't know when the trial will come. The UAPA is just a way to punish when there is no evidence."
Sixteen writers, academics, lawyers and activists have been arrested over the alleged Maoist links to an Ambedkarite event, Elgaar Parishad, on December 31, 2017. The event had been followed by caste clashes the next day at Koregaon village on the banks of the Bhima river, near Pune, that claimed one life.
Telugu litterateur P. Varavara Rao and lawyer Sudha Bharadwaj are out on bail, and 84-year-old priest Stan Swamy died of post-Covid complications last year, while waiting for bail.
Babu caught an eye infection after Covid, and his family had to approach the courts to ensure proper treatment.
A.S. Vasantha Kumari, wife of G.N. Saibaba — a paraplegic and former professor at Delhi's Ram Lal Anand College who is serving a life sentence in Nagpur for his association with banned Maoists — compared his plight with the experience of Hindutva activists accused of murder.
"Three parole applications, two medical bail pleas, one emergency parole plea (from Saibaba) to visit his mother before she died were rejected. Compare that with (former Gujarat minister) Maya Kodnani, Aseemanand and Babu Bajrangi who are all free," she said.
Kodnani was in 2012 handed a 28-year sentence in a 2002 Gujarat riot case but was acquitted on appeal in 2018. Aseemanand was arrested in several terror cases but acquitted. Babu Bajrangi, sentenced in 2012 to 21 years in a 2002 riot case, was granted bail by the apex court in 2019 after a medical report certified him as blind.
"I am here to demand immediate proper medical treatment for Vernon Gonsalves, Saibaba, Gautam Navlakha, Atikur Rahman and all prisoners who need it," Vasantha Kumari said.
Sahba Husain, partner of Elgaar accused Navlakha, said through a note read out at the event: "Apart from the undertrial political prisoners of Bhima Koregaon and the CAA, charged under UAPA, who have name and visibility, there are countless other prisoners and political prisoners who remain invisible and without a voice or support network to help them in their quest for justice. Let us also remember them as we demand justice for our loved ones and the release of all political prisoners."
Speaking at the news conference organised by the All India Students' Association (Aisa) and other mass organisations of the CPIML Liberation, party general secretary Dipankar Bhattacharya said: "These are political prisoners. Their affiliation does not matter. They are victims of a kind of politics of the State that victimises them. There is talk of Opposition unity now and we need to make this (prolonged custody without trial under UAPA) an issue of democracy."
Rashtriya Janata Dal MP Manoj Jha said: "We expressed our fears when the UAPA amendment was in Parliament. We stand vindicated. The images (on posters of those in jail, put up at the venue) tell us about the horrifying way in which the UAPA has been used. Count us in (as participants in) your struggle. Whatever happens, we will never disappoint you."
RJD youth leader Meeran Haider is in jail in the Delhi riots terror case.
Senior Supreme Court advocate Colin Gonsalves underlined that the apex court had recently allowed confessions made to investigators to be considered as evidence under the Maharashtra Control of Organised Crime Act and the Prevention of Money Laundering Act.
"We can see the acceleration towards a new emergency…. And perhaps no government, not even Indira Gandhi's government, imposed the kind of reign of terror that the present central government has imposed," he said.
Rama, granddaughter of B.R. Ambedkar and wife of academic and Elgaar accused Anand Teltumbde, said in a statement: "The last three years for us, and many more years for the rest, have surely scared us in many ways and we would like for you to stand in support of these political prisoners, the true protectors of the country's constitution and its democracy. They need you more than ever."