A Rs 50,000-cr opportunity too hot to ignore
The drone takeoff has started, thanks to the new government rules
The industry could become a Rs 50,000-crore business, create 500,000 professional jobs, forecasts federation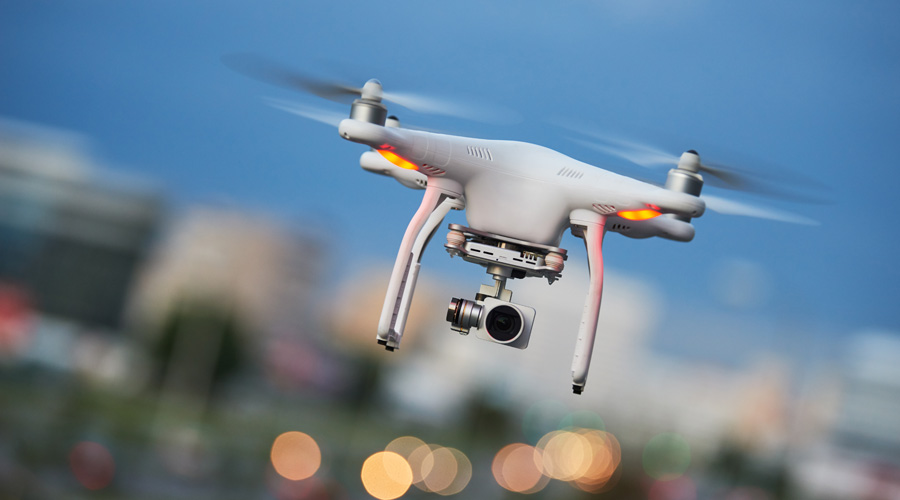 The government's done a 180-degree about-turn and the nascent industry says the sky's now the limit.
File Picture
---
New Delhi
|
Published 06.09.21, 03:36 PM
|
---
Ever since drones began flying, the government has looked upon them as a problem to be wished away. There was the danger to planes landing at airports. And, of course, there was a security risk and the possibility terrorists might use them to carry explosive devices.
Consequently, the government kept drones tethered to the earth with a book full of rules and red tape.
Suddenly, though, the government's done a 180-degree about-turn and the nascent industry says the sky's now the limit. "The takeoff has started," says Smit Shah, who's the director of the Drone Federation of India.
Shah said a "rough estimate suggests in the next five years it will be more than a Rs 50,000-crore business." He adds: "It could even be 10 times more." Shah also says the industry could create 500,000 professional jobs over the next five years as the new rules open up opportunities for local manufacture of delivery drones. The new regulations make India "future-ready," he declares.
In recent years, drones have been evolving beyond their military original purpose to become powerful business tools. Globally, they've already made the leap to the consumer market and now they're being put to work in commercial and civilian government applications from firefighting to farming. These developments have created a market opportunity that Goldman Sachs has called "too hot to ignore."
Green, yellow & red zones
The country is about to be divided into green, yellow and red zones. Drones will be allowed to fly freely in green zones and subject to certain rules in the yellow zones. They'll need permission to fly in Red Zones which will be around airports, defence establishments and government offices.
Vipul Singh, CEO and co-founder Aarav Unmanned Systems (UAS), isn't even looking ahead five years – he's more worried about the next six months when he believes there will be a "40-times expansion in the number of drones." He's now worrying about how to up production, raise funds and train staff to cope with this sudden booming growth. For the moment, he isn't worrying too much about revenues which he says will follow automatically.
So what's likely to be on the drone flight path over the next year? "You'll see the first drone prototype air-taxis being built out of India in less than 12 months," Shah predicts confidently, adding: "You may not have people flying in that prototype. But it will be a prototype that can be graduated for trials and people flying as well."
E-commerce package delivery
Besides that, Shah reckons, we will soon have e-commerce packages and even, "very complex heavy packages" being delivered by drones, even between nearby cities once air passages are established. At a different level, he sees drones being used to drop medicines in hilly areas or to rural healthcare centres that don't have fridges to store cold chain medicines.
Besides that, there are already enormous government schemes waiting to take off that will literally need swarms of drones. There's Svamvita which works with the Ministry of Panchayati Raj and the Land Records Department in different states and which aims to demarcate private and government property and create land records in India's 6.6 lakh villages.
Already more than 100 drones have been flying daily in states across the country working on this project but it's reckoned about 3,000 will be needed to get it done efficiently. On a similar scale, there's the government's crop insurance scheme, the Pradhan Mantri Fasal Bhima Yojana.
Roads and railways
Turn to the public and private sectors and they will also step up the use of drones now that it's easy to get them into the air without flying into a wall of red tape. Drones are of immense use in the infrastructure sector, in sectors like roads and railways. Also, for instance, they can quickly keep an overhead eye on oil and gas and petroleum pipelines.
Mining companies too need them and so do iron and steel and coal companies. For these companies which keep large quantities of their raw materials out in the open drones can help with quick stocktaking. Also, there are a huge number of small drones being used by almost every wedding photographer or anyone covering an event.
Giant Cos making a move
Not surprisingly, the country's giant corporations like the Ambanis, the Adanis, the Mahindras and the Tatas have all been making moves into the sector. Mukesh Ambani has bought a majority stake in Asteria which develops drones both for mining, oil & gas, agriculture and security-oriented vehicles for the police, paramilitary and military.
Ambani also invested $100,000 in Detect Technologies which makes drones for surveying power company transmission lines and the suchlike. These have been increasingly in demand since the Covid-19 pandemic broke out forcing companies to use lower manpower on the ground.
The Adanis and the Tatas, too, are making UAVs for the police and security services. And Mahindra Defence has tied up with Aeronautics of Israel to make unmanned vehicles primarily for the navy and also for crop spraying.
The government, till recently showed no signs of wanting to loosen the rules that had tied the drone industry in knots over the last decade. After considerable lobbying by the Drone Federation of India, in March the government introduced what it called the Unmanned Aircraft System Rules 2021. To the industry's dismay, the new rules simply refined the existing system of tight controls.
Repeal in 3 months
But the Drone Federation didn't give up and amazingly less than three months later the government reversed course sharply. Says Smit Shah: "The repeal has come in just over three months. Under the same government, the same people. We started from a very control-centric and very licence-oriented regulation and then complete liberalisation." Shah says the Prime Minister's Office was deeply involved in loosening the regulations.
Now that the government's done its about-face, its ambitions for the industry are boundless. "India is on the cusp of a major drone revolution.
The future belongs to drones," Union aviation secretary P. S. Kharola said at the weekend. "We want to become drone leaders in the world. India is best suited for this sector as it became the IT capital of the world, then the startup capital and now drones beckon us," he said at the inauguration of a remote aircraft pilot training school in Bangalore on Sunday.
Market valu: $20.24 billion
The drones market is valued at $20.24 billion in 2020 and is forecast to post CAGR of nearly 16 per cent to 2026.
The new rules apply to all drones of under 500kg and once a basic registration has been done the paperwork is now minimal. The number of forms needed to operate a drone has fallen from 25 to five and the types of fees from 72 to four.
Most of the country is expected to be in the green zones for which no permissions are needed below a certain height. This is a huge change from before. Says Shah: "Before if any drone company wanted to do legal operation, they had to ask for an exemption from the rules."
Industry was waiting
Mind you, the drone industry was just waiting for a green flag to get going. There are already 100 drone manufacturers, 200 service providers and 25,000 trained pilots. There are already eight drone aircraft system remote pilot training sites across India approved by the DGCA (Director General of Civil Aviation) in India. Karnataka has also just opened its first DGCA-approved (Director General of Civil Aviation) drone-training site. 
The Indira Gandhi Rashtriya Uran Akademi, which has been training commercial airline pilots since 1986, is tying up with the drone-manufacturing company, Drone Destination, to set up drone pilot training centres. The companies launched one training centre in Manesar earlier in the year and the second was inaugurated in Bangalore at the weekend.
Aerial spraying of crops
Singh of Aarav Unmanned Systems points out that the Agriculture Ministry has recently loosened the rules and given the green signal for aerial spraying of crops – this hadn't been allowed earlier. Besides that, in February, the government has also loosened the rules surrounding the collection of geospatial data. Again, the government has changed course sharply on geospatial data. Before it had taken a heavily security-oriented approach to allowing the capture of data.
Singh notes that drones can be used at almost every stage of building roads. They can be used to map the route a road should take. Then drones flying overhead can monitor construction. And finally, they can identify potholes or other needed repairs.
Aarav both makes drones and also operates them for its clients. Singh is looking at whether he will have to open a new facility in the coming months and also how he will build up staff and pilot training modules. Besides that, he's also worried about global supply chains that have been severely disrupted by the pandemic. He could be spectacularly busy in the coming months – but he isn't about to complain about that.