The BJP science laureates: Who they are and what they spout
Arjuna's arrows were battlefield nukes, Pythagoras Theorem was 'our gift' to the world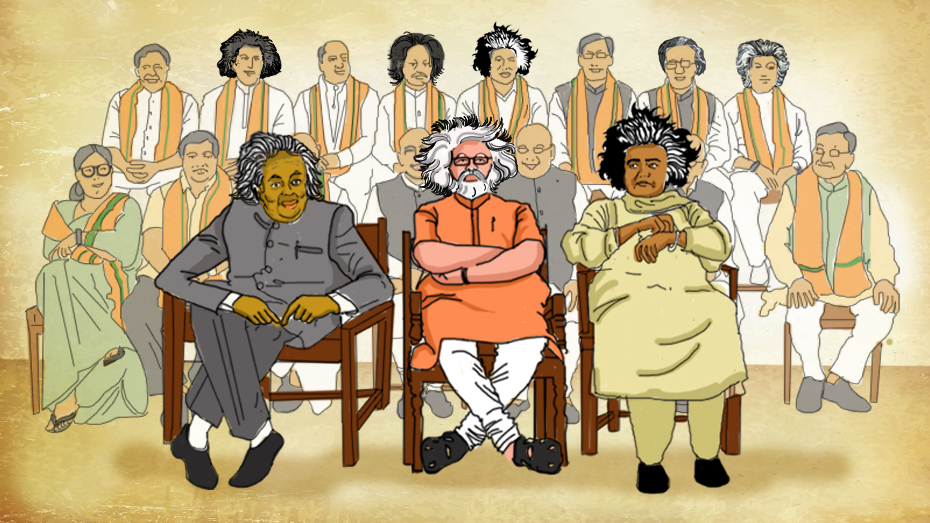 ---
New Delhi
|
Published 18.01.20, 09:16 PM
|
---
For the BJP, when it comes to India's record of scientific achievements stacked against Western attainments, it's "been there, done that".
The pantheon of the BJP's "science laureates" run from West Bengal governor Jagdeep Dhankar, who this month declared Arjuna had nuclear-powered arrows, to Prime Minister Narendra Modi, who memorably asserted that there must have been plastic surgeons in ancient times because who else could have attached Lord Ganesha's elephant head.
The ruling party has an array of leaders that can be relied on to insist every Western scientific accomplishment was already in the Vedas or the Mahabharata. The heavy-hitters fall roughly into two divisions:
Those who revel in obscurantism and disown all science or insist that all wisdom and scientific discoveries were already known and practised in the Mahabharata, Vedas or ancient India.


Those who are constantly praising cows, and their urine and dung, nicknamed by some the "udderly nonsense brigade."
A Telegraph Online guide to BJP science laureates
Dhankar, Jagdeep (West Bengal Governor): On January 14, 2020 he startled an audience at the 45th Eastern India Science Fair by insisting that flying machines existed during the Ramayana and that Arjuna's arrows were nuclear powered. "It is said that the plane was invented in 1910 or 1911. But if we delve into our scriptures, we will see in the Ramayana that we had the 'uran khatola' (aeroplanes). He added: "The arrows of Arjuna in Mahabharata had atomic power in it (sic)"
Deb, Biplab (Tripura chief minister): The Tripura chief minister, a former gym instructor, waded into the Mahabharata sometime in March 2018, saying that the blind king Dhritarashtra, was getting constant updates from the battlefield at Kurukshetra that indicated the existence of satellite communication and the Internet. Deb offered fodder for Twitterati on another occasion when he insisted that civil engineers, not mechanical engineers, were best suited to be civil servants.
Hegde, Anant Kumar (former Union minister for skills development): A fan of Sanskrit — he took his oath in Parliament in the language — he insisted (June 21, 2018) that eminent scientists around the world were coming round to the view that Sanskrit would be the language of future supercomputers. He did not, however, reveal the names of these eminent scientists.
Modi, Narendra (Prime Minister of India) (October 2014): In an address to Mumbai doctors sometime in October 2014, Modi harkened back to the Vedic era, saying: "If we talk about space science, our ancestors had, at some point, displayed great strengths in space science. What people like Aryabhata had said centuries ago is being recognised by science today. What I mean to say is that we are a country which had these capabilities. We need to regain them."
Rawat, Trivendra Singh (Uttarakhand chief minister): He provided a new twist (July 27, 2019) by insisting that cows are the only creatures in the animal kingdom that inhale and exhale oxygen. He also insisted that living in close proximity with a cow could cure tuberculosis. He didn't specify how close was necessary to effect a cure. On another occasion, he said pregnant women should drink water from Garud Ganga in Bageshwar district to avoid caesareans.

Shrivastava, Ranjit (little-known BJP leader from Barabanki, Uttar Pradesh): He distinguished himself (July 28, 2019) by insisting that cows are Hindus and therefore their carcasses should not be buried since burial is a Muslim ritual. Instead, dead cows should be wrapped in white and cremated on a traditional Hindu pyre or an electric crematorium should be built for them. His memorable quote: 'Cows in the houses of Muslims should be taken back. When we consider girls from our homes going to their homes to be 'love jihad', shouldn't we consider 'gau mata' going to their homes as 'love jihad' too?" To replace the cows, he suggested Muslims rear goats, asserting, "The goat is their mother."
Singh, Giriraj (Union minister for fisheries, animal husbandry and dairying): A serial offender, he most recently (January 14, 2020) asked scientists to conduct further research into cow dung and urine, saying this would lead to dairy farmers making more money from their cows and not abandoning them when they could no longer produce milk.
Singh, Satyapal Singh (minister of state for higher education): A former Mumbai police commissioner, Singh has a bone to pick with Charles Darwin and the Theory of Evolution. (July 19, 2019, June 30, 2018 and January 2018). He memorably told Parliament: "Our culture says we are the children of rishis. I don't want to offend people who believe that we are the children of monkeys, but according to our culture we are children of rishis." He was ticked off by DMK MP Kanimozhi who noted she was a homo sapien and her parents were Shudras. But Singh soldiers on, pushing for the Theory of Evolution to be erased from textbooks. His clinching argument: there are no eyewitnesses who saw a monkey turning into a man.
Thakur, Pragya (Member of Parliament from Bhopal, accused in the Malegaon bombings in which six persons were killed): While all BJP leaders bow before gau mata, the star of the cow debate is undoubtedly Thakur, who famously insisted (April 22, 2019) that she was cured of cancer by drinking cow urine. "I cured myself by consuming gomutra (cow urine) and Panchgavya mixed Ayurvedic herbs," she said. Pachagavya is cow dung, urine and milk mixed to specified proportions. Her doctors then spoke up to slam her claims and noted that she had several surgeries including a mastectomy to treat her cancer. Thakur asserts other illnesses too can be cured by getting close and comfortable with a cow. For blood pressure, for instance, she advises treating it by rubbing a cow in a certain way.
Vardhan, Harsh (Union minister for science & technology): On January 4, 2015, he said India discovered algebra and the Pythagoras Theorem, but then generously allowed others to claim the credit. "Our scientists discovered the Pythagoras Theorem. We gave credit to the Greeks." Similarly, he said India allowed the Arabs to claim credit for algebra.
Vardhan jumped into the arena again in March 2018, soon after Stephen Hawking died. He insisted Hawking had said the Vedas might have had knowledge of a scientific principle that was greater and more powerful than Einstein's Theory of Relativity. Pressed for details of this unknown statement by Hawking, the minister said it was up to reporters to find it. Troublingly, the minister made these statements at an Indian Science Congress meeting.
Parivar-inspired gospel: Unsurprisingly, BJP leaders have proved to be inspirations for others who have taken to constantly discovering new powers and properties of cows.
G. Nageshwar Rao: The vice chancellor of Andhra University dipped into the Mahabharata and told the Indian Science Congress that the 100 Kauravas were 'because of stem cell and test tube technology.' He also insisted that, "Lord Vishnu used guided missiles known as Vishnu Chakra."
Junagadh Agricultural University: Scientists say that after five years of study, they have found traces of gold in cow urine. The scientists say they were led on this path by references in the Atharva Veda. They also offered the theory that more gold is present in cow urine in summertime than during the monsoon. These findings have been submitted for further validation, the university's vice chancellor has said.
An earlier version of the story was published in The Telegraph Online on January 16, 2020.