Covid: Test on five per cent fliers from no-risk list for omicron
A preliminary study by researchers in Switzerland has indicated that the new stran is far more transmissible than the delta variant, which had fuelled India's second wave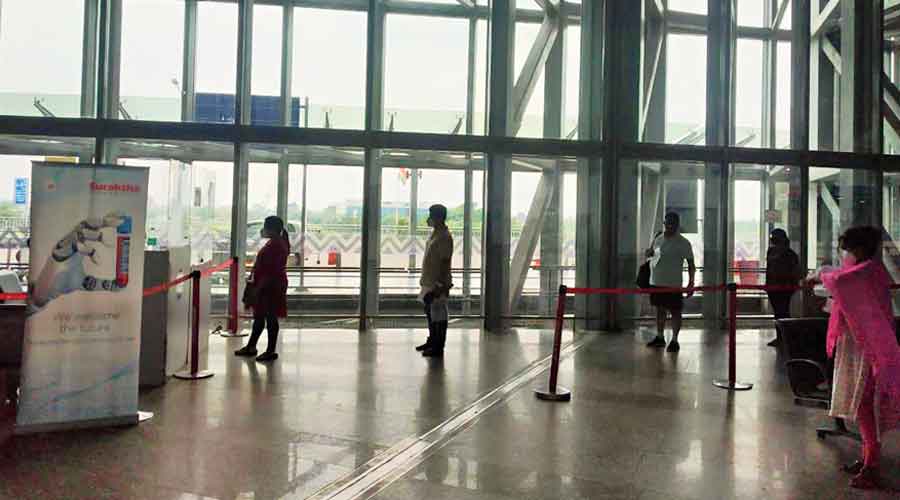 The guidelines require all passengers from the "at-risk" countries to be tested on arrival.
File photo
---
New Delhi
|
Published 30.11.21, 03:21 AM
|
---
One in every 20 international passengers from countries not on the high-risk list will be tested for Covid-19 on arrival in India, the Union health ministry said on Monday, outlining guidelines aimed at early detection of the fast-spreading omicron variant.
The guidelines require all passengers from the "at-risk" countries to be tested on arrival. But the ministry, citing the increasing count of countries that have detected omicron, said five per cent of travellers even from countries not in the at-risk category will be tested at airports.
India has labelled European Union nations, South Africa, Brazil, Bangladesh, Botswana, China, Mauritius, New Zealand, Zimbabwe, Singapore, Hong Kong and Israel as at-risk countries. The guidelines come into effect on December 1.
Since scientists detected omicron in Botswana and South Africa earlier this month, the virus has turned up in 13 other countries —Australia, Austria, Belgium, Canada, the Czech Republic, Denmark, Germany, Hong Kong, Israel, Italy, the Netherlands, Portugal and the UK.
The health ministry has asked the states to activate rigorous surveillance, increase testing, and look out for areas with recent clusters of positive cases amid concerns among public health experts that omicron could lead to fresh surges in the country.
In South Africa, where experts have detected evidence of omicron's rapid spread over the past two weeks, the seven-day average of daily new cases has increased 18-fold from less than 250 on November 14 to around 4,500 on November 28.
"We here in India have to be cautious but not anxious," said T. Jacob John, former head of clinical virology at the Christian Medical College, Vellore. "We have already had a large pool of natural infections and a significant proportion of people are vaccinated, but we don't fully understand omicron yet."
John added: "If I were a policy-maker, I would be urging all steps necessary to curb its spread and prepare for any fresh surges."
Scientists say there is far too limited data to predict what course an outbreak of omicron might take in India, where a survey in July had found over 67 per cent people with protective antibodies from natural infections.
A preliminary study by researchers in Switzerland has indicated that omicron is far more transmissible than the delta variant, which had fuelled India's second Covid-19 wave. But researchers say more data that is expected over the next two weeks could shed light on the threat, if any, posed by omicron.
The ministry said samples from all passengers found positive for Covid-19 would be sent for sequencing and the positive people would stay in isolation facilities -- hospitals, if they have symptoms. Passengers found negative will be asked to stay in home isolation for seven days and will then be tested again.