Teach boys 'no' means 'no': Kerala High Court
HC expresses concern at rise in sexual harassment on campuses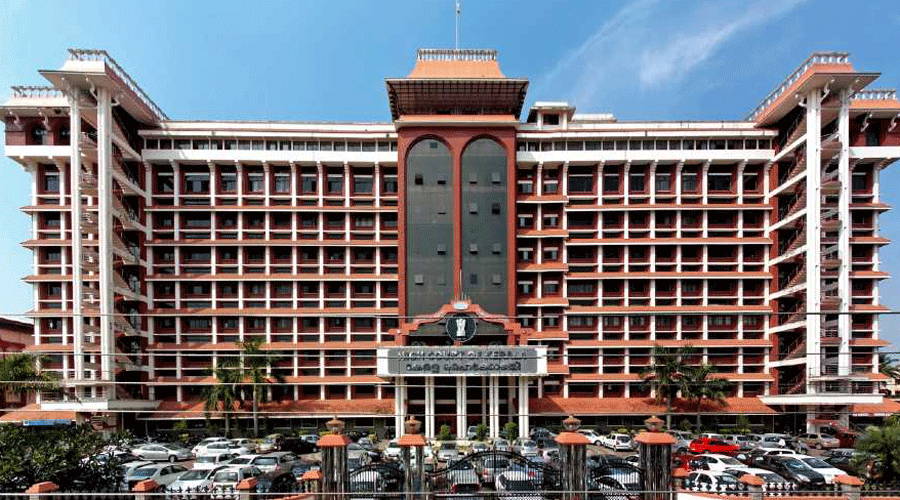 Kerala High Court.
File picture
---
Bangalore
|
Published 22.01.23, 03:23 AM
|
---
Kerala High Court has expressed concern at the rise in sexual harassment on campuses, saying boys should be taught that they should not touch a woman without her consent and that "no means no".
The single-judge bench of Justice Devan Ramachandran observed that sexism was "not cool"  and urged families and education authorities to sensitise boys from a young age against stereotypical ideas about girls. 
"Boys must know that they should not touch a girl/ woman without her explicit consent. They should understand 'no' means 'no'," the judge said in his written order on Wednesday.
The high court directed the Kerala education department, school boards such as the Central Board of Secondary Education and the Council for the Indian School Certificate Examinations, and t h e University Grants Commission to take steps to inculcate the values of gender equality among students.
"Lessons in good behaviour and etiquette must be part of the curriculum, and from at least the primary class level teachers must be encouraged to instil virtues and values in students," the bench said.
"Increasing instances of sexual harassment against students, even in schools and colleges, impel us, as a society, to think and introspect very closely.
"Most of, or all, the allegations of sexual harassment are made against boys and very rarely against girls; and in that perspective, certainly, it is now time for all to sit up and think intently as to what should be done, at least for the generations to come.
"Boys, even from a very young age, often grow up with certain sexist stereotypes —reinforced by peers and other social influences. Showing a girl/ woman respect and honour is not old-fashioned; on the contrary, (it) is a virtue for all times.
"Sexism is not acceptable or 'cool'. One exhibits strength when he respects a girl/ woman. Respectfulness is an imperative that needs to be inculcated very young. How one treats a woman gives an insight (in)to his upbringing and personality."
The judge quoted the 14th-century Islamic theologian from Damascus, Ibn Qayyim Al-Jawziyya, as saying: "Women are one half of society, which gives birth to the other half, so it is as if they are the entire society."
The judge observed: "A child should be taught at the family, and from the beginning of school, that he/ she must respect the other gender. They should be taught that real men don't bully wom(e)n — it is unmanly, and not an expression of macho virtue but its antithesis. It is, in fact, the weak men who dominate and harass wom(e)n — this message must ring loud and clear."
The court was hearing a plea from a male student of TKM College of Engineering, Kollam, who had been suspended for allegedly groping girls on the campus.
The student had sought relief arguing the college had not heard him before acting against him. The court disposed of the case with a direction to the college to constitute the statutory collegiate students' redress committee.
Last week, a student of the Government Law College in Ernakulam was suspended after he stepped onto the stage at an event and allegedly touched a female actor who was promoting her new film on the campus.
Video clips purportedly show the young man touching the national-award-winning actor inappropriately while posing for a picture. The visibly uncomfortable actor quickly moves away and refuses to extend her hand when he steps onto the stage a second time, apparently to apologise.