Tariq returns to Cong, calls others back
Anwar had left the Congress with Pawar and P.A. Sangma over Sonia Gandhi's foreign origins and floated the NCP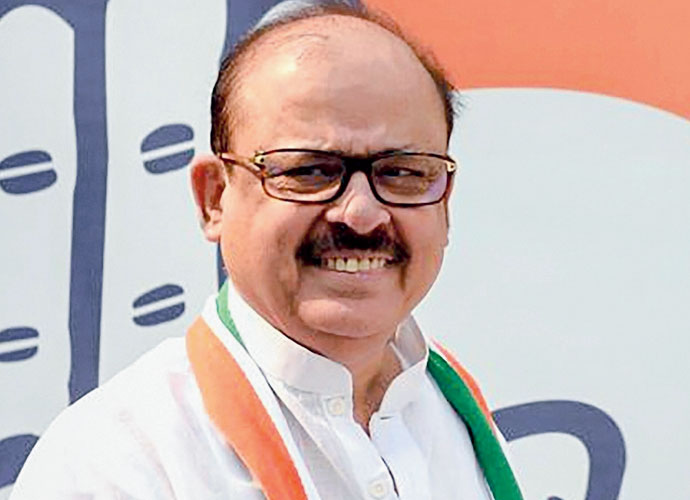 ---
---
Tariq Anwar on Saturday joined the Congress and appealed to all other leaders who had quit the party to return and strengthen Rahul Gandhi's hands in the fight against the Narendra Modi government.
Anwar, who had resigned from the NCP some time ago, met Rahul Gandhi in the morning and accepted the primary membership of the party that he had served as Youth Congress president, general secretary and political secretary to the party president.
Bihar in-charge Shaktisinh Gohil said Anwar's return will strengthen the Congress in the state.
Anwar told The Telegraph: "I decided to return to the Congress because only Rahul Gandhi can save the country from the nefarious designs of RSS-BJP. We are faced with a leader who promised achchhe din and delivered anarchy. In my political life of over four decades, I had never seen anything like what is happening in the CBI now, particularly the removal of the director in the middle of the night and a raid ordered by the PMO to seize sensitive documents."
Anwar also argued that "wrongdoing by the Prime Minister in the Rafale deal" was absolutely clear and it was Rahul alone who had exposed this fraud.
"We have to concede that Rahulji has offered a sustained resistance to the government's anti-people policies, starting with the attempt to kill the Land Acquisition Act to Rafale, and anybody who wants to protect India is morally and politically obliged to strengthen his hands," Anwar said.
Asked if he was asking even NCP chief Sharad Pawar to return to the Congress, the five-term MP said: "It is not about individuals. It is about a cause, to protect the idea of India. Every political party should understand that a credible alternative can be built only under the Congress leadership. Personal and political ambitions should be set aside in the larger interest at a time when Modi and Amit Shah have reduced democracy and rule of law to personal whims."
Anwar had left the Congress with Pawar and P.A. Sangma over Sonia Gandhi's foreign origins and floated the NCP.
Anwar was not given any party post but this could come later. He is expected to be fielded from Katihar in Bihar as the Congress candidate in 2019.