Tamil Nadu: M.K. Stalin decides to forego popularity 'priviledge'
In two instances, the CM told not to print his photographs on bags meant for distribution, and also told a fellow DMK lawmaker not to waste his time praising him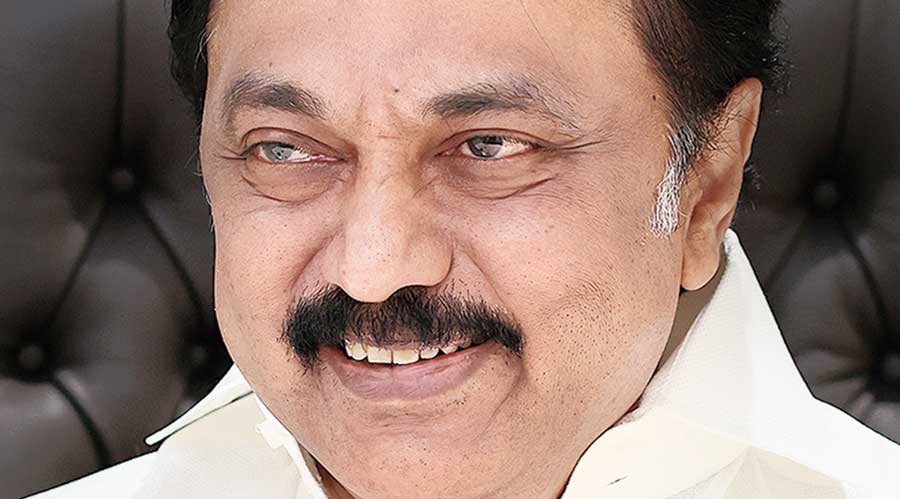 ---
Chennai
|
Published 04.09.21, 02:05 AM
|
---
It is not surprising that two acts of Tamil Nadu chief minister M.K. Stalin last month went largely unnoticed, rather ignored, in today's "new India".
In the first instance, the chief minister told his education minister not to print Stalin's photographs on 65 lakh bags meant for distribution among schoolchildren in the state, opting to retain pictures of his political adversaries from the previous government that had sanctioned the project.
Second, Stalin told a fellow DMK lawmaker not to waste his time praising the chief minister while participating in a discussion on animal husbandry in the Assembly.
Both these actions were out of sync with the "new normal" in India.
The schoolbags, which were custom-made for distribution during the time of the previous government, carried the photographs of AIADMK leader, the late Jayalalithaa, and then chief minister E. Palaniswamy.
To print photographs of politicians on schoolbags was considered a normal practice. Discarding those bags and making fresh ones with photographs of Stalin would have cost the exchequer a minimum of Rs 18 crore. So Stalin's government decided to distribute the old bags, irrespective of the photographs.
Stalin's decision to forego a "privilege" came at a time elected governments and their leaders are often accused of using public money to enhance their popularity among the masses.
All the more, coming from Stalin the act is exceptional as he was born and brought up in a culture where larger-than-life cut-outs on display even in front of the leader's own house is considered absolutely normal.
Praising a leader in his or her presence is also not new in Tamil Nadu politics — at least from the time Jayalalithaa came into prominence by inheriting the legacy of her political mentor, the legendary MGR.
When she was alive, AIADMK members of Parliament used to carry her photographs with them. "Amma" never discouraged them from doing so.
Although such blatant acts of sycophancy were not encouraged during the time of Stalin's father, the late Karunanidhi, the changed scenario in the country itself might have prompted DMK legislators, too, to toe the line and sing paeans to the new leader.
Stalin has, however, said openly: "I have already instructed DMK members not to praise me and that I will take action against them if they do. The members should use the allocated time (in the House) judiciously."
Mouthing hymns of praise and wasting reams of newsprint eulogising a certain leader have become the norm. Day after day, the disease of sycophancy is spreading its tentacles, cutting across party lines.
Putting a politician's photograph on children's bags may not seem incongruous in a country where the Prime Minister's photo is emblazoned on Covid vaccination certificates, many believe. Forget the ethics of the act, despite the fact that the certificates with Narendra Modi's photograph have put Indians travelling abroad to great inconvenience, the government has not bothered to take steps.