Tamil Nadu BJP intellectual cell chief is Rajinikanth's party coordinator
Speculation that the proposed outfit might be 'pro-BJP' continues despite the actor's attempt to distance itself from the central party's brand of politics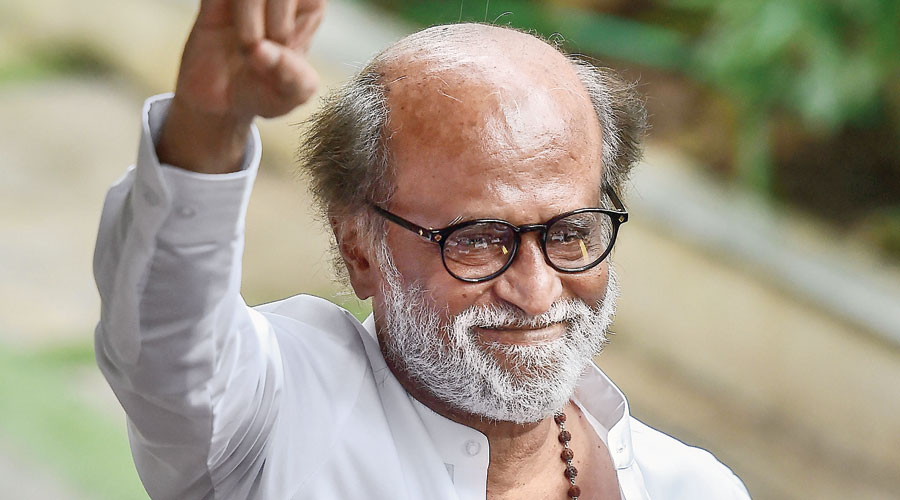 Rajinikanth at the news conference in Chennai on Thursday to announce the launch of the political party.
(PTI)
---
Chennai
|
Published 04.12.20, 01:58 AM
|
---
Movie superstar Rajinikanth on Thursday said he would launch a political party in January ahead of the May 2021 Tamil Nadu elections, ending 24 years of suspense over whether he would enter politics.
"A political party will be launched in January. The announcement will be made on December 31," Rajinikanth, who turns 70 on December 12, tweeted.
"In the coming Assembly elections, with the people's support, we will usher in a transparent, corruption-free, secular government, beyond caste, religion. It will be the birth of spiritual politics."
The actor later confirmed the decision at a media interaction. He said he would take the "full plunge" into politics only after completing the shooting of his latest film, Annathai, by March.
Speculation that the proposed outfit might be "pro-BJP" continued despite the phrasing of the tweet appearing to distance Rajinikanth from the BJP's brand of politics.
The actor declared that Arjun Murthy, head of the state BJP's intellectual cell, would be "chief coordinator" of the new party. Hours later, Murthy resigned from the BJP.
State BJP general secretary Karu Nagarajan promptly accepted his resignation, relieved him of all party posts and told the cadre not to have any association with him.
At the media conference, Rajinikanth also introduced Gandhian activist and Tamil writer Tamizharuvi Manian as a key office-bearer who would "oversee" the new party's formation and launch.
Rajinikanth fans across the state celebrated, bursting crackers and distributing sweets.
Speculation about Rajinikanth joining politics has continued since he helped fashion Jayalalithaa's defeat in the 1996 Assembly elections.
The actor had openly attacked Jayalalithaa for corruption and backed the breakaway Tamil Maanila Congress (TMC), led by G.K. Moopanar.
Rajinikanth's one-line indictment —"If Jayalalithaa is voted back to power, even God cannot save Tamil Nadu" —went down well, helping the DMK-TMC-CPI combine win the election.
On Thursday, the actor brought up his declared intent in 2017 to launch a political party before the Assembly polls and contest all the 234 seats. He said he had never gone back on a promise and was now fulfilling it.
"I had planned to travel all over Tamil Nadu and build awareness among the people to create an upsurge for change before launching the political party," he said.
But a kidney transplant and subsequently the pandemic hindered the programme.
Rajinikanth said his doctors had advised him against interacting with people too much, "but even if my life is at risk, I have now decided to enter politics as people's welfare is paramount".
"The time to rewrite Tamil Nadu's destiny has come. There's a great need for change... it's now or never. Voted to power, we will change everything," Rajinikanth promised.
Some among the Hindu Right and Rajinikanth's fans believe that the actor alone can fill the "vacuum" left by the deaths of Jayalalithaa and M.K. Karunanidhi. This despite fellow actor Kamal Haasan's Makkal Neethi Maiyam having already contested last year's Lok Sabha polls.
Several Opposition politicians, however, suggested that Rajinikanth's health problems would make it difficult for him to emerge as "MGR-II" — a reference to the late M.G. Ramachandran, a movie star who formed the AIADMK and ruled Tamil Nadu as chief minister from 1977 to 1987.
AIADMK chief minister E.K. Palaniswami played down the sudden development. "I have not seen his statement in full; I shall respond later," he said in Salem.
Deputy chief minister O. Panneerselvam, also of the AIADMK, welcomed Rajinikanth's announcement, adding that an alliance "with his party is possible".
DMK parliamentarian and spokesperson T.K.S. Elangovan was unimpressed.
"Even a few days ago, he had sounded undecided. Now he has said something. We don't know what the pressure is on him to say this," he told The Telegraph. "It won't affect the DMK, for at best he may take away AIADMK votes."
Dalit MP and VCK leader Thol Thirumavalavan was dismissive, saying: "There is no clarity in his idea of 'spiritual politics'."
He said the term tended to imply majoritarian communal politics in the national context, for which there was little scope in Tamil Nadu where Dravidian parties and progressive Left forces held sway.
TMC president G.K. Vasan said one had to "wait and see" what impact the announcement had on the popular mood. "If he's going to complete his film assignments only by March, when will he have the time for the elections?" state Congress president K.S. Azhagiri said.
He suggested that Rajinikanth's "spiritual politics" may have little in common with the Gandhian notion of spirituality.
Rajinikanth had been expected to meet Amit Shah during the Union home minister's recent trip to Chennai, but it didn't happen.
However, BJP ideologue Swaminathan Gurumurthy, who edits the Tamil political weekly Thuglak, recently met Rajinikanth and advocated he enter politics to take on both the Dravidian majors — an indirect plea for him to back the BJP.