Taliban insurgency: Your questions answered
India's participation in the war-torn country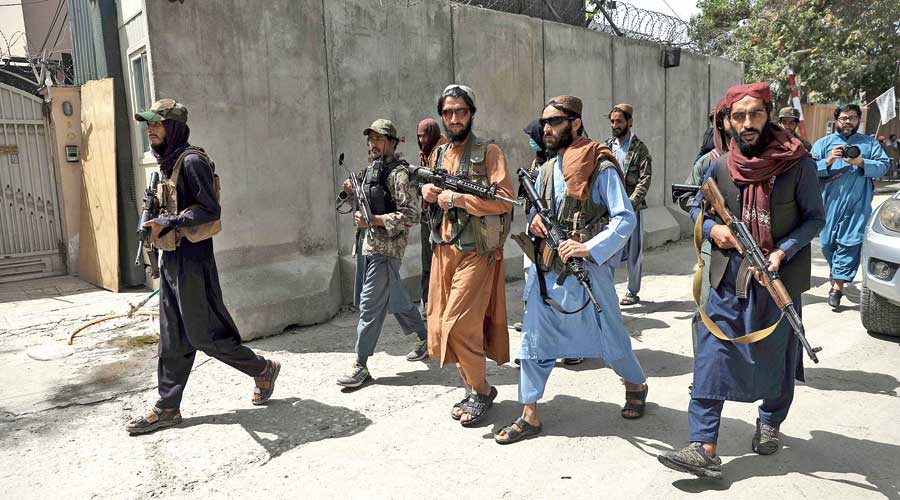 ---
New Delhi
|
Published 19.08.21, 02:19 AM
|
---
When did India close its consulates in Afghanistan?
The Herat and Jalalabad consulates were closed in April 2020, ostensibly because of the pandemic. India refrained from reopening them owing to the US plans to withdraw troops.
Indians working at the Kandahar consulate were evacuated in July this year as a "temporary measure". On August 10, Indians working at the Mazar-e-Sharif consulate were evacuated along with Indian nationals from in and around the area who were able to get to the mission in time for the special flight.
How many Indians are estimated to be still in Afghanistan?
There's no official number. In a written reply tabled in the Rajya Sabha on August 5, the ministry of external affairs (MEA) said: "According to available information, there are approximately 1,500 Indian nationals in Afghanistan including the Government of India officials."
Since then, this number is likely to have come down.
The embassy website had earlier put the figure at 1,710.
On Tuesday, the ministry said: "We understand that a number of Indians are stranded in that country, some of whom are employed by third country organisations. Our immediate priority is to obtain accurate information about all Indian nationals currently in Afghanistan. They and/or their employers are requested to urgently share the relevant details with MEA's Special Afghanistan Cell."
Some of the Indians in Afghanistan had, according to ambassador Rudrendra Tandon, reached out to the mission but were in areas that were too far away to access any longer.
How many advisories did India issue?
Over the past two months, India has issued four security advisories for its nationals in Afghanistan: on June 29, July 24, August 10 and August 12. The last two advisories told Indians to make immediate arrangements to return to India while commercial air services were still operating.
Indian companies operating in Afghanistan were advised to withdraw their Indian employees from project sites before air services were discontinued. The August 12 advisory mentioned how three Indian engineers had needed emergency air rescue from a dam project site in an area outside the control of the Afghan government.
What level of contact did India have with the Taliban?
Officially, India has never acknowledged any contact with the Taliban. But since earlier this year, there have been media reports saying India has engaged directly with the Taliban. The foreign ministry has neither confirmed nor denied these reports.
In June, Qatar's special envoy for counter-terrorism and mediation of conflict resolution, Mutlaq bin Majed Al Qahtani, said at a web conference that Indian officials had made a "quiet visit" to Doha to speak to the Taliban's political leadership.
The Indian foreign ministry's response to this too was that India was in touch with all stakeholders in pursuance of its long-term commitment towards development and reconstruction in Afghanistan.
What was the level of India's participation in multilaterals related to Afghanistan's future?
India was invited to witness the signing of the US-Taliban agreement in Doha on February 29 last year. India attended the first round of intra-Afghan talks in Doha in September last year with a joint-secretary-level official attending in person and foreign minister S. Jaishankar joining in via videoconferencing.
Last week, when Doha hosted peace talks on Afghanistan, India found itself on the sidelines. It was not present at the opening session of a meeting that included the US, China, Pakistan, Uzbekistan and the UK and was kept out of the Troika-Plus talks between Russia, US, China and Pakistan that had been convened by Moscow.