Taj tribute, in mixed case
That it was not a spontaneous comment was evident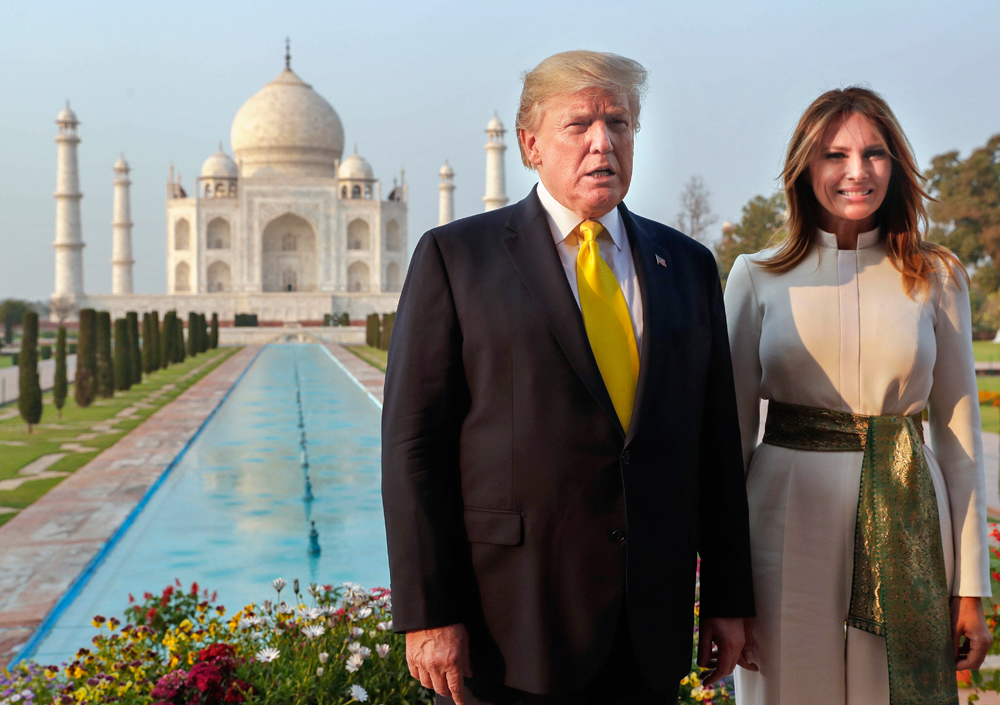 President Donald Trump and First Lady Melania at the Taj Mahal in Agra on Monday
(PTI photo)
---
Lucknow
|
Published 24.02.20, 08:42 PM
|
---
President Donald Trump on Monday recalled India's diverse culture, choosing a mix of capital and small letters to convey the message in his tribute to the Taj Mahal.
"THe TAJ MAHAL iNSPiRes Awe, A TiMeLess TesTAMeNT TO THe RiCh AND DiVeRse BeAUTY OF INDiAN CULTURE! THANK YOU INDiA," Trump wrote in the visitors' book at the marble mausoleum.
That it was not a spontaneous comment was evident. The US President took out a piece of paper from inside his coat pocket and kept looking at it as he wrote in the visitors' book.
It took Trump more than three minutes to write the message. First Lady Melania Trump, who stood to the President's left, read carefully what her husband was writing. She too signed after her husband.
Trump's visit comes amid protests against the new citizenship law, which seeks to exclude from citizenship rights Muslim migrants from some neighbouring countries.
The US leader's comments about the 17th century monument in Agra are in sharp contrast to the views of many leaders of the ruling BJP, including Uttar Pradesh chief minister Yogi Adityanath, who have sought to play down the fact that it was built by Mughal emperor Shah Jahan.
Adityanath had said in the past it was not important who got the mausoleum built, but that it was a "wonderful creation of hard-working Indian people".
"It holds hardly any importance who had got the Taj Mahal constructed. A bigger truth is that it is made of the blood and sweat of Indian labourers," Adityanath had said in Kushinagar in October 2017.
The Adityanath government had in 2017 removed the Taj Mahal from a state tourism department booklet on historical monuments and religious spots.
Sangeet Som, a BJP lawmaker, has been quoted as saying that the "Mughals were traitors and a blot on the face of Indian culture".
"Those who had got the Taj Mahal built had tried to finish Hindu culture. It would be unfortunate if such people get space in our history books," the MLA had said in 2017.
On Monday, Adityanath was at Kheria airport along with governor Anandiben Patel to welcome the Trumps. Twenty-one stages had been erected on the 15km stretch from the airport to the Taj Mahal for cultural presentations when the convoy of Trump, his wife Melania, their daughter Ivanka and her husband Jared Kushner passed through.
Earlier, a peacock dance had been organised by artistes outside the airport.
The Trumps halted a few minutes at a hotel, 200m from the monument before taking battery-operated golf carts to the mausoleum.
The area around the Taj was sealed off at noon for local people and tourists. Only medicine stores were allowed to open within a radius of 1km from the Taj. The local administration had issued an advisory to the people to come out of their houses only if it was unavoidable.