Large proportions of farm, daily wage and industrial workers sampled across India have struggled for food under the nationwide lockdown despite government assurances of supplies, a social media platform based on mobile phones has suggested.
While multiple anecdotal and social media accounts have provided glimpses of such struggles, computer scientists at IIT Delhi activated Gram Vaani, an information exchange platform they had created more than five years ago, to explore how such populations have been coping with the lockdown.
Their survey covered samples of rural residents in Bihar, Jharkhand and Madhya Pradesh and industrial workers in Ahmedabad, Delhi, Gurgaon, Tirupur (Tamil Nadu) and other locations.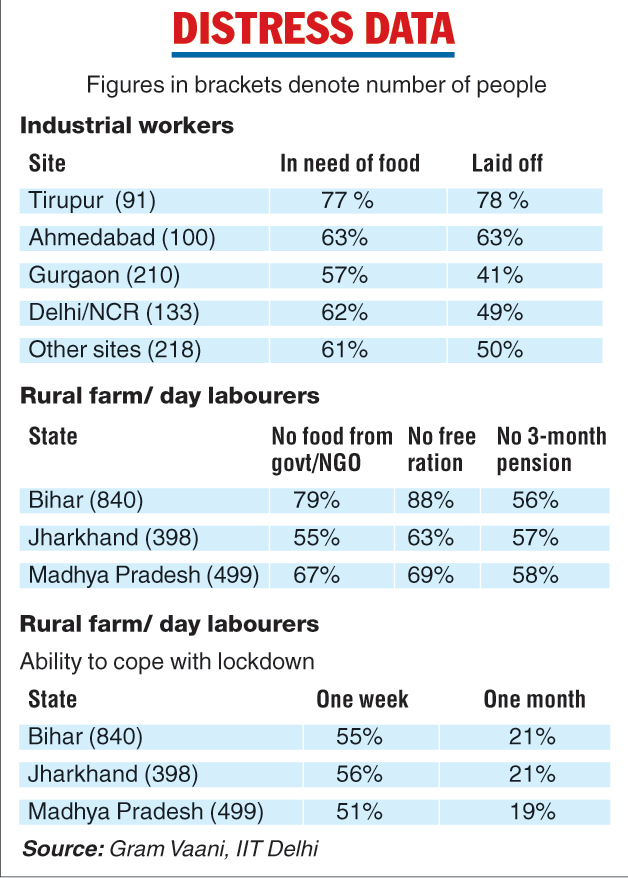 The process involved extracting information directly from the affected people through an interactive voice response system on the mobile phone network.
The platform has over the years served as a source of information exchange and a mechanism to address local grievances. It has roughly 100,000 unique users every month, said Aaditeshwar Seth, co-founder of Gram Vaani and an associate professor of computer science at IIT Delhi.
"We thought this would be an ideal platform that could be activated to hear from people affected by the lockdown," Seth said.
The survey is based on voice messages from respondents, some of whom highlighted poignant aspects of the lockdown.
Isika Devi, a resident of Nalanda, Bihar, sent this message: "We are old and have no resources. My 11-year-old orphaned granddaughter lives with us. There are no rations left. When we asked for rations, the (official concerned) threatened us with consequences. He said a complaint would be lodged with the police if we asked for rations. We are helpless and want to arrange food for our granddaughter."
Ramesh Kumar, a daily wage earner in Banda, Uttar Pradesh, called in to say: "I earn Rs 400 every day and have a family of six to feed…. We will run out of money in a few days. I know the risk of the coronavirus, but I can't see my children hungry."
Large proportions of the rural populations sampled in Bihar, Jharkhand and Madhya Pradesh did not find doctors or other healthcare workers at primary health centres or community health centres during the lockdown period, the survey has revealed.
Across the areas surveyed, 53 per cent of the workers had been laid off during the lockdown and nearly 60 per cent of the workers reported an urgent need for food assistance.
The stranded workers in Tirupur, most of whom were from Bihar and Odisha, reported a need for food. Nearly half the respondents in Tirupur who had lost their jobs said they wanted to go home.