Supreme Court to Gujarat High Court: Examine Sabarmati plea
The HC has disposed of the matter summarily without calling for a report from the state: SC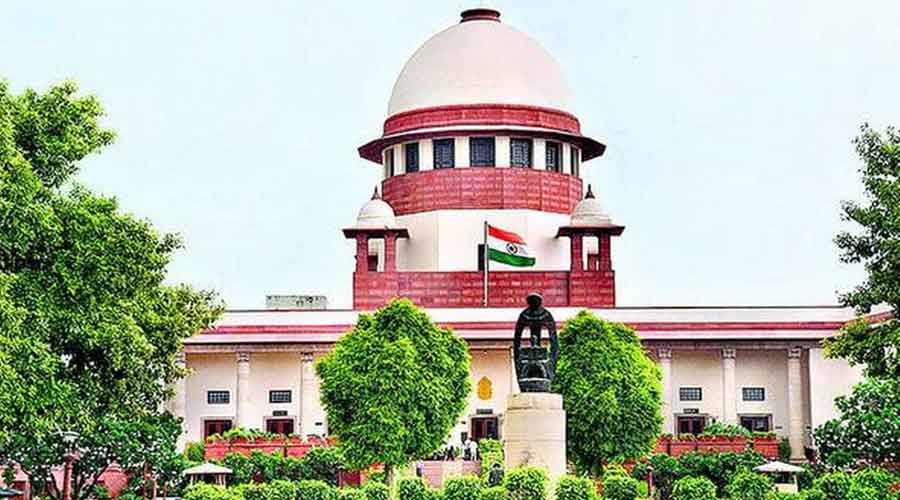 Supreme Court.
File photo
---
New Delhi
|
Published 02.04.22, 12:16 AM
|
---
The Supreme Court on Friday asked Gujarat High Court to examine afresh a petition filed by Mahatma Gandhi's great-grandson Tushar Gandhi challenging the state government's decision to redevelop the Sabarmati Ashram allegedly into a commercial venture.
The apex court set aside the high court's order dismissing Tushar's plea that the move would  "corrupt" the ashram's "pristine simplicity and frugality that embodies the ideology of Gandhiji".
A bench of Justices D.Y. Chandrachud and Surya Kant said the high court had not examined the matter properly and had summarily dismissed Tushar's petition without seeking a proper report from the Gujarat government.
"The high court has disposed of the matter summarily without calling for a report from the state of Gujarat. We are of the prima facie view that the matter be restored to the high court. We allow the appeal and set aside the order passed by the high court…," the Supreme Court said.
It passed the order after both solicitor-general Tushar Mehta, appearing for Gujarat, and senior advocate Indira Jaising, representing Tushar Gandhi, agreed to the suggestion of Justice Chandrachud that the matter be remitted to the high court for proper appraisal.
"It would be appropriate for the high court to decide upon the issues which are raised in the petition after furnishing to the state of Gujarat an opportunity of filing a comprehensive affidavit dealing with various facets of the matter," Justice Chandrachud said.
The bench, however, clarified that it was not commenting on the merits of the case.
The apex court passed the direction while allowing the special leave petition filed by Tushar Gandhi challenging the November 25, 2021, order passed by the high court refusing to interfere with the 2019 order of the Gujarat government to redesign and redevelop the Sabarmati Ashram into a "world-class museum" and "tourist destination".
The project, according to Tushar Gandhi's appeal, has purportedly identified over 40 "congruent" buildings that will be preserved while the remaining 200-odd structures will be demolished.
The plan envisions facilities such as a cafeteria, a parking lot, parks and the revival of the Chandrabhaga River stream.
Arguing that the Trust managing the Ashram should alone take decisions on its development and there should be no government intervention, the appeal had stated: "The Petitioner fears that the said project will change the physical structure of Sabarmati Ashram and corrupt its pristine simplicity and frugality that embodies the ideology of Gandhiji and make it diametrically opposite to these important Gandhian principles that the Ashram embodies today."
The Sabarmati Ashram was home to Mahatma Gandhi from 1917 to 1930 and served as the nerve centre of India's freedom moment.