Supreme Court seeks report on hate speech within six weeks
Directive comes after several public interest pleas say SC's earlier orders for such measures had not caused any abatement in vigilante violence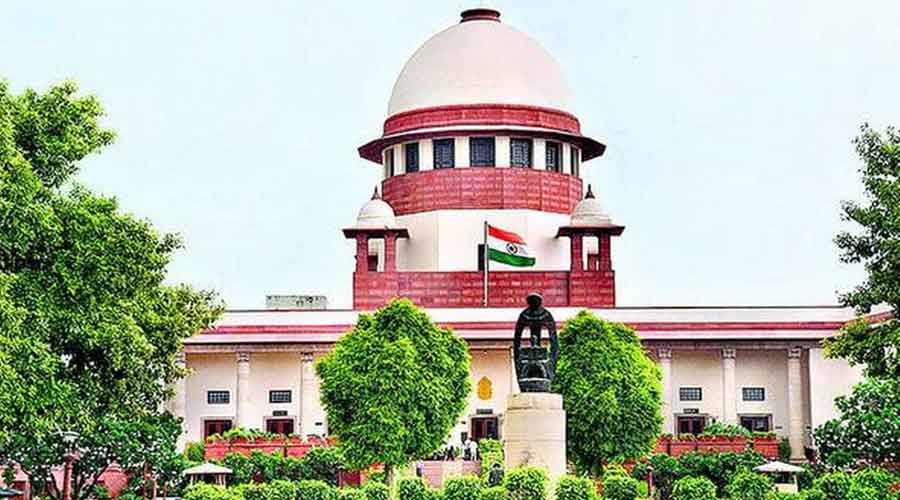 Supreme Court.
File photo
---
New Delhi
|
Published 22.07.22, 02:58 AM
|
---
The Supreme Court on Thursday asked the Union home secretary to furnish within six weeks a status report on the "corrective, preventive and remedial" measures taken by the states and Union Territories to prevent hate speeches, honour killings, vigilante violence and lynching.
The directive came after several public interest pleas said the court's earlier orders for such measures had not caused any abatement in hate speeches and vigilante violence, citing as examples the inflammatory speeches delivered at the December 2021 Dharma Sansad in Haridwar and other places.
The apex court said that all states and Union Territories were bound by the three judgments it had passed in 2018, directing such action, in Tehseen Poonawala vs UoI, Kodangulur Film Society vs UoI, and Shakti Vahini vs UoI.
The 2018 directions included:
⚫ Criminal prosecution of those carrying weapons during protests;
⚫ Punitive action against hate speeches;
⚫ Formation of "rapid response teams", preferably district-wise, specially trained to deal with mob violence;
⚫ Helplines to deal with mob violence;
⚫ Creation of police cyber-information portals and Internet-based applications for the reporting of mob violence and destruction of public and private property;
⚫ Use of non-lethal crowd-control devices such as water cannons and tear gas.
"If necessary, we will reactivate those directions if they have not been complied with. They are applicable all over the country," the bench of Justices A.M. Khanwilkar, A.S. Oka and J.B. Pardiwala told additional solicitor-general K.M. Natraj.
The bench was dealing with a batch of petitions moved by advocate Ashwini Upadhyay, journalist Qurban Ali and some other individuals.
The bench asked the Union home secretary to personally interact with his counterparts in the states and Union territories, and collate within three weeks the necessary information on the extent of compliance by their governments.
The information is to be submitted "in the form of a booklet, state-wise" within six weeks, the bench said.
Following requests from some of the petitioners' lawyers, the court asked the Union home secretary to add to the compilation the recent instances of hate speeches and violence by mobs and vigilante squads so it could pass appropriate directions.