SC seeks report on Dharma Sansad accused, rape-threat sadhu held
Notices have been issued to the Centre, Delhi police and the Uttarakhand govt on their alleged failure to act against those accused of advocating genocide against Muslims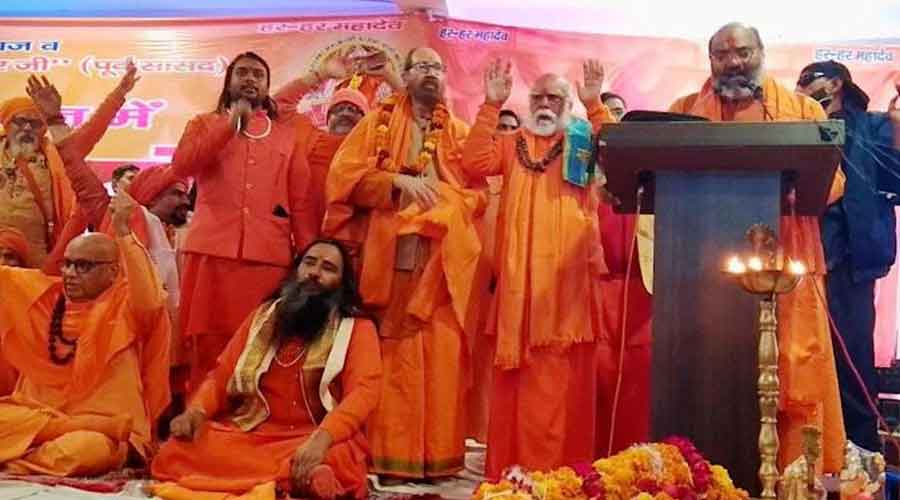 Representational image.
File Photo.
---
New Delhi/Lucknow
|
Published 14.04.22, 03:25 AM
|
---
The Supreme Court on Wednesday sought a status report from the Uttarakhand government on the action taken against those accused of delivering hate speeches against Muslims at a Dharma Sansad of sadhus in Haridwar last December.
The court directive came on a day Uttar Pradesh police arrested a sadhu, Mahant Bajrang Muni Das of the Maharishi Sri Laxman Das Udasin Ashram, who had allegedly threatened to rape Muslim women.
The apex court, however, refrained from staying another Dharma Sansad, scheduled for Sunday in Shimla, Himachal Pradesh, and asked the petitioners to instead approach the state government.
BJP-ruled Uttarakhand told the court it had filed four FIRs in connection with the Haridwar event, where several sadhus had allegedly called for genocide against Muslims towards the establishment of a Hindu Rashtra.
A couple of speakers at the event, including a sadhu, are in jail custody. Prime accused Yati Narasinghanand Saraswati, a mahant from Ghaziabad who convened the event and allegedly urged Hindus to take up weapons against Muslims, was arrested on watered-down charges and has received bail.
Joint petitioners Qurban Ali and former Allahabad High Court judge Anjana Prakash had accused the police of failing to act against hate speeches and sought directives to stop similar events being held elsewhere.
On January 12, the apex court asked them to approach the local authorities where these events had been scheduled.
On Wednesday, the bench of Justices A.M. Khanwilkar and A.S. Oka cited this order and told Ali he was free to serve an advance copy of his application to the Himachal authorities and tell them about Sunday's event.
Earlier, senior advocate Kapil Sibal had expressed fear that inflammatory speeches would be delivered at the Shimla event.
"We will serve the advance copy (to Himachal) but our real problem is the Sunday event at Shimla…. We are seeing what is happening," Sibal had said.
"I don't know what to tell your Lordships about what is being said. I don't even want to read the kind of things said in public."
On January 12, the apex court had issued notices to the Centre, Delhi police and the Uttarakhand government on their alleged failure to act against those accused of advocating genocide against Muslims.
The petition refers to hate speeches delivered in December at Haridwar and at an event in Delhi organised by the Hindu Yuva Vahini.
In Uttar Pradesh, Mahant Bajrang Muni Das was arrested from the Khairabad area of Sitapur district.
A video had emerged last week purportedly showing him speaking with a megaphone at a Navratri rally, threatening to kidnap and rape Muslim women if any Hindu woman was molested in the area.
"He has been arrested and sent to jail," Sitapur superintendent of police R.P. Singh said. The police had registered the case on April 8.
Muni Das had alleged the video had been tampered with but not disowned the remarks. But on Monday he told reporters: "I apologise to women. I didn't mean what the media showed. My statement was tampered with."
National Commission for Women chairperson Rekha Sharma had written to the police seeking an FIR and arrest.
Muni Das enjoyed protection from the Provincial Armed Constabulary, provided by the Yogi Adityanath government.