SC directs Centre to create extra seat in IIT Bombay for Dalit student
He had been unable to pay the admission fee in time because of technical constraints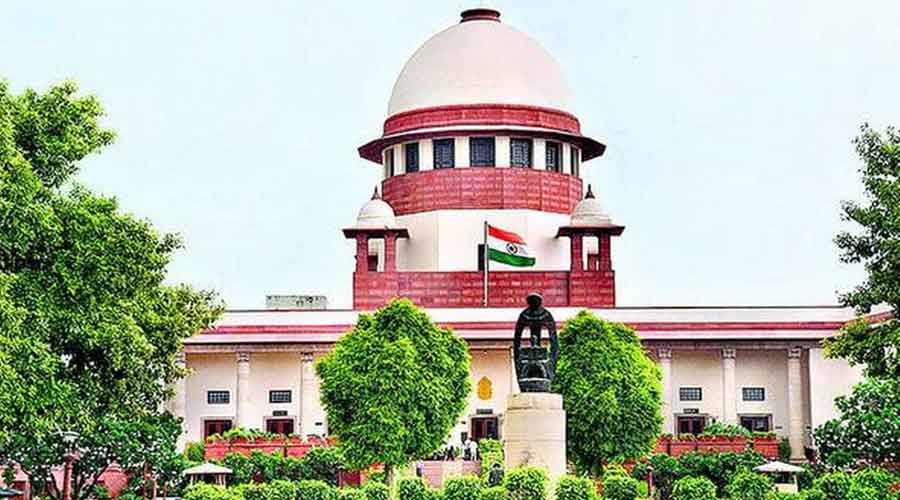 ---
New Delhi
|
Published 23.11.21, 02:28 AM
|
---
The Supreme Court on Monday exercised its special powers and directed the Centre to create an extra seat in IIT Bombay for a Dalit student who had been unable to pay the admission fee in time because of technical constraints.
The court said it was the government's duty to ensure that students from underprivileged communities living in far-flung areas did not face Internet or banking problems, else "only children from metropolitan cities would go to the IITs".
The bench passed the order invoking Article 142, which empowers the Supreme Court to pass any order "as is necessary for doing complete justice in any cause or matter pending before it…."
The bench of Justices D.Y. Chandrachud and A.S. Bopanna rejected the Centre's argument that the order might spur demands from other candidates who too had been unable to pay their fees in time.
In that case, the bench said, the government should work out a robust system so that students from remote areas did not face such problems.
The bench directed the Joint Seat Allocation Authority (JOSAA) to allot a supernumerary seat to the student within 48 hours.
"This court has (been) moved by a young Dalit student who is on the verge of losing a valuable seat which has been allocated in IIT Bombay," Justice Chandrachud said.
"It would be a great travesty of justice if the young Dalit student is denied admission for non-payment
of fees to IIT Bombay after having tried to do so. Hence, we are of the view that it is a fit case for exercise of our power under Article 142…."
The Dalit student, Prince Jaibir Singh from Uttar Pradesh, had challenged Bombay High Court's refusal to grant him relief.
Jaibir had ranked 864 in the JEE Advanced in his reservation category, and was allocated a seat in the civil engineering BTech course at IIT Bombay. The last date for the online payment of fees was October 31.
Jaibir had logged into the JOSSA portal on October 29 and uploaded his documents but could not pay the fees that day because of financial constraints.
His counsel said Jaibir later borrowed money from his sister. But when he attempted to pay the fees on October 30 and 31, technical glitches came in the way.
His subsequent phone calls and emails to the IIT authorities did not yield results. Jaibir then visited IIT Bombay but the authorities expressed inability to help him. He then petitioned Bombay High Court and later the Supreme Court.
On Monday, Justice Chandrachud was short with the Centre when it cited difficulties in helping Jaibir and merely offered to "explore possibilities".
"You are bound to do something. There is no question of exploring options. Otherwise, we will pass an order under Article 142," he said.
The bench said the authorities must take a humanitarian view considering the petitioner's background, and stressed there had been no negligence on Jaibir's part.
"What about students from small villages, small towns where there might not be any banking facilities?" Justice Chandrachud said.
"Not everybody would have multiple credit cards. There may be instances of banks not responding. Some modality is needed to deal with such cases."
He added: "Students spend years and years preparing (for exams). There has to be some buffer for students facing such insurmountable problems. Otherwise only children from metropolitan cities would go to the IITs."
The bench, however, clarified that the order was for the limited purpose of creating a supernumerary seat and would not dislodge or disturb any student already admitted.