Supreme court may modify school fee order
Calcutta High Court had directed private unaided schools in Bengal to waive off 20% of the tuition fees to mitigate the hardships faced by parents because of the pandemic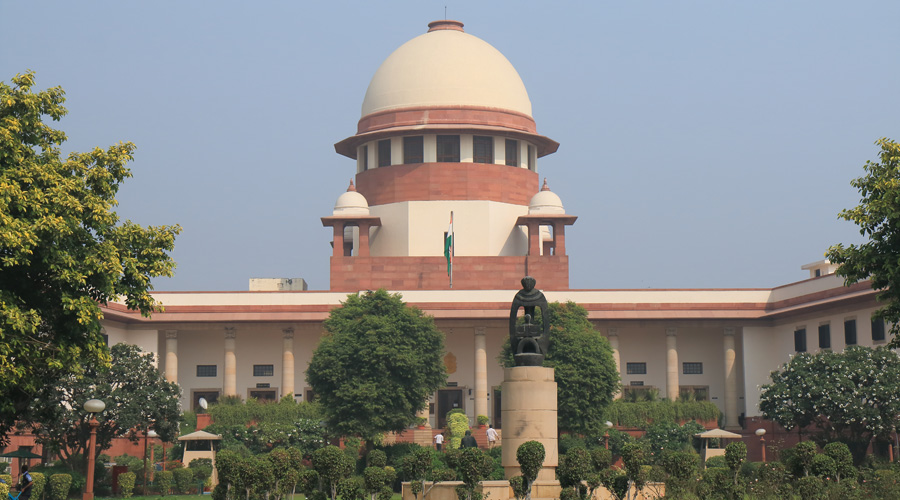 Supreme Court of India
File picture
---
New Delhi
|
Published 24.02.21, 01:48 AM
|
---
The Supreme Court on Tuesday indicated that it might "modify" a Calcutta High Court order that directed private unaided schools in Bengal to waive off 20 per cent of the tuition fees to mitigate the hardships faced by parents because of the pandemic.
"You give all those details of the schools that have opened etc. File an affidavit. We will go through everything and modify the high court's order accordingly," a bench of Justices Ashok Bhushan and R. Subhash Reddy told a battery of senior lawyers appearing for private schools in Bengal.
"We will hear everything and decide it finally. We will take it up in the first week of April," the bench said.
During the hearing, senior advocate Rana Mukherjee, who appeared for some schools, pleaded that the high court order be set aside as the pandemic situation was easing and normality was returning to most economic activities in the state.
The schools, he submitted, are clueless on how to proceed with the collection of fees in the evolving situation.
Another senior advocate, Jaideep Gupta, submitted that the order of the high court should be modified as it pertained to the last academic year. "Schools are opening now. The order had said the directions would apply till the time the schools reopened. We need to move forward now, otherwise next year's fees will get affected," he said.
The apex court had on October 28 declined to interfere with the high court order to all private schools in Bengal to waive off 20 per cent of the tuition fees between April 2020 and a month after the resumption of in-person classes.
The Supreme Court had, however, issued notices to the State and Vineet Ruia, the PIL petitioner in the case, on a batch of petitions assailing the high court's directions.
The top court had stayed directions 8 to 16 in paragraph 61 of the impugned judgment that was related to the setting up of a committee to vet the fee structure of the private schools.
"....In the meantime, directions 8 to 16 contained in para 61... be not implemented," the apex court had said in the earlier order.
The private schools had objected to the high court judgment on the ground that it was contrary to a number of Supreme Court rulings that upheld the right of private unaided schools to manage their affairs without any interference from the State.
The high court order on fee waiver followed a PIL by Vineet Ruia, who had complained that most private schools in Bengal had stopped students from attending online classes or writing exams on the ground that they had not paid their fees. Many parents could not pay fees because of loss of livelihood amid the pandemic.