SC grants bail to wife of aide of slain gangster Vikas Dubey in cops' killing case
Khushi Dubey is the wife of Amar Dubey who was also killed in a police encounter later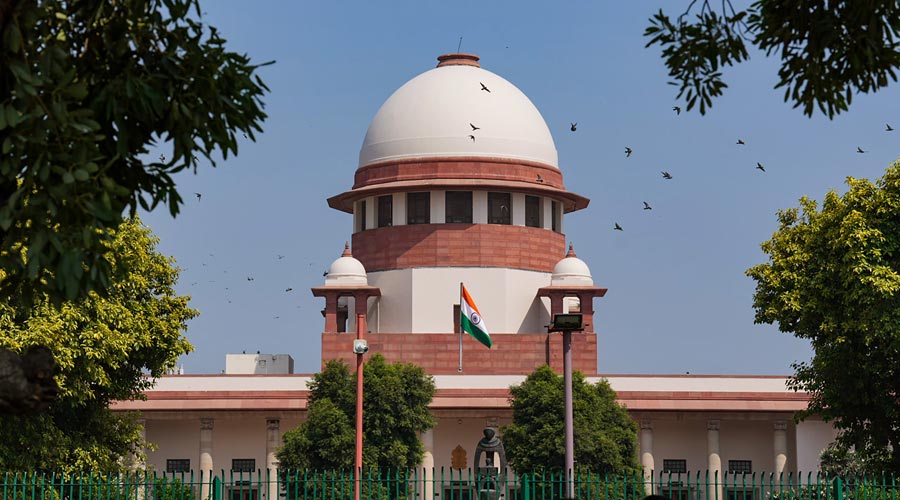 Supreme Court of India
File image
---
New Delhi
|
Published 04.01.23, 12:57 PM
|
---
The Supreme Court on Wednesday granted bail to Khushi Dubey, the wife of a close aide of slain gangster Vikas Dubey, in a case related to the killing of eight policemen who had gone to arrest him in a Kanpur village in July 2020.
A bench comprising Chief Justice D Y Chandrachud and Justices S Abdul Nazeer and P S Narasimha took note of the submissions of senior lawyer Vivek Tankha that Khushi Dubey was a minor at the time of offence and regular bail be granted to her as the charge sheet has also been filed in the case.
Khushi Dubey is the wife of Amar Dubey who was also killed in a police encounter later. She is accused of pointing out the presence of policemen who had gone to arrest Vikas Dubey to her co-accused and that allegedly led to the massacre of the men in uniform. She is also accused of exhorting the armed co-accused of gangster Vikas Dubey to kill the policemen.
Khushi Dubey's counsel said it is a case of an innocent person at a wrong place at the wrong time as she was married to Amar Dubey only seven days before the July 3 incident.
Eight policemen, including Deputy Superintendent of Police Devendra Mishra, were ambushed in Bikru village in Chaubeypur area of Kanpur, when they were going to arrest Vikas Dubey and fell to hail of bullets shot from rooftops shortly after midnight on July 3, 2020.
Vikas Dubey was killed in an encounter on July 10 when a police vehicle carrying him from Ujjain to Kanpur met with an accident and he tried to escape, police had said.
Khushi Dubey's lawyer Tankha, who was assisted by advocate Sumeer Sodhi, told the court that more than 100 witnesses were to be examined in the case and it was a fit matter for the grant of bail keeping in mind the allegations against her.
The court took note of the fact that the accused was "16/17 years of age" at the time of commission of the offence and granted bail saying the trial court would be setting the terms for her release.
The bench said one of the conditions will be that the accused will have to appear before the station house officer (SHO) of the police station concerned once a week besides cooperating in the trial and probe if any.
In 2021, the top court had agreed to hear Khushi Dubey's bail plea.
Following a massive search launched by the police after the July 3 incident, two of Vikas Dubey's alleged associates, Prem Prakash Pandey and Atul Dubey, were killed by police in an encounter in Kanpur.
On July 8, police had killed Amar Dubey who carried a reward of Rs 50,000 in Maudaha village in Hamirpur district.
On July 9, two more alleged aides -- Kartikeya alias Prabhat and Praveen alias Bauwa Dubey -- were killed in separate encounters in Kanpur and Etawah districts. 
Except for the headline, this story has not been edited by The Telegraph Online staff and has been published from a syndicated feed.