Sunny finds Navjot Singh Sidhu on this border
Deol is contesting from the BJP against Congress incumbent Sunil Jakhar in Gurdaspur on the northern edge of Punjab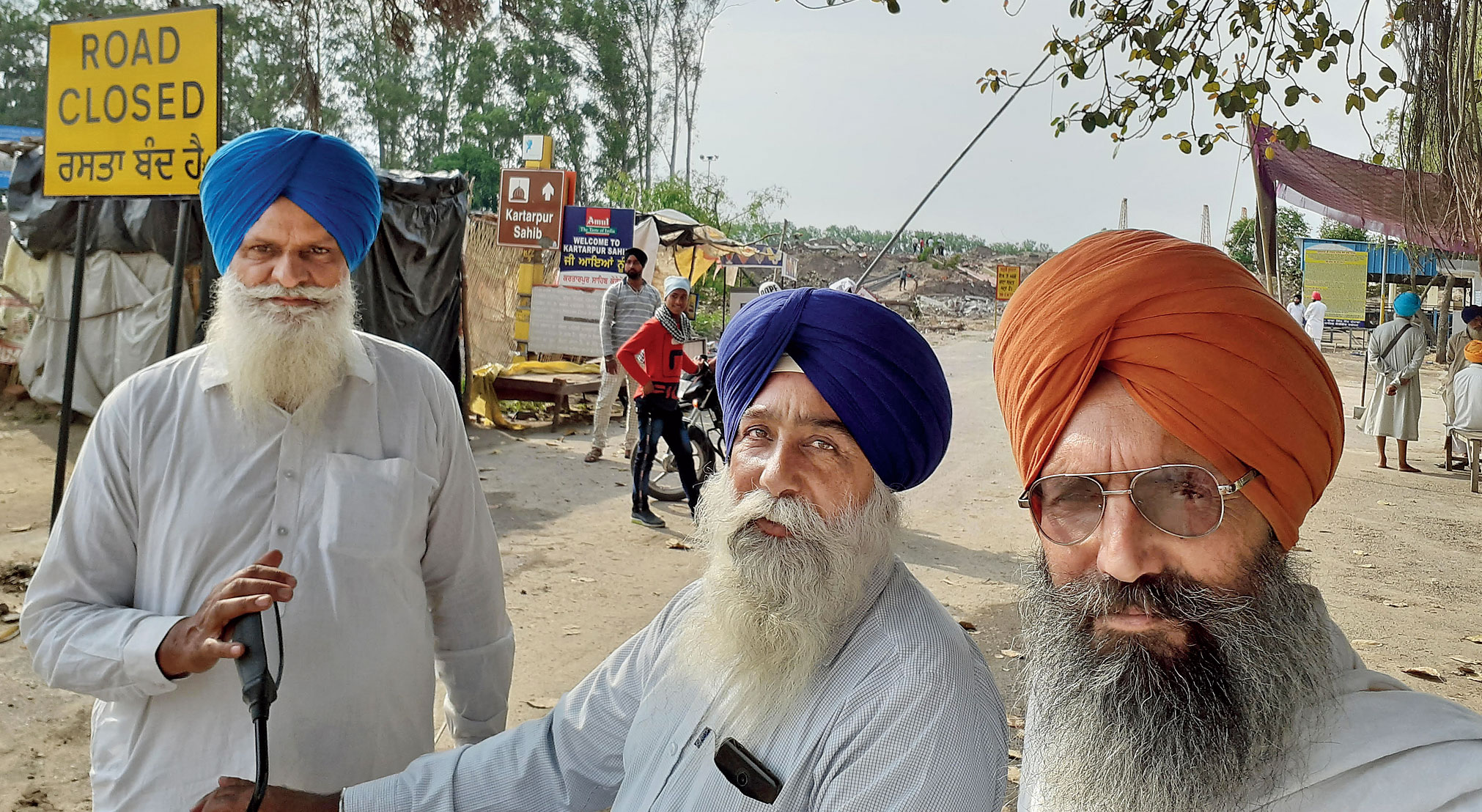 (From left) Farmers Satnam Singh, Gurmeet Singh, and Jaspal Singh near the Kartarpur corridor.
(Pheroze L. Vincent)
---
Dera Baba Nanak
|
Published 18.05.19, 06:42 PM
|
---
"Imran Khan ne pyaar diya, khulkar diya, itna diya ki hamein lena hee pada (Imran Khan gave love, openly, and so much that we had to accept it)," said farmer Satnam Singh of Molowali village near the under-construction corridor between India's Dera Baba Nanak and Gurdwara Darbar Sahib — at the place where Guru Nanak passed away in 1539 — in Pakistan's Kartarpur.
The corridor, on the table since 1998, took shape after Punjab minister and former cricketer Navjot Sidhu attended fellow cricketer Imran's inauguration as Prime Minister in Pakistan and spoke about the pilgrimage with Pakistan army chief General Qamar Bajwa, whom Sidhu also hugged. The Shiromani Akali Dal called Sidhu "the biggest traitor" and the BJP accused him of "speaking as an agent of Pakistan". Until now, pilgrims needed to travel to Lahore on a visa and then go to Kartarpur. The alternative is to view the Darbar Sahib with binoculars at a BSF post on the Radcliffe Line, 4.7km away.
The Union cabinet approved the corridor plan in November and foundation stones were laid in both countries. Currently the binocular facility has been discontinued after construction of a land port, and a commercial and tourist complex has begun. Satnam and others from the villages around Dera Baba Nanak often visit the Gurdwara Shaheed Baba Sidh Saun Randhawa — adjacent to the BSF post and on a barbed-wire flanked ridge from where devotees catch a glimpse of the white domes of Darbar Sahib. The villagers organise day-long langars (free community meals) here.
"If you give us love, you will get love," Satnam said. "Sidhu did nothing wrong. He showed love, Imran reciprocated. Politicians would have ruined this opportunity by making false statements about Sidhu and Imran. Imran released our pilot in two days, shouldn't we also enlarge our hearts?"
Villagers gathered at Gurdwara Shaheed Randhawa were unanimous about the issues that matter to them: First, jobs and education; second, peace with Pakistan.
"Shouldn't our border be normal like other countries? No one is willing to invest in any industry here because of constant tension. We keep the bare minimum in our homes, and don't spend on construction in anticipation that we may have to evacuate some day when the tensions on TV become real on the border," Satnam said.
The elders said there are at least 10 youths from every village nearby who have gone to work as labourers abroad — mainly in West Asia — many of whom are duped by recruitment agents.
"Richer villagers can afford Rs 12 lakh to send their sons to Canada. We can spend only Rs 2 to 2.5 lakh to pay agents for jobs in the Gulf. The corridor will bring jobs, and hopefully peace also," said farmer Gurmeet Singh of Thetharke village, 1.5km from the border. "It is wrong to think that attacking Pakistan is something good. The war is against terrorism. We won't simply give our votes to Narendra Modi because our air force bombed Balakot."
Actor Sunny Deol — known for his action hero roles, including in Border, the 1997 film based on the 1971 Battle of Longewala — is contesting from the BJP against Congress incumbent Sunil Jakhar in Gurdaspur on the northern edge of Punjab. The pilgrims here said they like Deol but will vote for the Congress as the party helps in processing claims of compensation for crop loss in floods.
"Sidhu's crime was that he tried to unite the love of two nations. Sunny is a star. We had a star here before (Vinod Khanna). They live in Mumbai and come here to vote. Parties field them because they feel that the candidate is popular enough to manage his own expenses," said Sukhdev Singh, a sewadar of the gurdwara who had to evacuate his home in 1965 and 1971.
Vinod Khanna is, however, praised by many for getting bridges constructed. "We know Sunny because he is a star. He will get votes because of his party," said farmer Salakhan Singh of Ruliana panchayat which changed hands from the Akalis to the Congress last December.
Salakhan is happy with Modi after he received Rs 2,000 under the Prime Minister's scheme, and his Ujjwala subsidy also arrived before the polls. "Nobody has enhanced the respect for India like Modi has. But we want peace here. We are ready to defend our land, but every time there was a war we were pushed back 20 years."
The lotus blooms bright among Bihari labourers — who make up at least 10 voters in every other village.
Ravinder, a daily wage labourer, said: "Us Mallahs (a backward caste) now get our entitlements in Bihar because of Modi. Here the wind is for Sunny, star hai, aur Modi ka power hai (he is a star and there is Modi's power)."
Gurdaspur votes today