Subhash Chandra Garg exit signals sovereign bond fiasco
A sudden bureaucratic reshuffle became a controversy after finance secretary Subhash Chandra Garg sought early retirement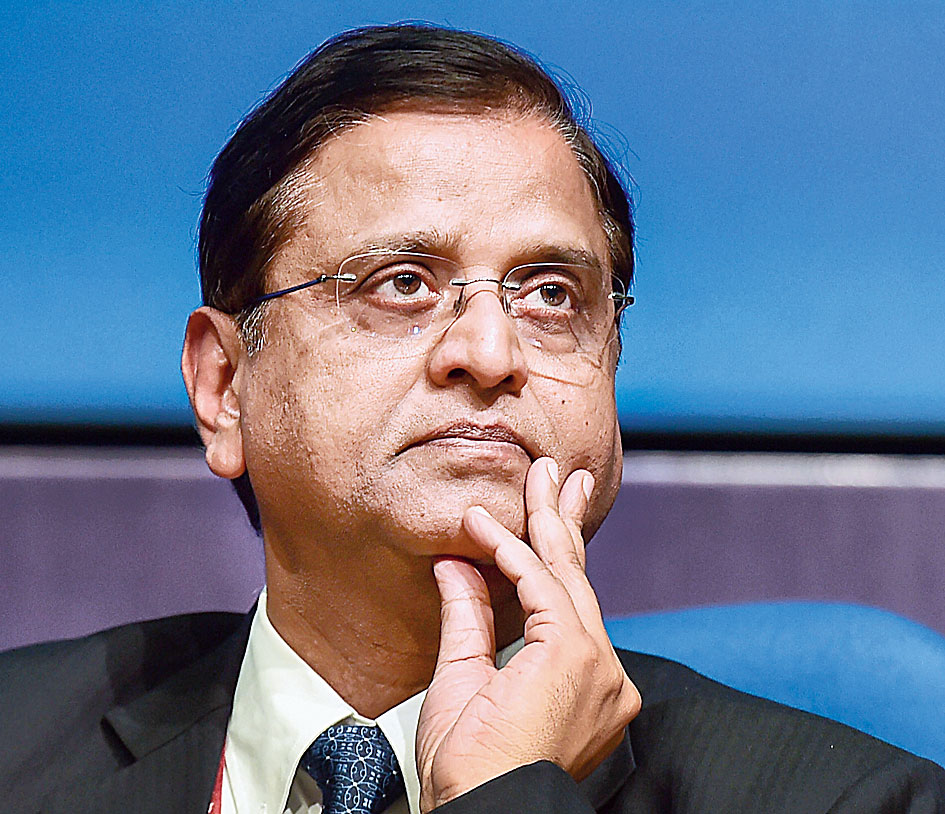 ---
New Delhi
|
Published 25.07.19, 08:35 PM
|
---
A sudden, top-level bureaucratic reshuffle late on Wednesday snowballed into a controversy after finance secretary Subhash Chandra Garg sought early retirement in protest against his "demotion" amid signs that the government could drop its grand plans to float the country's first sovereign bond on overseas markets.

Economic affairs secretary Garg had been posted to the power ministry as its secretary — a position that lacks the power and influence of his recent bailiwick. The senior-most bureaucrat is named the finance secretary, the nominal administrative head of the finance ministry.
Garg became finance secretary last December after Hasmukh Adhia retired.
The grapevine was abuzz that Garg's unceremonious exit was linked to the brouhaha over the flotation of foreign currency-denominated sovereign bonds, which finance minister Nirmala Sitharaman had announced with great fanfare in her maiden budget less than three weeks ago.
The move had stunned the capital markets and sent domestic bond yields tumbling. Former central bankers and a couple of economic advisers to the government had slammed the ill-conceived, poorly planned move that carried more risks than benefits.
On Thursday, the Prime Minister's Office ordered an immediate review of the decision to float the sovereign bonds, which raised questions about the extent of consultations within the government and whether this was another "experiment" — like the demonetisation — that could have gone horribly wrong.
The decision to carry out further consultations means that the plans to float a $10-billion sovereign bond sometime in October are likely to be shelved.
On Monday, Rathin Roy, a member of the Prime Minister's Economic Advisory Council, had said he had grave concerns about the "imperial announcement" of a sovereign bond flotation on the grounds of economic sovereignty and macroeconomic consequences.
Earlier, former Reserve Bank of India governor Raghuram Rajan had said a sovereign bond flotation was loaded with risks that could easily infect the domestic bond markets, raising the frightening prospect of a "foreign tail wagging an Indian dog".
Rajan said it would be a lot better to raise the cap on foreign investment in government securities (G-Secs) that would limit the downside of exchange rate movements — a view that another former RBI governor Y.V. Reddy supported.
"I would pay very careful attention to former governor Y.V. Reddy's argument that these are sovereign liabilities in perpetuity. I would pay very careful attention to the history of this country, on why we have not gone down this route in 70 years despite huge provocations to do so," Rathin Roy had added.
The Swadeshi Jagran Manch (SJM) — an economic think-tank of the Sangh parivar — had criticised the move as "anti-patriotic" and one that could pose grave risks to the economy while citing the economic turmoil that had engulfed Argentina and Turkey in the past over such flotations.
They all stressed that the country had not taken this path when it faced a massive balance of payments crisis in 1990, with the RBI having to pledge its gold with a couple of central banks to tide itself over the crisis.
Fall guy
It appeared that Garg — a fierce proponent of the sovereign bond plan — was being turned into a fall guy and being demoted to power secretary with almost a year left before he retired.
Garg told reporters in Delhi in a brief encounter that he had applied for voluntary retirement with three months' notice, as required by the terms of his employment, and that he had "no regrets" about the time he had served at the finance ministry.
In a tweet, Garg later said: "Handed over charge of economic affairs today. Learnt so much in the finance ministry and economic affairs dept. Will take charge in power ministry tomorrow. Have also applied for voluntary retirement from the IAS with effect from 31st October. Last tweet from this handle."
The government's rationale for an overseas sovereign bond flotation — which could be denominated in dollars, euros or yen — was that this would free up space for private companies to borrow money from domestic markets.
The government, which has raised its borrowing programme to Rs 7.1 trillion in 2019-20, has been criticised for "crowding out" private-sector borrowers from the domestic capital markets. Sitharaman had said the government intended to raise 10 per cent of its borrowings overseas.
The finance minister had said that India had an external debt-to-GDP ratio of less than 5 per cent, one of the lowest in the world, as justification for the sovereign bond issue.
In the past, the government had raised overseas loans through its proxies. For instance, the State Bank of India had launched a $2-billion India Millennium Deposit scheme in 2000, largely to tap into non-resident Indian funds.