Students stand by BHU professor
They condemned the protesters opposing assistant professor of Sanskrit Feroze Khan's recent appointment over his religion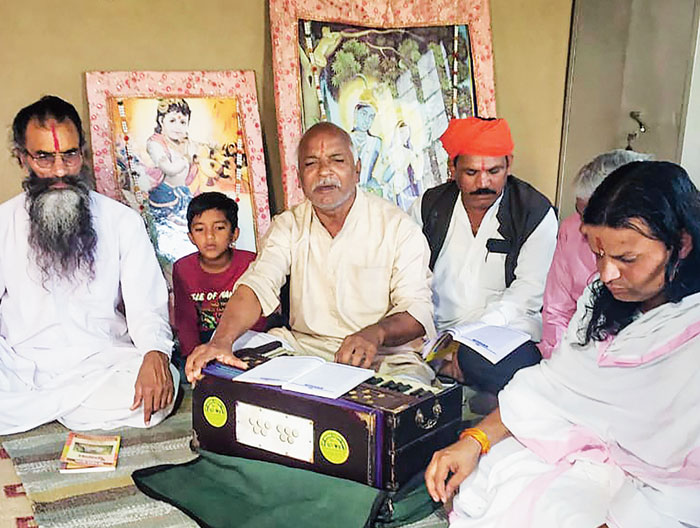 Ramzan Khan, father of Feroze, sings bhajans at a temple near Jaipur
PTI
---
Lucknow
|
Published 21.11.19, 07:59 PM
|
---
Dozens of Banaras Hindu University students as well as social activists and artistes of Varanasi have expressed solidarity with assistant professor of Sanskrit Feroze Khan and condemned the "anti-constitutional" protesters opposing his recent appointment over his religion.
Khan, 32, whose first working day at the university was marred by a class boycott on Thursday, said he was not afraid of the protests.
"There's no question of bowing before a protest by a handful of people. Three generations of my family have served the Hindu religion and cows," he told reporters.
Khan's family rears cows and has since the time of his grandfather been learning Sanskrit and signing bhajans at temples in their native Bangru city in Rajasthan, apart from offering namaz at mosques. His father Ramzan Khan graduated in Sanskrit with honours.
Over 100 students marched on the campus in Khan's support on Thursday and handed vice-chancellor Rakesh Bhatnagar a memorandum seeking punishment for the "anti-constitutional criminals who believe India is a Hindu Rashtra".
"We want them in jail," said Ramendra Tripathi, a student of Hindi.
On Wednesday, over 100 social workers, writers and artistes had held a 2km march from Singh Dwar, the university gate, to Ravidas Gate to condemn the "anti-constitutional protesters".
Khan had joined the university on November 8 and, as agreed with the authorities before, gone on leave. He returned on Thursday and went to his classroom but found it empty.
The about 280 undergraduate, postgraduate and research students with the university's Sanskrit department have been staying away from the classroom since about 12 students began a dharna on November 8 in protest at Khan's appointment.
A Sanskrit teacher said on the condition of anonymity that most of the students wanted to attend classes but feared the wrath of the protesters and, particularly, two powerful Sanskrit teachers who were behind the agitation.
"I wish the students would return to class and give me an opportunity to prove my worth," Khan, who's debuting as a university teacher, said.
On Thursday, seven students sat in the 14-day-old relay dharna at the gate of Holkar Bhavan near the vice-chancellor's quarters, singing Sanskrit and Hindi songs and creating a din with drums and cymbals.
The protesters have underlined that the Sanskrit department — the Sanskrit Vidya Dharma Vigyan Nikay (faculty of Sanskrit knowledge, religion and science) — organises the Shravani Upakarma annually in which only Brahmins perform the rituals.
They have highlighted that all BHU teachers attend the Vedic rituals conducted on university founder Madan Mohan Malviya's birth anniversary, December 25. Further, they claim the entire Sanskrit syllabus is linked to the Hindu religion.
Gopebandhu Mishra, a former Sanskrit professor at BHU and currently vice-chancellor of the Shree Somnath Sanskrit University in Veraval, Gujarat, denied that the entire Sanskrit syllabus at BHU was linked to religion.
"The syllabus also incorporates philosophy, architecture and other topics. For example, it includes Abhigyan Shakuntalam (a play) by Kalidas which is not about religion in the strict sense," he said.
Vice-chancellor Bhatnagar said: "Khan has been appointed to teach Sanskrit literature and not the Hindu religion. There's no ground for this protest."
He said there was no question of cancelling Khan's appointment as he had been the best among the 10 candidates who sat the interview.
A teacher who didn't want to be quoted said two Sanskrit teachers who had "pushed their own candidates in the interview" were behind the protest.
"However, the research output of both was substandard and neither of them spoke fluent Sanskrit. Khan's research was judged to be of high quality and he speaks chaste Sanskrit," the teacher said.
Rajesh Singh, public information officer at BHU, said: "The newly appointed assistant professor will remain a member of the university in any situation."
University sources said the Indian Constitution and the BHU statutes don't allow any discrimination on the basis of religion. Khan's supporters said his appointment only underlined "the broadness of Sanskrit's appeal".
They said that Malviya always promoted the secular character of the university, which is why it has Brahmins as Urdu teachers, whose appointment nobody ever questioned.
Rishi Sharma, an Urdu teacher at the university, had studied at a madarsa in Bengal's North Dinajpur district before going to Aligarh Muslim University and Jawaharlal Nehru University.
"I was appointed assistant professor here in 2015 and faced no problems teaching Urdu. The students respect me. I don't see anything wrong in Khan's appointment as a Sanskrit teacher," he said.
The RSS, which advocates a Hindu Rashtra, and the ruling BJP have maintained a studied silence on the controversy.
"The protesters have lost touch with our country's tradition. The BHU, in particular, is a centre of religious unity. It's the beauty of the BHU that we have Khan as a Sanskrit teacher," said Pandit Channu Lal Mishra, a Varanasi-based classical singer. He described the protesters as "anti-constitutional elements".
Rajeshwar Acharya, another classical singer, said: "Dara Shikoh, the eldest son of Mughal emperor Shah Jahan and his heir apparent, had learnt Sanskrit in Varanasi and translated many Sanskrit texts into Persian."
He added: "A Muslim, Rahi Masoom Raza, wrote the script for the popular (1980s) television serial depicting the Mahabharat. Those opposing a Muslim as a Sanskrit teacher don't understand the meaning of religion or the essence of Hindustan."