Stray dog bites over 100 people in Ara
As the victims and their family members rushed to hospitals to get anti-rabies shots, others started hunting for the animal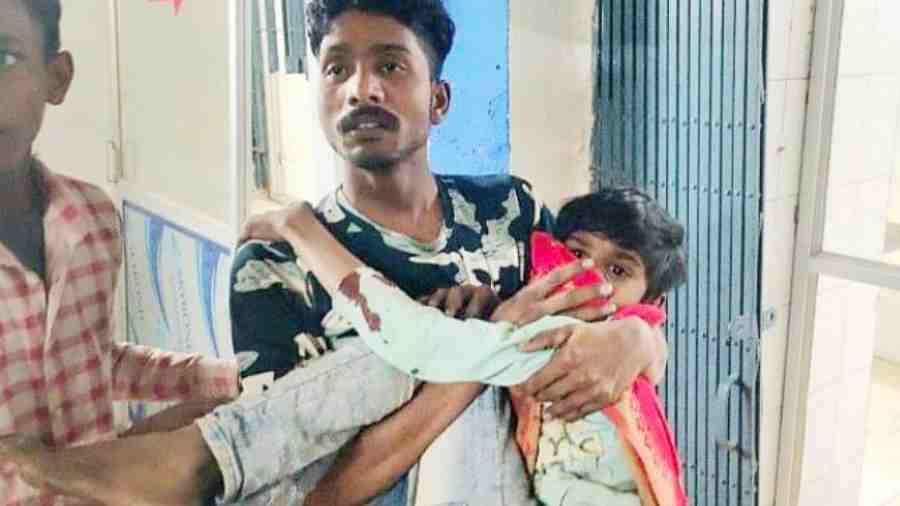 A dog bite victim at the Ara Sadar Hospital.
Picture by Sanjay Choudhary
---
Patna
|
Published 28.01.23, 04:26 AM
|
---
A stray dog, suspected to have gone mad, went on a rampage in Ara town in Bihar's Bhojpur district and bit more than 100 people on Republic Day eve.
As the victims and their family members rushed to hospitals to get anti-rabies shots, others started hunting for the animal.
Unidentified people killed it during the wee hours of Thursday. "This dog started biting people out on the streets around 8pm on Wednesday night. It bit anybody it could see and reach. The biting spree continued till 11pm and it created terror in the town. The situation was such that we had to dispatch teams of our officials to nab it," Bhojpur district magistrate Raj Kumar told The Telegraph. Ara, located around 50km west of Patna, is the district headquarters of Bhojpur. The Sadar (district) hospital in the town was flooded with dog bite victims and their family members who had come for treatment and anti-rabies injections.
Most of them had been bitten on their legs and hands. Sadar hospital deputy superintendent Arun Kumar told reporters that a total of 92 dog bite victims were treated and given anti-rabies shots. Meanwhile, the people of the town managed to locate the canine at Doodh Katora locality and killed it with sticks and stones a couple of hours after its biting spree.
However, the district magistrate said that the dog died on its own. "The dog was rabid. It had gone mad and died in an hour or so before our teams or the people could nab it. Mad dogs generally do not survive for long," the district magistrate added.