Stolen: Glory of scientists
The anti-satellite missile test left some defence ministry officials amused, but not surprised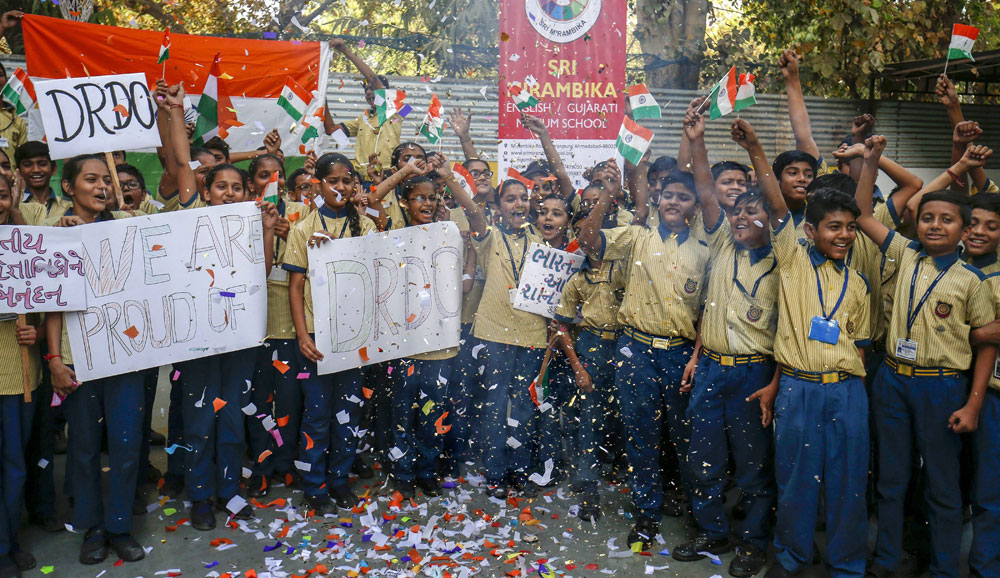 School students in Ahmedabad cheer as they hold flags and placards to celebrate the success of the Defence Research and Development Organisation's (DRDO's) Mission Shakti on Wednesday
(PTI Photo)
---
New Delhi
|
Published 27.03.19, 09:23 PM
|
---
Prime Minister Narendra Modi's surprise announcement of India's successful anti-satellite missile test two weeks ahead of the Lok Sabha elections has left some defence ministry officials amused, but not surprised.
"Both Isro and DRDO deserve credit for the achievement and should have been in the limelight. Should the scientists not have announced this?" a ministry official wondered.
"The Prime Minister has in the past made all big announcement himself, so it's hardly surprising… and that too before the polls," said another official who asked not to be named.
Some other officials at South Block, which houses the defence ministry, spoke in hushed tones about the announcement.
"Scientists from Isro-DRDO are supposed to announce their achievements. It's not a political matter and the credit goes to the Indian scientists. It seems the final call on the Prime Minister's televised speech was taken by the PMO," an official said.
On the BJP's claim that India had developed the capability to take out satellites in space during UPA rule but the Manmohan Singh government had not granted permission, he said: "Isro scientists and employees should take the credit for the immense achievement and not any government, be it the NDA or the UPA. Such missions do not take place overnight. It takes years."
With the success of Mission Shakti, India has joined US, Russia and China in the league of anti-satellite powers. Anti-satellite missiles are considered the ultimate weapon as they can easily cripple a country at a time the global economy is heavily dependent on satellites for communication, military activities and surveillance.
"Weaponisation of space is inevitable now to protect space assets," said an Indian Air Force official.
A statement from the defence ministry said the DRDO on Wednesday successfully conducted the anti-satellite missile test — Mission Shakti — from the Dr APJ Abdul Kalam Island in Odisha.
"A DRDO-developed Ballistic Missile Defence (BMD) Interceptor Missile successfully engaged an Indian orbiting target satellite in Low Earth Orbit (LEO) in a 'Hit to Kill' mode," the statement said.