Stirrings of activity in Valley
Journalists protested one more time against the Internet gag in the Valley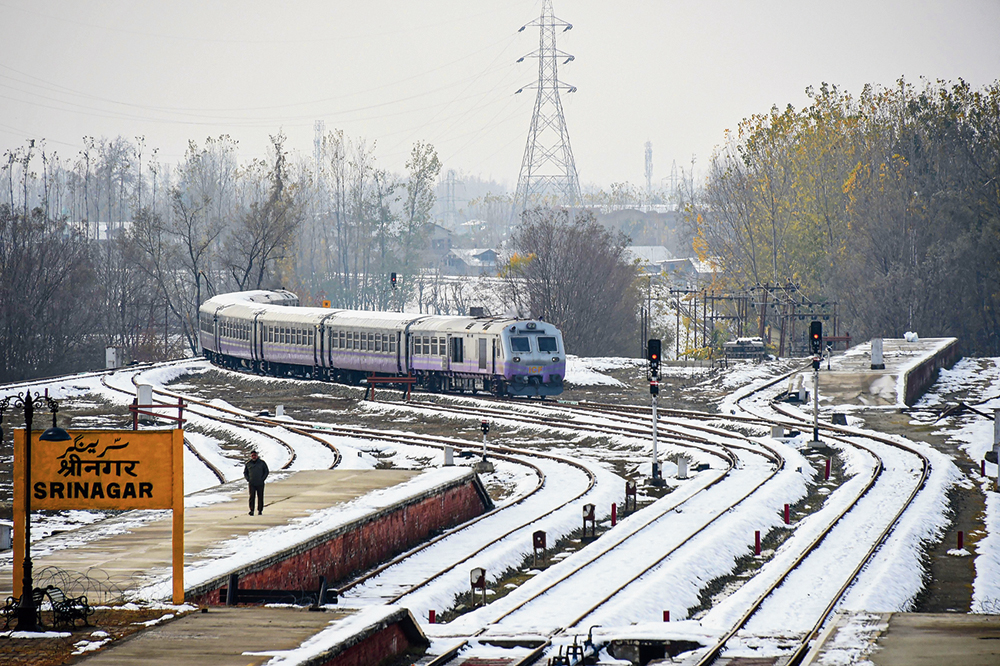 ---
|
Srinagar
|
Published 12.11.19, 10:30 PM
---
Parts of Kashmir throbbed with activity on Tuesday on the eve of the 100th day of the clampdown and the ensuing unrest, with experts citing fatigue, economic hardships, apparent acceptance by some sections of the society and the onset of winter as reasons behind the partial restoration of normality.
At Srinagar's city centre, journalists protested one more time against the Internet gag in the Valley.
Kashmir has been largely shut since the August 5 revocation of the erstwhile state's special status, initially for weeks because of government restrictions and later because of a voluntary shutdown, affecting lives of people and dealing a crushing blow to the economy.
On the eve of the 100th day of the abrogation of Jammu and Kashmir's special status, absolute normality remains a far cry as Internet and pre-paid mobile phone services are yet to be restored, students have been staying away from schools and colleges, most businesses have been remaining shut for several hours a day and public transport has largely stayed off the road.
But for the government, struggling to project an all-is-well narrative, there has been some comfort as there have been visible signs of normality in Srinagar's civil lines area and some other towns in the past two days, coinciding with the nearing of 100 days of the clampdown and the consequent unrest.
Hundreds of politicians, including former chief ministers Farooq Abdullah, Omar Abdullah and Mehbooba Mufti, are in jail. Official sources said that around 6,500 people had been arrested in the past 99 days, around 1,500 of whom are still in jail.
While shops had been doing business for a few hours in the morning in the past several weeks as part of an attempt to mitigate the losses incurred during the complete shutdown earlier, many shops remained open till noon in Srinagar city and some towns on Monday and Tuesday. Public vehicles returned partially to the streets. Private vehicles have been plying normally in many parts.
Official sources said it was too early to predict whether the Valley was heading towards complete normality. "We hope it does, but it can get worse also," an officer said.
A prominent business leader, who refused to be identified, gave several reasons for the increasing signs of a return to the usual routine, a perception shared by many others in Kashmir.
"You have to understand that people have day-to-day needs and they cannot suspend their living eternally. Tens of thousands of people have been rendered jobless. Economic hardships are growing and there is also fatigue," he said.
The leader said there was a feeling in the business community and transporters that the resistance had been left to them while the others "gave up" early on.
"Our (pro-azadi) leaders are not speaking a word. Not a single government employee has resigned, not even those who had retired and were in key positions. The attendance in government offices is high. Then look at local newspapers, they are publishing only government version of events," he said.
A footwear shop owner at Poloview said the winter chill had altered their working hours. "We had been opening our shops for a few hours in the morning but it is difficult to venture out early because of the cold, which is forcing us to start a little late," he said.
"Most people had been confined to their homes (for days) because of the (recent) snowfall. They are now coming out in numbers. One reason (of the near normality) could also be that people have to buy winter clothing and shoes," he said.
Kashmir Chamber of Commerce and Industry president Sheikh Ashiq said such was the situation that several people from even well-to-do families had been forced to open roadside stalls to make a living.
Many of these people used to have other occupations, such as renting out cars, which have suffered badly over the past three months. Those with shops have chosen to open modest roadside stalls so as not to appear to defy the shutdown.
"That is why you will find a large presence of roadside vendors," Ashiq said.
The KCCI president said businesses had suffered losses of thousands of crores.
"The tragedy is that in other parts of the world people share 100-day reports of progress but in the Valley we share 100-day reports of loss. We are bleeding like anything and no help is coming from any quarter. For weeks we were subjected to restrictions and whatever is happening is a reaction to what has happened," he said, apparently referring to the government's decision to scrap Article 370.