Trend confined to clusters, caution scientists
Steady fall in Covid cases point to herd immunity
Neither pre-Diwali shopping nor the festive rush have been super-spreaders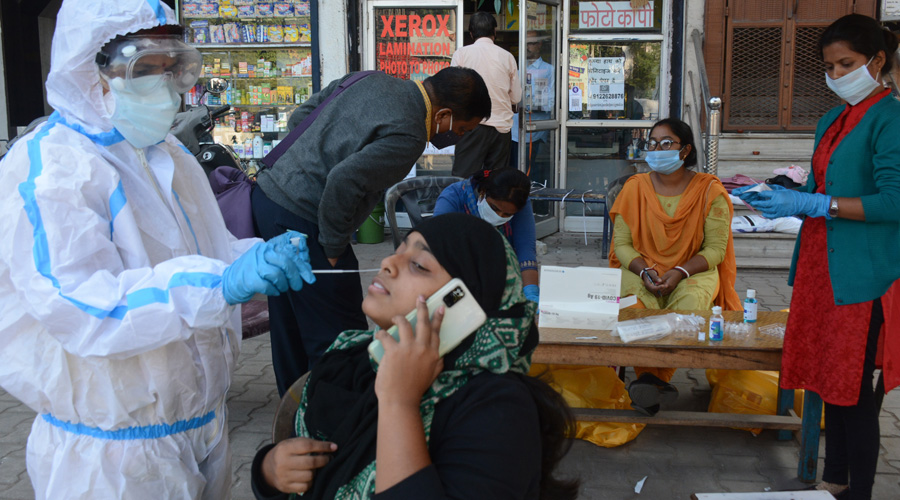 Daily new Covid-19 cases in the country have been riding below 20,000 for a number of days and on Monday stood at 16,504.
PTI
---
New Delhi
|
Published 06.01.21, 05:02 PM
|
---
India could be at a turning point in its life and death battle against Covid-19 with a steady fall in the number of cases combining with the government's ambitious plans to roll out vaccines at high speed. Virologists say the declining case trajectory may reflect herd immunity taking hold in localised areas of the country.  
Daily new Covid-19 cases in the country have been riding below 20,000 for a number of days and on Monday stood at 16,504. That's more than six times below the peak hit on September 16 when fresh cases hit 97,784. It was widely forecast in mid-September that India was about to crack a dismal milestone of a record 100,0000 fresh cases a day. Instead, the number of daily cases began slipping. "You can't miss the trend. I think we have turned a corner," says virologist Shahid Jameel.
Jameel, director of the Trivedi School of Biosciences at Ashoka University, says encouragement can be drawn from the pandemic's downward registered case trajectory in India as the number of people testing positive has been dropping despite a string of festivals that could have been super-spreader events. (He notes that the testing methodology has remained unchanged even as the numbers have been falling).
Jameel points to the crowds that went shopping in the weeks before Diwali and the rallies and other mass gatherings which took place during the Bihar elections. Then, there have been the farmers' protests outside Delhi which have brought tens of thousands of demonstrators together and which do not appear to have resulted in mass infections. 
There may be an element of community herd immunity developing but it is not nationwide, says Jameel. "Herd immunity is not a national concept. It's applicable to communities and clusters. Some (communities) may have achieved it, others not." He adds: "Remember (also) that people move in and out of clusters" and that there will continue to be spikes in cases.
New variant
The government's decision at the weekend to clear two vaccines for use is crucial to fighting the pandemic, especially now with the emergence of a new fast-spreading virus variant in Britain and South Africa that could change the coronavirus outlook in India and in other parts of the world. It's reckoned the variant, called B.1.1.7, which has prompted an England-wide lockdown, is anywhere between 50 per cent and 70 per cent more transmissible than D614G, the dominant strain globally.
Experts in the field believe the vaccines which have been developed will still work against the new variants. "The vaccines should largely not be affected by one mutation," says Lipi Thukral, senior scientist, Institute of Genomics and Integrative Biology. But the experts say that the emergence of the more transmissible strain makes the vaccine rollout all the more urgent.
Delhi, which has faced three Covid-19 infection waves, reported only 655 cases on Sunday and numbers have stayed below a thousand for three days running. These are the lowest numbers since August. The number of Covid-19-related deaths in Delhi fell to 18 last Thursday and to 23 on Sunday the lowest since early September.
In Bangalore, however, larger hospital ICUs are at risk of being swamped by a rising number of Severe Acute Respiratory Infections cases coming in.
Kerala an outlier
Kerala, though, remains a national outlier in still reporting rising case numbers. Kerala reported 5,328 cases on Saturday and 4,600 cases and 25 deaths on Sunday. Virologists suggest the reason for the caseload continuing to mount in Kerala is that the state held the pandemic at bay for several months.
In many parts of rural India, meanwhile, there are indications that Covid-19 is spreading only in a limited way and that the cases that are happening are relatively mild. "Evidence coming in suggests rural India is only minimally affected," says Dipyaman Ganguly, principal scientist, Indian Institute of Chemical Biology. No studies have yet been carried out to establish this conclusively, but he notes that people in urban India and those living in rural areas live starkly different lives.
Indian experts are generally sanguine about the impact on the country of the new, more transmissible strain. "I don't see a serious impact from the new strain, the virus is not more virulent," says Dileep Raman, director and co-founder, CloudPhysician, which offers tele-ICU services. Experts say it may be that the high-speed spread that has taken place in Southeast England is because of people meeting up and also going on shopping expeditions during the pre-Christmas season.
UK arrivals
About 50 countries including India have banned travel from the UK in the wake of the announcement about the fast-spreading variant. Late last week, the government said 29 people arriving from Britain have tested positive for the variant and are being isolated. But there could be many more as some 33,000 passengers landed at various Indian airports from the UK. All these passengers are being tracked and administered the gold-standard RT-PCR tests.
"All control (of the new variant) depends on the methods we know, identifying cases by testing, tracing and isolating to prevent further spread. If that is done well, we may not have a rise in cases," says Gagandeep Kang, clinical scientist and professor, Department of Gastrointestinal Sciences, Christian Medical College, Vellore.
The new variant detected in the UK on December 8 is worrying, say researchers, because the virus mutation is at the point of interface between the virus and the human cells. Says Lipi Thukral: "That's why it is critical and more studies need to be done to understand how it can impact the virus biology."
The other danger signal from the new mutant is that it appears to have multiple spike protein mutations. "The mutations here in the spike protein have been shown to affect the binding so this needs to be looked at," says Thukral.
India, meanwhile, has become the first country to successfully isolate and culture the UK variant of the virus that causes coronavirus from the clinical specimens collected from UK-returnees, according to the ICMR, the country's top medical body.
Duration of immunity
But one consequence of developing the vaccines at ultra-high speed is that there are still several questions, including no clear picture yet on how long immunity will last after the second and final injection.
Ganguly says that Phase IV trials on the vaccines need to be done in India. A phase 4 trial is done after the drug's already marketed and available to the general public and its main goal is to assess the drug's performance in real-life scenarios, to study the long-term risks and benefits of using the drug and to discover any rare side-effects. "Our immunological constitution is very different from people abroad. Normally, you will want a Phase IV trial in India," he says.
There is also the worry that the vaccination of huge numbers of people around the globe could prompt the virus to mutate in a fashion that would make the immune system less responsive to the vaccine. However, scientists say that it could take years for these so-called "vaccine escape mutants" to render the current set of vaccines useless.