States scramble to shut out coronavirus
Schools, malls, cinemas closed; call to work from home and avoid gatherings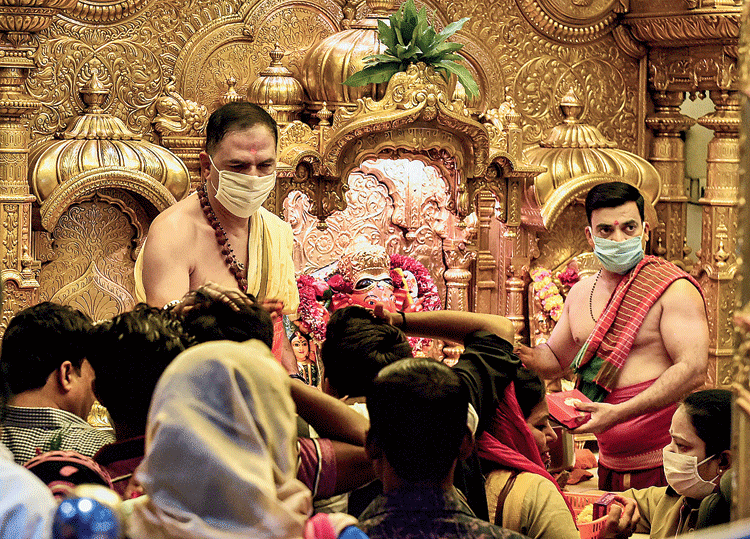 ---
---
State governments on Friday scrambled to contain the spread of the novel coronavirus, shutting down schools, theatres and swimming pools, cancelling public events including sports meets, and advising people to avoid malls and gatherings and to "stop spitting paan".
Karnataka ordered all educational institutions, cinemas, pubs, eateries and shopping malls closed and public gatherings postponed for a week from Saturday, but clarified that exams would be held.
"Gatherings (even) for birthdays, marriages and engagements cannot be held," chief minister B.S. Yediyurappa said.
The move came a day after the state announced the first death of a coronavirus patient in India, and Infosys Foundation chairperson Sudha Murthy wrote to the government urging a lockdown to stop the virus spreading.
Maharashtra ordered the closure of cinemas, gyms, swimming pools and public parks in Mumbai, Thane, Navi Mumbai, Nagpur, Pune and Pimpri-Chinchwad till March 30. Schools and colleges in Pune and neighbouring Pimpri and Chinchwad will be shut till further orders.
The Uddhav Thackeray government has asked private companies to let employees work from home, if possible, and advised people to avoid "malls, hotels, restaurants". It asked that social, political or religious gatherings not be held.
Kerala ordered the monitoring of everyone staying at holiday resorts, hotels and homestays after confirming two more cases that took the number of its patients to 19, excluding the first three patients who have recovered.
One of the two latest patients is an Italian citizen who was staying at a resort in the Thiruvananthapuram suburb of Varkala. The second man recently arrived from the UK.
Punjab closed all schools till March 31 but allowed exams to continue. Madhya Pradesh ordered schools closed indefinitely and cinemas shut till March 31.
Tamil Nadu shut down pre-kindergarten, LKG and UKG classes till March 31. Jammu and Kashmir ordered malls, gyms, swimming pools and recreational clubs closed in Jammu district till March 31.
Rajasthan Speaker C.P. Joshi adjourned the Assembly till March 26 as soon as the House had passed the Finance Bill and the Appropriation Bill by voice vote.
Delhi's government, which had on Thursday announced that schools, colleges and cinemas would be closed till March 31, on Friday said it was also stopping all sports events. Delhi University, JNU and the Jamia Millia Islamia suspended classes.
IIT Delhi directed its students to leave their hostels by Sunday but made an exception for foreign students and PhD scholars whose "research is in crucial stage".
Puducherry advised pilgrims not to bathe in the tank at the Saneeswarar (Saturn) shrine near Karaikal.
Odisha shut all educational institutions, swimming pools, gyms and cinemas till March 31. The budget session of the Assembly has been adjourned till March 29.
Chief minister Naveen Patnaik said sneezing and coughing etiquettes must be followed. "My personal appeal to you is, this is an opportunity for Odias to stop spitting paan," he said.
Bihar ordered the closure of all schools, colleges, coaching institutes, Anganwadi (rural childcare) centres, cinemas, museums, parks and zoos and cancelled all public functions till March 31.
The budget session of its Assembly, scheduled to continue till March 31, will be prorogued on Monday till further notice. The Bihar Divas programme of March 22, which marks the anniversary of the creation of the state, has been postponed indefinitely.
Assam chief minister Sarbananda Sonowal has decided not to take part in any public programme till March 31, but his government has not yet shut down schools.
Transport minister Chandra Mohan Patowary instructed all buses and ferries to be cleaned thoroughly after each trip.
"Separate sanitisers for bus drivers and conductors and another one for passengers must be kept on buses and ferries," he said.
Manipur has closed all schools till March 31.
The BSF said that no foreigner would be allowed to enter from Pakistan through the Attari-Wagah border from Friday evening, but Indians who had gone across can return before their visas expire.
However, the movement of pilgrims from Dera Baba Nanak in Gurdaspur to Gurdwara Darbar Sahib in Pakistan through the Kartarpur Corridor will continue.
People scrambled to change their travel plans. A long queue formed at an Air India office in Delhi, with flyers waiting to change their tickets.
Aviation watchdog DGCA has asked international airlines to consider waiving ticket cancellation and rescheduling charges or look at providing any other incentives.