Stand on Modi & Shah by EC demands change in appointment process: Singhvi
'Great hesitation, silence and inaction' of EC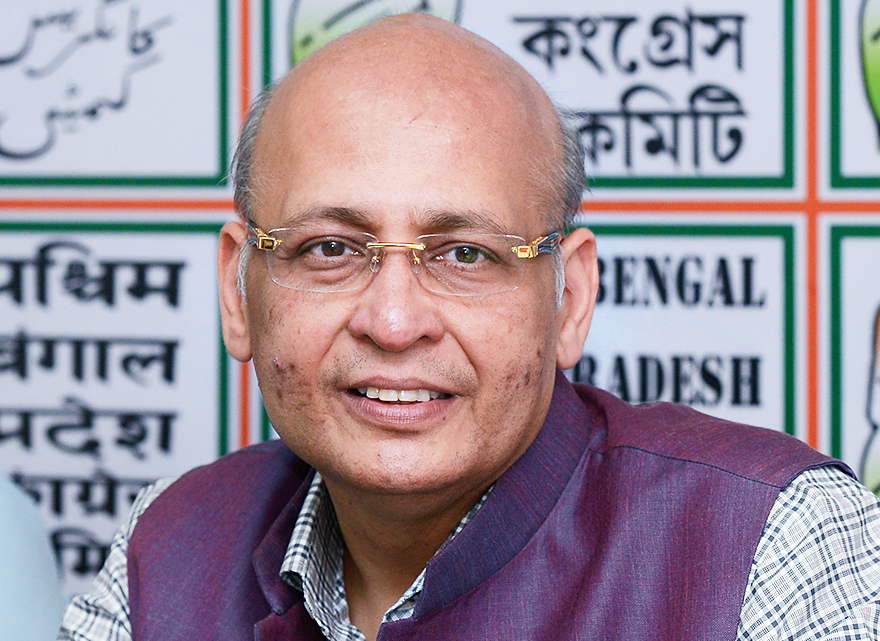 ---
---
Congress spokesperson and senior lawyer Abhishek Singhvi believes that the Election Commission's inaction on complaints of poll code violation against Prime Minister Narendra Modi and BJP chief Amit Shah has highlighted a need to change the process of appointing election commissioners.
He has suggested that the panel that picks the election commissioners have an "Opposition element", similar to the appointment process for the heads of the CBI, corruption watchdog CVC and ombudsman Lokpal. Excerpts from an interview follow:
Q: One unusual aspect of this election is the Election Commission factor. You have gone to the EC almost every evening to lodge complaints.
Singhvi: I must remind you of Newton's law — to every action, there is a reaction. When the violations reach a crescendo, complaints too will. No government ever in history conducted campaigns in this brazen manner.
Don't forget, we are the complainant, not the accused. In all cases except when these two — Prime Minister Narendra Modi and BJP chief Amit Shah — are mentioned, we have got excellent results. Even chief minister Yogi Adityanath was punished.
Q: How does the EC explain the yardsticks being applied?
Singhvi: Great hesitation, silence and inaction envelop them whenever Modi or Shah is involved. We are up against a blank wall. They have no explanation. I have in an open press conference lauded the EC for strict action against most leaders but also said the model code of conduct has been turned into a 'Modi code of conduct'.
I also said the commission had become the 'Election Omission'. We have said it is more a crisis of credibility for the EC than for Modi or Shah. It's incumbent on the EC to prove that Modi and Shah are not above the law. Unfortunately, all these have fallen on deaf ears.
What's distressing is that the nature of the offences committed by these two is far more serious than those (of the politicians) who have been punished. What is the message that goes out to the people?
Q: Shiv Sena founder Bal Thackeray was barred from voting or contesting elections for six years for a lesser crime.
Singhvi: There is a conceptual difference. That was post-election, over alleged corrupt practices through an election petition in the court of law. He was barred by the court after a trial. The MCC (model code of conduct) is not curative; it is prohibitive. The deed is done and the benefit has already accrued.
The prompt action (expected of) the EC is to prevent further violations. There is no way of pressing the rewind button and that's why the EC has to act swiftly. The MCC is to ensure a level playing field, to ensure no one gets an unfair advantage.
A free and fair election is vital for democracy, and democracy relates to the basic structure of our Constitution. The Supreme Court has held that the EC's powers are directly linked to the basic structure of our Constitution.
Q: Are you saying the EC is playing with the basic structure of the Constitution by deliberately refusing to enforce a level playing field?
Singhvi: No, I am making a more nuanced point. I have faulted them in some cases, praised them for prompt action in many cases. In cases related to two persons — Modi and Shah — yes. Whether because of fear or awe, or whatever the reason, they have shown a lack of willingness to act.
They were sitting on complaints and ultimately rejected them only after we went to the Supreme Court. They didn't give reasoned orders; just four lines saying 'we have considered the complaints and rejected (them)'. The decisions have not been unanimous but they don't record dissent. It's very bad for the growth of institutions in future.
Q: If your party comes to power, will that government promise to reform the appointment process as the EC is so vital to democracy?
Singhvi: I have no hesitation in saying that the time may now have come to rethink the appointment process for the election commissioners. In the CBI, CVC and Lokpal Acts, the appointment process includes Opposition elements and is much more broad-based.
Q: Why was it not done in the last 50-60 years? Congress governments too appointed officers close to political leaders as the chief election commissioner.
Singhvi: Frankly, because we never had a Prime Minister who spoke like this, who behaved like this and who knew no boundaries. Forget the Congress, there have been several non-Congress Prime Ministers. Did the code of conduct become such a problem ever in the past five-six decades?
Have you ever seen any Prime Minister campaign the way Modi campaigns? He has crossed all limits, drags the army into cheap politicking, creates fissures between communities and behaves like a habitual offender in each and every election. He has created a new crisis and hence a new response has to be thought about now.
Q: But if the election commissioners go strictly by the written law, how does it matter what the Prime Minister does? After all, one election commissioner has given his dissent; he obviously was willing to act against the Prime Minister. Is it not also about the character of bureaucracy?
Singhvi: Absolutely, no doubt. But there has never been this climate of fear in this country…. People (bureaucrats) prefer to keep silent and remain in their comfort zone instead of taking decisions based on merit.
This is a very vindictive dispensation. People who pass a very special loyalty test are appointed to key positions. The bureaucracy has lost its capacity for independent decision-making.