Used as human shield, allege kin
Srinagar: Families of businessmen killed in gunfight slam police
The cops initially said militant bullets had felled the duo but later suggested that they might have died in a crossfire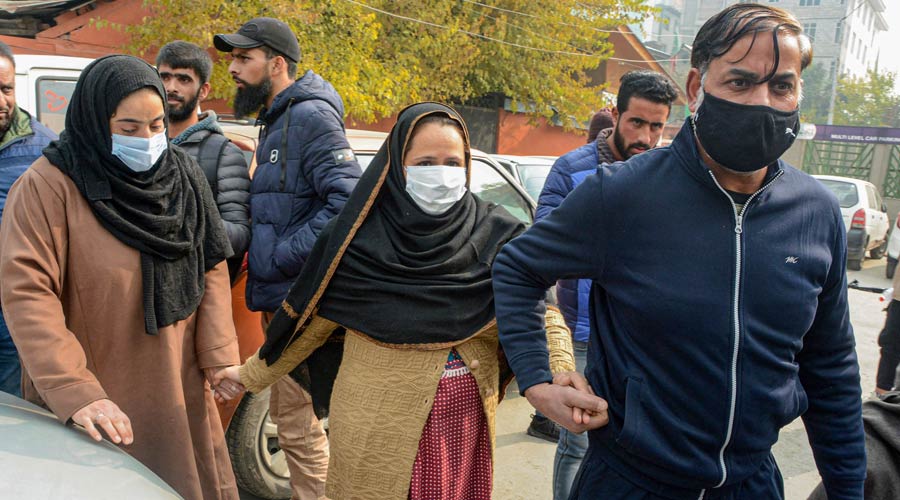 Family members of alleged OGW Mudasir Gul during their protest demanding Guls body for last rites, in Srinagar on Tuesday.
PTI Photo
---
Srinagar
|
Published 17.11.21, 02:34 AM
|
---
The families of two businessmen gunned down in Srinagar on Monday evening have disputed the police version, said they had nothing do with insurgency and alleged that one of the dead was used as a human shield.
The police initially said militant bullets had felled Mudassir Gul, a dental surgeon who became an entrepreneur, and Mohammad Altaf Bhat but later suggested that they might have died in a crossfire. 
The police refused to hand over the bodies to their families for burial as part of the policy to prevent civilian protests against disputed killings. Gul and Bhat were buried in the far-off Handwara graveyard that is reserved for militants.
According to the police, Gul was an overground worker (OGW) for militants while Bhat was a civilian. They alleged that Gul was sheltering two militants at the call centre he used to run in a building owned by Bhat. 
The police said the gunfight broke out in Srinagar's upscale Hyderpora locality on Monday evening, during which two militants, "OGW Gul" and civilian Altaf, were killed.
While Gul was a father of two small children, Bhat had three school-going children. Their families took to the streets on Tuesday, contesting the police's account and demanding their bodies.
"My son was not a terrorist but a doctor," cried a woman outside Srinagar's Press Colony, breaking down. "This is proof of how they are killing innocent people…. All we want is his body back."
Gul's family said he had been running a business in the rented accommodation at the shopping complex and would spend most of his time in Delhi on work.
Bhat's niece Saima, a journalist, took to Twitter to accuse the police of using her uncle as a human shield before killing him. "You killed my innocent uncle Mohammad Altaf Bhat in cold blood in Hyderpora. You used him as a human shield. Return his body to us." 
Bhat's minor daughter said her father was taken upstairs thrice to the rooms where the police claimed the militants were hiding. "My cousin, who is an eyewitness, told me he saw him (Bhat) being taken upstairs thrice. Twice they spared him but the third time he was killed," she said.
"When I asked them (on Monday night) what had they done and why they thought my father was with them (the militants), they (the forces) started laughing. They laughed shamelessly," the girl said.
Bhat's family denied there was any gunfight in the area and claimed that the two were killed in cold blood.
Kashmir police chief Vijay Kumar said Gul was an OGW but added that Bhat was a civilian. Kumar said both were killed by bullets fired by "two pistol-wielding militants". He identified the slain insurgents as "foreign militant" Haider and his accomplice.
The fourth person killed in the incident has been identified as Aamir Ahmad, a resident of Jammu's Banihal. Residents said he worked as an assistant to Gul but the police claimed he too was an OGW. No security force personnel has suffered any injury in the alleged shootout.
Kumar said Gul had provided shelter to Haider and Aamir at his rented accommodation in the building owned by Bhat. 
"On the top floor, there are three rooms. Since we did not know the exact location, we called the house owner and the one doing business there…. Both knocked at the door, but the militants did not open," Kumar told reporters.
"They were again told to knock. The militants opened indiscriminate fire with pistols. In self-defence, we also fired. Then, we stopped the encounter and tried to extricate the civilian. But they were at a place from where it was difficult to bring them out. They were injured in militants' pistol fire and died."
 Kumar later claimed he had never said Bhat died in firing by militants. 
"I didn't say that militants killed him or we (did). When there is an encounter, an investigation will reveal (how he got killed). If he has a wound from a pistol bullet, then he was 100 per cent killed by the militants. If he has an AK (47) bullet (wound), we will say he was hit by our fire. We will check that when the post-mortem report comes," the Valley police chief said.
Kumar claimed to be in possession of "technical and digital intelligence" to prove Gul was linked to militants but refused to share it for now, saying it would jeopardise the investigation.