Sonia Gandhi to nation: Will stand up for your rights
The Congress president said the people's fears were "legitimate"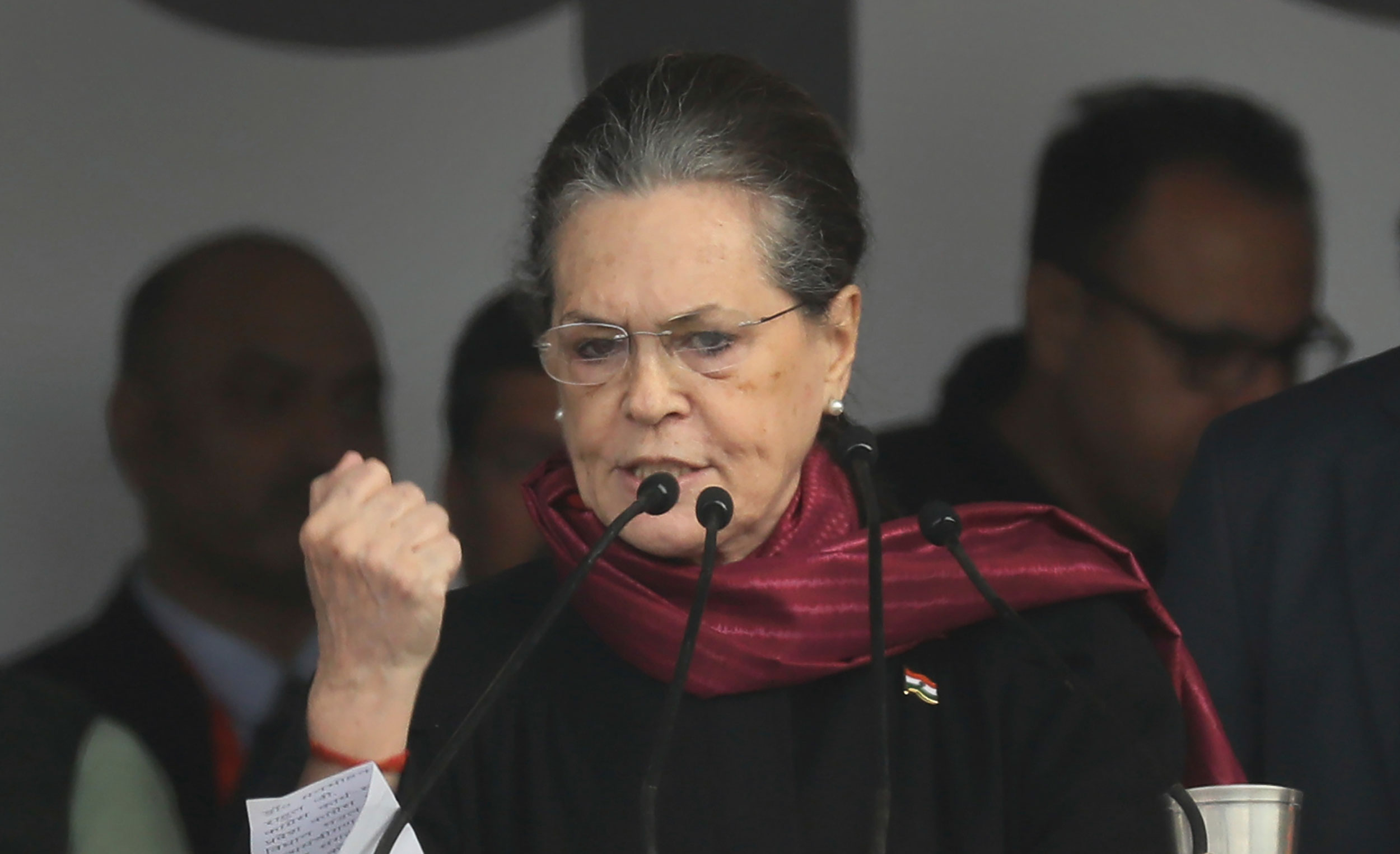 "Fellow citizens," Sonia Gandhi began, "the Indian National Congress expresses deep anguish and concern over the brute repression unleashed by the BJP government against students, youths and citizens across the country."
(AP)
---
New Delhi
|
Published 20.12.19, 09:57 PM
|
---
Sonia Gandhi on Friday pledged that the Congress would "stand up" to defend the fundamental rights of the people and uphold the foundational values of the Constitution, making the promise in a rare video message that appeared like an address to the nation that elected heads of government usually make.
"Fellow citizens," she began, "the Indian National Congress expresses deep anguish and concern over the brute repression unleashed by the BJP government against students, youths and citizens across the country."
In the message, issued in Hindi and English and released by the Congress, Sonia said there had been spontaneous protests by students at IITs, IIMs and other leading educational institutions against the "divisive agenda" of the BJP government.
"In a democracy, people have the right to raise their voice against wrong decisions and policies of the government," she said. "Equally, it is the duty of the government to listen to the citizens and address their concerns. The BJP government has shown utter disregard for people's voices and chosen to use brute force to suppress dissent. This is unacceptable in a democracy."
Eight people have died in the past two days in police action against protesters in states ruled by the BJP. Internet is shut and prohibitory orders are imposed in many parts of the country. The Prime Minister, who might have been expected to calm fears with an address to the nation, has been completely silent.
The response of the Union home minister has been to declare that the government is "firm like a rock" on implementing the amended law.
On Friday, a senior official who declined to be named said the Centre was willing to accept suggestions, if any, from the protesters. "Those who have objections... can give their suggestions to the home ministry and they will be incorporated," the official said, but did not explain how they could get in touch with the ministry.
The Congress president said the people's fears were "legitimate". She described the amended citizenship law as "discriminatory" and said the proposed all-India National Register of Citizens will hurt the poor and the vulnerable.
"The Citizenship Amendment Act is discriminatory and the proposed nationwide NRC will particularly hurt the poor and vulnerable. Like at the time of notebandi, they will have to stand in line to prove their and their ancestors' citizenship," she said.
Her daughter and Congress general secretary Priyanka Gandhi Vadra joined the protesters against the citizenship law at India Gate on Friday evening, the second time she has done so.
"The Congress party assures the people of India that it is fully committed to stand up and defend their fundamental rights and uphold the foundational values of our Constitution," Sonia said, signing off with "Jai Hind".