Sonia battles 'personal grudges' of satraps
Sonia Gandhi has barely been able to devote any time to organisational revamp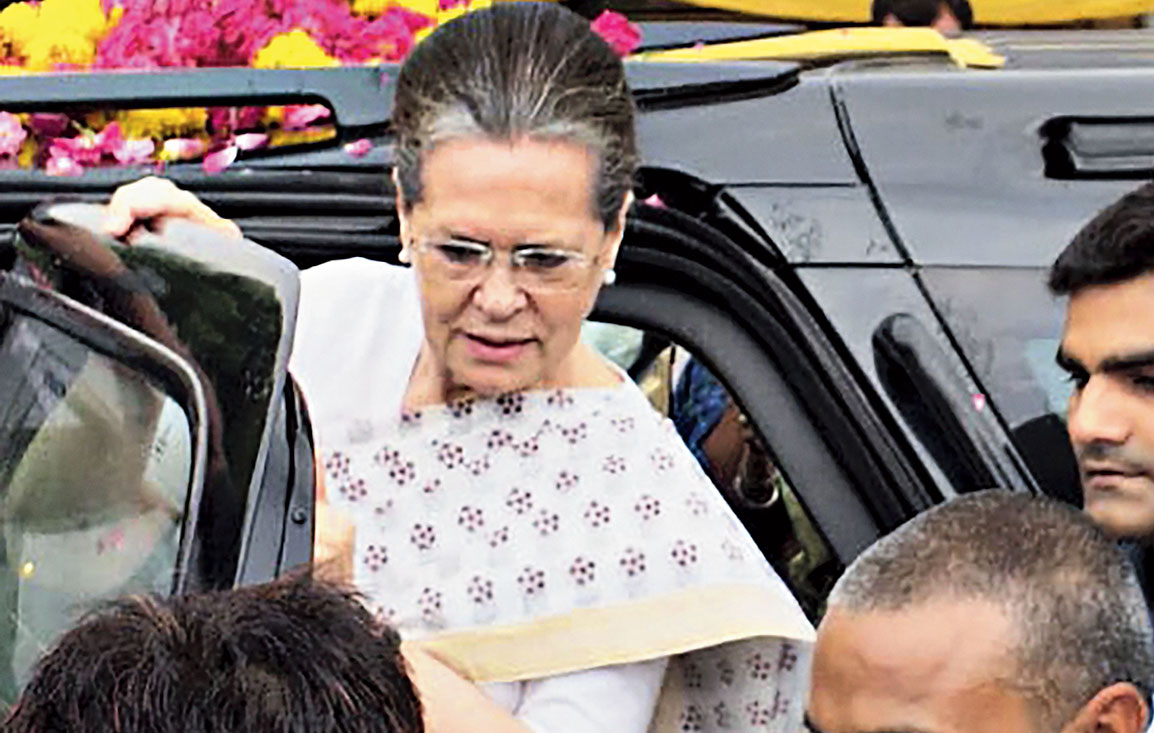 ---
---
Congress president Sonia Gandhi has been so terribly bogged down with "personal grudges" of senior leaders that she has barely been able to devote any time to organisational revamp.
While Sonia has somehow dragged the party back from the brink of an imminent split in Haryana, factionalism and personal conflicts among important leaders in many other states are crying for her attention.
Sonia has been grappling with extremely complex issues in Madhya Pradesh for the past few days. In Delhi, she has told senior leaders to work out a working arrangement.
Sonia's worries were articulated by a party veteran who has seen countless ups and downs in the Congress over the past five decades: "This is doubtless the worst crisis the Congress is faced with; worse than vertical splits that happened in the past given the bulldozing techniques of Narendra Modi and Amit Shah. But it is tragic that most senior leaders are interested in only extracting their pound of flesh instead of offering collective support to stabilise the sinking ship."
A former Union minister echoed similar sentiments: "It is true that many leaders are resorting to blackmail and want their pound of flesh. This tendency rises when the central leadership is weak. What is worse is that the supreme leader can't act tough as the feeling of the party's disintegration is already so overpowering. That Sonia doesn't have a team with political clout and sound moral authority to help her in crisis management is only aggravating the crisis."
While her old loyalists like A.K. Antony, Ahmed Patel and Ghulam Nabi Azad are helping Sonia in dealing with the situation, there is no defined core group she can formally rely on.
Priyanka Gandhi has shouldered the big burden of Uttar Pradesh, but Rahul Gandhi's sudden exit from the party's helm is one of the primary reasons for the chaos in the Congress. Till the AICC secretariat is revamped, Sonia has to manage with ad-hoc and informal systems that always suffers a crisis of legitimacy.
A leader explained: "Where is the team? The politics of blackmail and saudebazi (bargaining) is getting aggravated because the central leaders do not have the moral authority to control the state bigwigs. Most of the general secretaries or the in-charge of states do not command respect. Rahulji cannot escape responsibility for this state of affairs."
The anarchy was most vividly manifested in Madhya Pradesh when forest minister Umang Singhar wrote a letter to Sonia about veteran leader Digvijaya Singh's alleged interference in governance. He not only said that Digvijaya was running the state government from behind the scenes but alleged on camera that he was involved in illegal liquor and sand trade.
A young leader launching such a vicious attack on a two-term chief minister who played a vital role in the Congress's victory in the recent Assembly elections was not an ordinary development. What pointed to a bigger plot was the support extended by Jyotiraditya Scindia who publicly demanded that chief minister Kamal Nath listen to what Singhar was saying. Nath gave Singhar a dressing down, indicating that he and Digvijaya were not going to digest this insult.
While this ugly controversy is bound to cause a permanent damage to the image of the Congress government in the state, Scindia too might have overreached himself by getting sucked into the public spat. While he indeed wanted to become the Madhya Pradesh unit chief, it is unlikely that his rivals would yield now and Sonia will again have to opt for a compromise candidate to placate both Scindia and Digvijaya.
In Delhi, Sheila Dikshit's demise has triggered wild ambitions among both senior and younger leaders who are vying for the reins of the party in the state that will go to the polls next year.
While Rahul took a regressive step by replacing Ajay Maken with Dikshit, this dilemma of starting afresh was bound to come up sooner or later. Now that the election is not far away, Sonia again will have to look for a compromise to pacify all the factions instead of planning to create a leadership for the future.
Sonia's compulsion of perpetual crisis management has angered many veterans who wonder why the party can't rise to the occasion in this time of unprecedented turmoil.
A leader summed up the mood: "What is the responsibility of senior leaders? Is it only the responsibility of the Nehru-Gandhi family to unite the party? There are endless rumours of people — both old and young — leaving the Congress to join the BJP."
This leader added: "The problem is that little care was taken in recent times while promoting people without ideological commitments. Also, undeserving persons were promoted in the name of youth. They are crumbling after two defeats. Sonia should assess the level of conviction of leaders — both young and old — and try to build a new team without getting bogged down with worries of immediate negative fallouts."
There lies the rub: Sonia is in survival mode, not revamp mode.
Mumbai Cong
The Congress on Friday appointed Eknath Gaikwad as the acting president of Mumbai regional Congress committee in place of Milind Deora who had resigned after the party's debacle in Lok Sabha elections, PTI reported.