Somnath Chatterjee takes his saddest day to the grave
Family tells CPM: 'N-O. No'. Former Speaker who was expelled from the Left party is wrapped in Mohun Bagan FC flag, not Communist red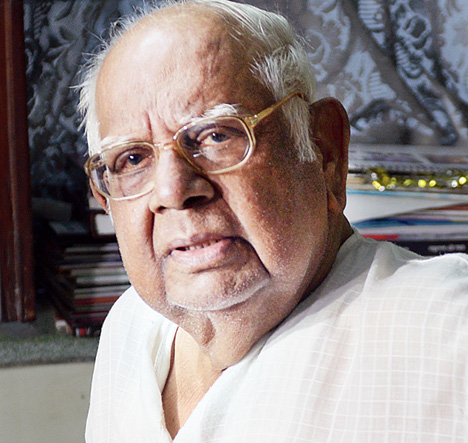 ---
|
Calcutta
|
Published 15.08.18, 07:51 AM
---
Chatterjee was expelled by the politburo without a chance to argue his case. His comrades from Bengal were not present at that meeting, but they did not oppose the party decision.
Biman Bose, then Bengal secretary of the party, had said: 'He may have acted according to the Indian Constitution but the party constitution is supreme for party members.'
Chatterjee, whose arguments won him hundreds of cases in the high court, didn't challenge the party in public. Later, he would only say that the expulsion was 'one of the saddest days' of his life.
Basu said: 'Our father stood by the party till the very end, although he was expelled (in 2008).... Many times I had tried to provoke him against the party. I had tried to make him vent any anger he had, but he never showed any.'
Basu recounted how Chatterjee had broken down when she informed him of his summary expulsion from his beloved party on July 23, 2008.

'I told baba he was now a free bird. He asked me whether he had been suspended. I told him everything then. He went to his antechamber in Parliament. I went in and saw his eyes well up,' she recalled.
Chatterjee had refused to toe the party line and vote against the UPA-I government on a confidence motion moved over the Indo-US nuclear energy deal. His explanation that as Speaker he was expected to be non-partisan and wasn't bound by the party's diktat fell on deaf ears.
The confidence motion was moved after Karat had pulled the Left out of the Manmohan Singh government - but Chatterjee had also made it clear he wouldn't vote alongside the BJP.
Her comment captured the family's anger at the party, love for which had prompted Chatterjee to abandon his flourishing legal career and join politics, but which expelled him in 2008 for doing what he was expected as Speaker to do: not take sides in a floor test.
Since his expulsion, Chatterjee stayed out of active politics and led a lonely life. He died at a private hospital in south Calcutta on Monday, aged 89, after weeks of illness.
'That one man was responsible for what my father faced towards the end of his life. I don't want to take his name on a day like this,' Basu said.
She, however, didn't forget to praise the woman who had inflicted the first electoral defeat on Chatterjee, in the 1984 Lok Sabha polls. 'Mamata Banerjee knows who deserves respect.... She had come to meet my father before she was sworn in as chief minister,' Basu said.
Chatterjee's family, which did not name 'that man', let it be known how his expulsion from the party had hurt him.
Prakash Karat, who was CPM general secretary then, could not be contacted for comment over phone on Monday.
Somnath Chatterjee made his last journey on August 14 wrapped in the maroon and green of Mohun Bagan, not the red of the Marxists.
As thousands on Monday paid their last respects to the former Lok Sabha Speaker and 10-time MP, his younger daughter Anushila Basu explained why such a drape covered a CPM member of over four decades.
'They (the CPM) had offered the party flag. Our mother and we refused saying 'N-O, no',' Basu, who runs a school of music and dance in south Calcutta, said.
The pain Chatterjee had to bear in the last decade of his life was reflected in what his son Pratap, an eminent Calcutta High Court lawyer, said when Bose went to pay his last respects at the family home on Raja Basanta Roy Road.
'What are the police doing? I don't want to see him within 300 metres of our home,' Pratap was heard saying when he spotted Bose in the room adjacent to the one where Chatterjee's body had been kept.
'After exploiting my father through his life, why have you come now? Ask him to leave the room.'
Bose came out and waited till party general secretary Sitaram Yechury arrived. He then again entered the house.
Pointing at Bose, Pratap told Yechury: 'You are welcome, but he is not.'
Bose said later in response to a question: 'I was sitting with boudi (Renu, Chatterjee's wife) holding her hand.... There was no problem. The death has caused mental stress for the son. I didn't mind.'
Chatterjee is survived by Renu, Basu and Pratap. Another daughter, Anuradha, passed away this year.
Chatterjee ended his final journey at SSKM Hospital, where his body was donated for medical research, following in the footsteps of mentor Jyoti Basu.