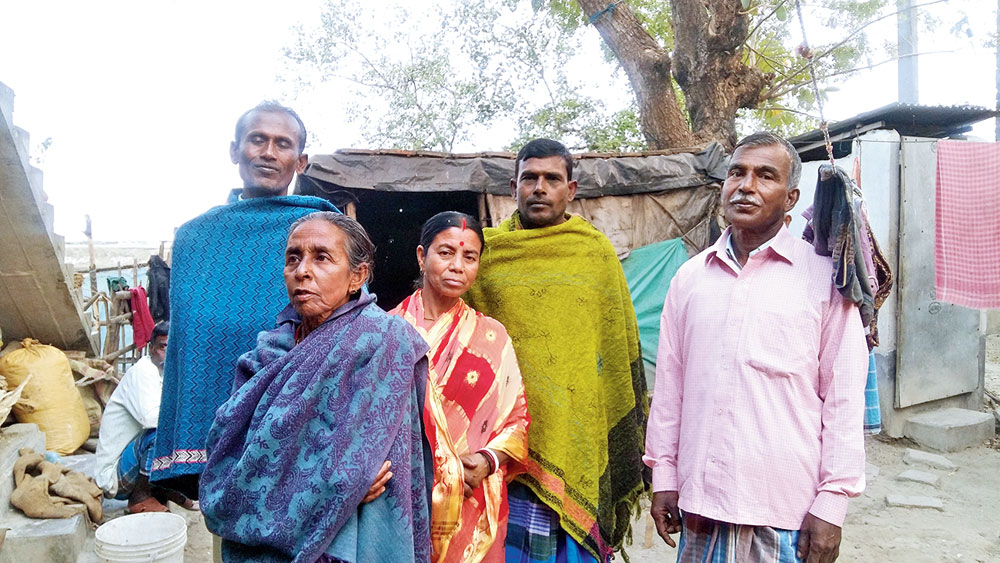 Survivors' tale: (From left) Manoranjan Gain, Sati Sheel (in blue), Nimai and Matilal Gain (Chandrima S. Bhattacharya)
On January 24, 1979, the Left Front government in West Bengal cut off supplies of all essential commodities to Marichjhnapi. Section 144 had already been imposed around the area. Police boats surrounded the island in the Indian Sunderbans, close to Khulna district in Bangladesh. The island's residents at the time were all Hindu Bengali refugees from Bangladesh.
About 10,000 to 12,000 of them were living in Marichjhnapi then, according to a statement made in February that year by Jyoti Basu, who was then the West Bengal chief minister. Unofficial estimates say the number could have been higher, as high as 35,000. They had all left Dandakaranya in central India, where they had been "rehabilitated" after they had first arrived from Bangladesh. They would be sent back to Dandakaranya, Basu insisted, though it was he who had spoken of rehabilitating the refugees in the Sunderbans in 1974 — it had been one of his pre poll promises. But Basu later reneged on his promise and his government continued the blockade in Marichjhnapi despite a Calcutta High Court order against it.
It has been 40 years since then. Basu is no more. But his party colleague Kanti Ganguly, who was minister in charge of Sunderbans Development and is himself a refugee from Barishal, justifies the action against the Marichjhnapi settlers. "The settlers were cutting trees and selling the wood. They were destroying the forest," he tells The Telegraph. Basu too had alleged that the settlers were destroying the ecosystem for personal profit.
"The Left Front had realised long ago the effects of global warming. If we had allowed deforestation, we would have made the Sunderbans vulnerable environmentally, and that would make West Bengal vulnerable, which in turn would make India vulnerable. Besides, how could West Bengal accommodate so many refugees? It would set a precedent that West Bengal would never recover from," Ganguly adds.
Police firing started soon after the blockade. On January 31, there were reports of six deaths. The children and the elderly died of starvation and diarrhoea. Estimates about the death toll in Marichjhnapi are like a pendulum swing — some say 30 died, others claim thousands lost their lives.
It is difficult to count the dead after 40 years. Especially when every fact and figure seems to remain suspended in the grey zone between official and unofficial estimates. So many years later, the survivors of Marichjhnapi are hard to trace. They have either dispersed or do not want to be identified with their violent past. Besides, the authorities had blocked information and very few journalists could make their way in.
"The firings went on for months. We'd hear the bullets. The waters would turn red from the blood," says a resident of Kumirmari, an island separated from Marichjhnapi by the river Karankhali. "Bodies would be dumped into boats and carried away," says another survivor. These accounts cannot be verified, though they float around still.
Subrata Patranabis, a photographer, managed to visit Marichjhnapi on May 17, the third day of the final police strike to remove everyone. In his piece in the two-volume account on Marichjhnapi, edited by Madhumay Pal, Patranabis writes that a hundred children died of hunger and disease since the blockade started.
But numbers are not the only way to look at a tragedy. The people of Marichjhnapi were thrice displaced. First from Bangladesh to Bengal, then from there to Dandakaranya, and then again from Marichjhnapi. Communal politics and caste played a role in this.
Bengal had experienced an influx of refugees from the time of Partition. The first batch from East Pakistan, that arrived between 1946 and 1949, comprised mostly the upper and upper-middle classes. If these people had lost their property and livelihood, they still had the social capital to build a new life here. The films of Ritwik Ghatak and Mrinal Sen often portray the bhadralok refugees.
The second wave was occasioned by an incident in the Bagerhat subdivision of Khulna district in East Pakistan in December 1949, says Sekhar Bandyopadhyay, a noted scholar on Partition and the caste question, and a professor at the Victoria University of Wellington in New Zealand. He points out that almost all the refugees who crossed over this time were poor, most were peasants. An overwhelming majority of them belonged to the lower castes, especially the Namasudra community, and they were not made to feel welcome by either the West Bengal government or the Centre. In 1956, the Centre announced the Dandakaranya Scheme of rehabilitation for them —78,000 square miles of dry, arid land earmarked in the tribal areas of Orissa [now Odisha] and Madhya Pradesh. And these people were sent there.
Saibal Kumar Gupta, who was the Dandakaranya Development Authority chairman from 1963 to 1964, wrote a series of articles on the natural conditions the refugees were exposed to in Dandakaranya. The first rehabilitation project there, he writes in an article Pal published in his first volume, was in three villages in Pharasgaon, now in Chhattisgarh. There, 205 families were set up with agricultural land and 46 families with small industry. "The land was infertile, therefore even after an extensive use of chemical fertilisers the yield was not more than 4/5 maunds per acre [a maund is about 37 kg]. For about 32 families, their land has yielded absolutely nothing; 131 families have cultivated 30 maunds of paddy altogether," wrote Gupta.
Dandakaranya was a debilitating and deeply alienating experience for many, like hell. Many had died on the way to the camps or while living there. So when the Left Front came to power in 1977, refugee leader Satish Mandal, who had formed the Udbastu Unnayansil Samity in 1973 in Dandakaranya, issued a call to return to West Bengal. Almost everyone responded. They wanted a home.
In March 1978, about 1.20 lakh refugees left Dandakaranya. They arrived in Howrah and left for Hasnabad in North 24-Parganas, from where they seized boats and crossed the Ichhamati river. Over the next three days, thousands of people swam or used the stolen boats to reach Marichjhnapi, near Gosaba.
Life was hard here too, but everyone worked hard because there was something to look forward to. In the few months that the refugees lived here, they built neat rows of huts, a market, a place to build boats and also a school. They had named Marichjhnapi, Netajinagar. "I saw poverty. I saw hunger. I saw happiness. I saw a dream too," writes Patranabis, whose photographs from that time show barebodied men and children with protruding ribcages.
The Bengal government had used the Reserve Forest Act to justify the blockade in Marichjhnapi, accusing the settlers of felling trees and selling wood. Basu had also alleged that the refugees were selling land and that they were armed with lethal weapons.
As Gupta wrote later, the use of the Reserve Forest Act in Marichjhnapi was completely unjustified and that the mangrove trees in the island did not yield wood that would fetch high prices. "We would only cut a few trees like golpata. And when the police attacked us, yes, we would try to defend ourselves, but with chengas made with strips of wood," says Nimai Gain, a Marichjhnapi survivor who now lives in Hasnabad.
"The refugee leaders, including Jogen Mandal, who was law and labour minister of Pakistan, never used the caste card," points out Anasua Basu Ray Chaudhury, who is senior fellow at the Observer Research Foundation in Calcutta and has worked extensively on Marichjhnapi. The caste identity was subsumed in refugee politics, says Basu Ray Chaudhury. "'Amra kara? Bastuhara! (Who are we? We are the refugees!)' was their rallying cry," adds Bandyopadhyay.
With the bhadralok Left Front leadership turning a blind eye to the caste angle, a whole people were rendered near invisible and so easily dispensable. Could one lakh Banerjees, Bhattacharyas, Basus and Sens have been dumped thus into Dandakaranya, asks Basu Ray Chaudhury.
By May 17, 1979, the police had evicted every inhabitant of Marichjhnapi, forced them into boats and ferried them to different places, including Hasnabad. In time, they were put back on trains to Dandakaranya. Those who escaped from Hasnabad now live in villages in the area and along the railway lines.
A number of Marichjhnapi families from the Paundrakshatriya caste live in Gagramari village. Nimai and Manoranjan Gain are two brothers in their early fifties who had come to India from Kashinathpur village in Satkhira, in Khulna district. They were sent to "village no. 26" in Malkangiri.
But history looks different from different places. Nimai, who works as a day labourer like his brother, can barely make two ends meet, though he is thankful that he has a home now. "We don't know how many people were killed in Marichjhnapi. There were so many," he says. According to him, things were difficult in Dandakaranya but not unbearable. "More than the lack of food, the Adivasis were the problem. They would harass us, they wanted us to leave their land. But we came away because Satish Mandal asked us to," he adds.
He regrets a little not going back to Dandakaranya. "All the families that went back are doing so well now. The land is better for crops. They have bikes and hardly speak Bengali," says Nimai. His neighbour, Matilal Gain, agrees. Another neighbour, Sati Sheel, who had gone back to Parolkot, now in Chhattisgarh, has recently returned. She is considered more prosperous than the others.
Did the violent removal of the refugees stop people from pouring in through the border? "Infiltration is not the same as the refugee problem," says Kanti Ganguly. But Bandyopadhyay believes that every migration is forced migration.
One thing is certain though. The eviction of the people of Marichjhnapi did not stop global warming from affecting the Sunderbans. The sea level is rising alarmingly and the Bangladesh Sunderbans are particularly prone to extreme climatic events. Even if we keep aside political concerns, what if there is a rush of climate refugees here? What is the state going to do?