Siddique Kappan walks free after two years and four months
43-year-old finally set free five months after Supreme Court granted him bail in a terror-and-sedition case and six weeks after Allahabad High Court gave the relief in a money-laundering case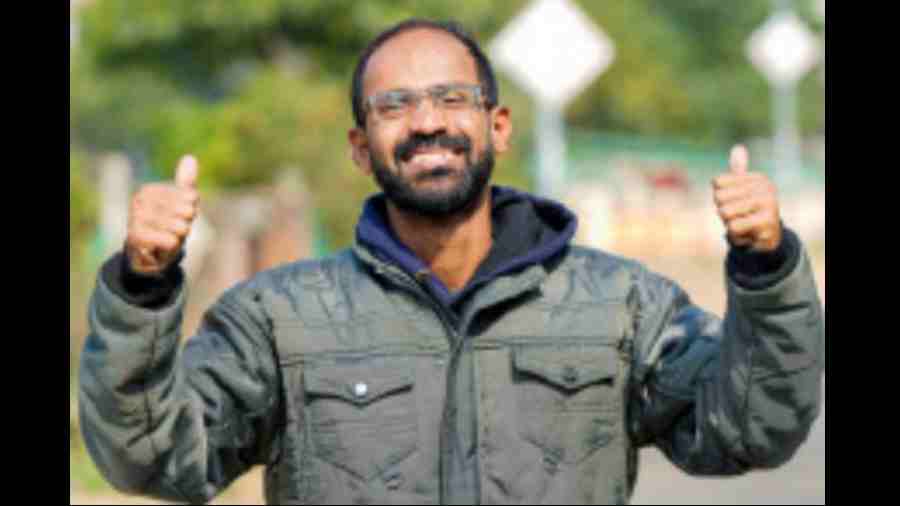 Siddique Kappan after his release in Lucknow on Thursday.
PTI picture
---
Lucknow
|
Published 03.02.23, 03:08 AM
|
---
Malayalam journalist Siddique Kappan, who has become a symbol of government crackdown on dissent, was at last freed on Thursday after 28 months in Uttar Pradesh jails, following the completion of all bail formalities.
An upbeat Kappan, who walked out of a Lucknow prison with a thumbs-up sign, said he remembered the beatings and the shabby treatment but also learnt two important things during his long incarceration.
He learnt to speak decent Hindi. And he learnt the value of freedom.
"I realise that I didn't know till October 5, 2020 (when he was arrested) what freedom meant. Now I know," the Delhi-based Keralite reporter told this newspaper.
Kappan, 43, has been finally set free five months after the Supreme Court granted him bail in a terror-and-sedition case and six weeks after Allahabad High Court gave the relief in a money-laundering case.
He spoke to The Telegraph outside a Lucknow hotel before flying to Delhi — where he has to stay the next six weeks as part of his bail conditions — with wife Raihanath, young son Muzammil and his lawyer, Mohamed Dhanish K.S. of Kerala. "I am out of jail after 28 months and am feeling happy. I thank the media for supporting me. False cases have been filed against me. I was never associated with the PFI (Popular Front of India, a radical outfit)," he said.
Kappan had been arrested in Mathura while travelling from Delhi to Hathras in Uttar Pradesh to cover the gang rape and murder of a Dalit teen, and booked on sedition, terrorism and other charges on the ground of planning to foment violence and unrest.
His three companions — co-passengers and students Atiq-ur-Rahman and Mohammad Alam, and cab driver Masood Ahmad — were arrested in the same case. They were all accused of being members of the PFI, which wasn't banned at the time but was later proscribed in September 2022.
Later, the Enforcement Directorate booked Kappan for alleged money-laundering.
Kappan told this newspaper that he had taken the two students along with him because they knew Hindi and he didn't.
"I didn't know Hindi at all at the time and would have been unable to communicate with the Dalit girl's parents. That was the reason I had accompanied two students of Jamia Millia Islamia in New Delhi who knew Hindi very well," he said.
He added with a smile: "I learnt Hindi in prison while interacting with other inmates."
'Torture'
"I still fail to understand what this government wants from me. They took me to Manth police station after intercepting me on my way to Hathras. First, the police forced me to admit that I was a Maoist sympathiser. They kept asking me this and slapped me continuously for about five minutes whenever I said 'no' to their question. They hit me on the knees and the soles of my feet," Kappan said.
"After a few hours, members of the anti-terrorist squad arrived. They asked me to admit that I was an Islamic terrorist. Whenever I said 'no', they slapped me on both cheeks for about five minutes before repeating the question.
"The special task force entered the scene after a month, when I was in Mathura district jail. They started saying that I was a member of the Popular Front of India".
Covid
Kappan said he fell unconscious in Mathura jail, and eventually tested positive for Covid on April 12, 2021.
"I was admitted to the Medical College, Mathura, where they kept me in metal handcuffs for seven days, allowing me to use the washroom only once during my stay. I urinated in plastic bottles," he said.
"I was shifted to AIIMS, Delhi, on April 28 on the orders of the Supreme Court, where the Kerala Union of Working Journalists (KUWJ) had filed a writ petition."
Kappan, secretary of the KUWJ's Delhi unit at the time of his arrest, was kept in Mathura jail for over a year before being shifted to a prison in Lucknow in December 2021 because of his deteriorating health.
"I am diabetic but didn't get proper treatment in Lucknow. There, we were treated by doctors and compounders who are themselves inmates, arrested for some or other crime. They treated the patients only half-heartedly," he said.
"Despite my repeated requests for something to read in Malayalam or English, the jail authorities kept providing me with Hindi books."
Kappan cannot read Hindi even now, he has only learnt to speak the language.
A senior state police officer, who didn't want to be named, said: "There are definitely problems in our jails but nobody should expect everything to be ideal around them in prison."
Release
The Supreme Court had granted Kappan bail in September 2022, asking the state government during hearing of the bail plea: "Every person has a right to freedom of expression. He is trying to show that (Hathras) victim needs justice and raising a common voice. Will this be a crime in the eyes of law?"
But Kappan had to remain in jail because of the money-laundering case, in which he eventually got bail on December 23 from the Lucknow Bench of Allahabad High Court.
The special court hearing the money-laundering case then asked Kappan to furnish two sureties of Rs 1 lakh each. After this was done on January 9, the court ordered verification of the identities of the persons who had stood surety. This was completed on Wednesday.
Rajendra Singh, jailer at the Lucknow prison, said: "We received his release order from the court on Wednesday and released him after legal formalities at 9.15am on Thursday."
Kappan and the other three were booked for sedition (IPC 124A), promoting enmity between groups (153A) and outraging religious feelings (295A), and under provisions of the anti-terror Unlawful Activities (Prevention) Act and the Information Technology Act.
While cab driver Masood has secured bail, the two students are still in jail.
Asked about his jailed companions, Kappan agreed that he had been "luckier" than them, adding that this was perhaps because he was a journalist and had the support of many citizens and organisations.
'Two pens'
PTI reported that to a question about what recoveries the police had made from him, Kappan told the media: "Nothing... I had only a laptop and mobile."
Asked about reports that some objectionable materials too had been found on him, he said: "Two pens and a notepad."
During his jail stay, his mother died. Kappan had earlier been allowed to travel to Kerala and meet her when her health deteriorated.
"The Supreme Court granted bail in the UAPA case and his innocence was revealed…. We have experienced a lot of pain and suffering. But I am happy that justice, though belated, has been served," wife Raihanath said.
"Our children are waiting to welcome him home…. They are proud to say that Siddique Kappan, a journalist, is their father."