Torture cry in Kashmir
'The government is saying that it is saving people. No, they are ruining us,' says father of minor son who was taken away by security forces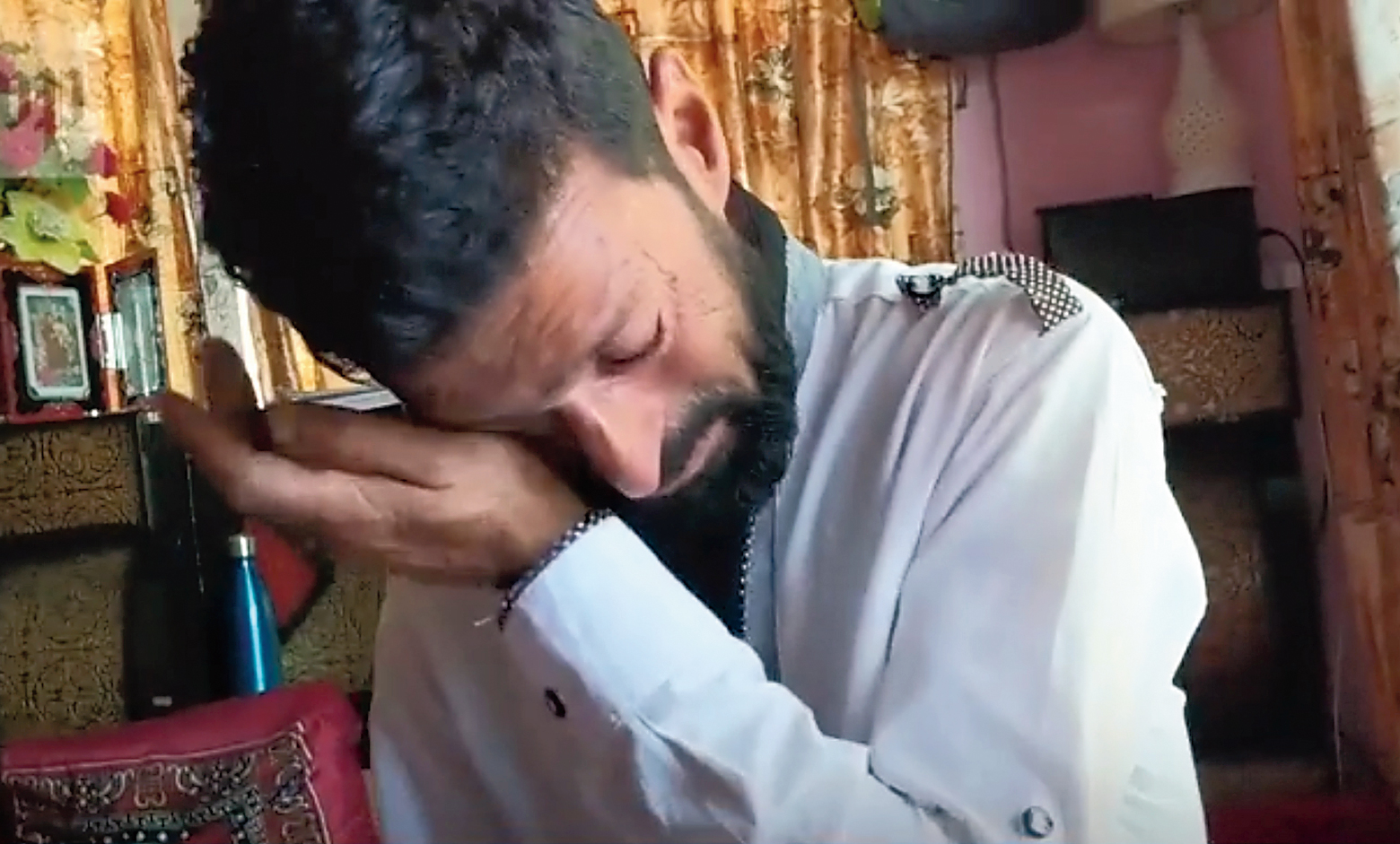 Mir in the The Washington Post video
(Screengrab from video)
---
New Delhi
|
Published 01.09.19, 10:16 PM
|
---
Reputable international media organisations are reporting instances of alleged torture and detention through home intrusion in Kashmir since the August 5 lockdown that has also impeded newsgathering.
The Washington Post last week uploaded a video in which a Kashmiri is seen breaking down and recounting how his minor son was taken away by security forces.
The interview with the father, Nisar Ahmad Mir, was recorded on August 26, two days after the boy was allegedly taken away. Given the clampdown on communications in Kashmir, the report was filed on August 29, making datelines redundant for journalists reporting out of Kashmir. It is not known if the boy had been released since then.
According to Mir, the police came around midnight. "The SHO asked me how many sons I had. I told him three. As the policemen searched the rooms, I told them no one will run away from here. I called my kids to come and present themselves to the police. I could have hidden them away earlier but when we have not done anything wrong, then why should we be scared. After they threatened us, I sent my son with the police. My wife followed them to the police station. It was past midnight…."
Mir added: "The government is saying that it is saving people. No, they are ruining us. The police are telling us that they have orders to pick up boys and not spare anyone. This is goonda raj, this is not rule of law."
The BBC reported that 13 men were tortured and beaten. The channel's reporter spoke to two brothers who did not reveal their faces or identities but showed what looked like torture marks. Nor was there any indication of which part of the Valley they are from.
"They kicked us, hit us with rods and cables and gave us electric shocks. We asked them why they were beating us. But they didn't say anything. They just kept beating us…. When we fainted, they would give us electric shocks. We would regain consciousness. They would put mud in our mouths to stop us from screaming. We even told them to shoot us as the torture was unbearable," one person told the channel.
Another person said that one of his captors tried to set his beard afire.
The BBC sought the army's response to the allegations. The Indian Army, in a written statement, said: "The allegations are baseless and unsubstantiated. The Indian Army has not manhandled any civilian as alleged."
Earlier, in spite of the government's denials, the BBC had stood by a report on protests in Kashmir.