Bhima Koregaon case: shocking data forensics report
The finding by Massachusetts-based Arsenal Consulting has been filed as part of a plea to quash the case against Rona Wilson and his co-accused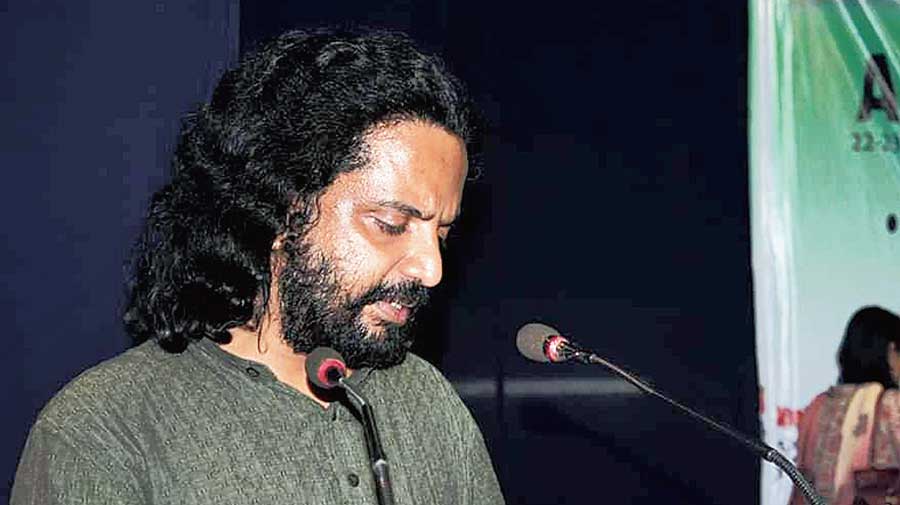 ---
New Delhi
|
Published 11.02.21, 01:00 AM
|
---
Lawyers for a human rights activist who has spent almost three years in prison for alleged plots to incite violence and eliminate Prime Minister Narendra Modi have given Bombay High Court a data forensics report that concludes evidence had been planted in his computer.
The report has been filed as part of a plea to quash the case against Rona Wilson and his co-accused in what has come to be known as the Bhima Koregaon case.
Wilson, who belongs to the Committee for the Release of Political Prisoners, and 15 others are in judicial custody in Maharashtra. The undertrials include Stan Swamy, an 83-year-old priest, and Sudha Bharadwaj, lawyer and trade unionist.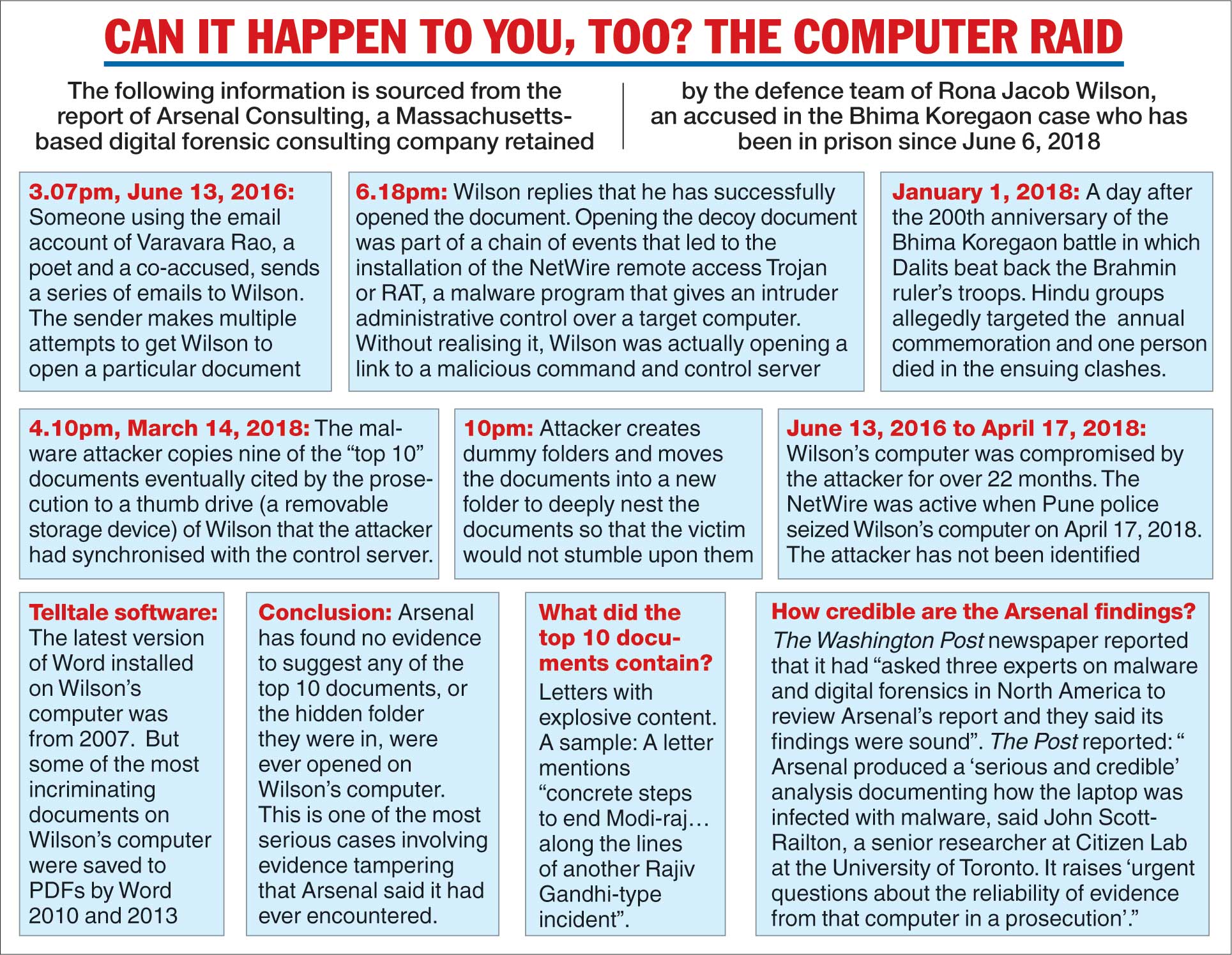 Many of the detainees are elderly academics, lawyers and rights activists, and several of them have chronic ailments.
The case, which has drawn international attention, is being handled by the National Investigation Agency (NIA), which reports to the Centre.
The report of the Massachusetts-based Arsenal Consulting, which has been filed in the court, says Wilson's computer — which Pune police had seized from his Delhi home in April 2018 -- was compromised for almost two years before it was seized.
"Arsenal connected the same attacker to significant malware infrastructure which has been deployed over the course of approximately four years to not only attack and compromise Mr Wilson's computer for 22 months but to attack his co-defendants in the Bhima Koregaon case and defendants in other high-profile Indian cases as well," the report says.
Last year, rights group Amnesty International and University of Toronto's Internet watchdog Citizen Lab had revealed that in 2019, a coordinated spyware operation was used to target at least nine human rights defenders, eight of whom are campaigning for the release of the Bhima Koregaon detainees.
Also in 2019, Israeli spyware Pegasus — sold only to governments — was discovered to have been used to spy on human rights defenders by penetrating their mobile phones via WhatsApp.
Facing persistent questions in the Rajya Sabha that year, communications and IT minister Ravi Shankar Prasad told the House: "To the best of my knowledge, no unauthorised interception has been done."
The Arsenal report is authored by Mark Spencer, the president of the company which had investigated several cases of terrorism, including the Boston Marathon bombing in 2013, for US agencies.
The report adds: "It should be noted that this is one of the most serious cases involving evidence tampering that Arsenal has ever encountered, based on various metrics which include the vast time span between the delivery of the first and last incriminating documents."
The most explosive revelation of the prosecution in a Pune court in 2018 was a letter found in Wilson's computer.
Public prosecutor Ujjwala Pawar had read out a part of it in court: "We are thinking along the lines of another Rajiv Gandhi-type incident. It sounds suicidal and there is a good chance that we might fail, but we feel that the party PB/CC must deliberate over our proposal. Targeting his road-shows could be an effective strategy."
The letter, signed "R", is addressed to "comrade Prakash". Arsenal has found this letter to have been planted in a hidden folder by malware that also enabled the attacker to spy on Wilson.
Arsenal's analysis was done on a digital copy of Wilson's laptop hard disk, and a pen drive seized by the police. The attacker has not been identified yet. In all, 52 files were planted on Wilson's computer, the jailed activist's plea said.
The NIA took the case over from Pune police early last year, as soon as the BJP had lost power in Maharashtra. The agency spokesperson did not respond to a call, nor to queries on the report WhatsApped by this newspaper.
NIA sources have said that besides the purported electronic proof, the agency has other forms of evidence, such as witnesses, which it would present once the trial begins.
In 2018, UN human rights experts said that terrorism charges in the case "are being used to silence human rights defenders who promote and protect the rights of India's Dalit, indigenous, and tribal communities".