Sharing bhog & confidence in Jamshedpur
More than 20,000 people attended the bhog ceremony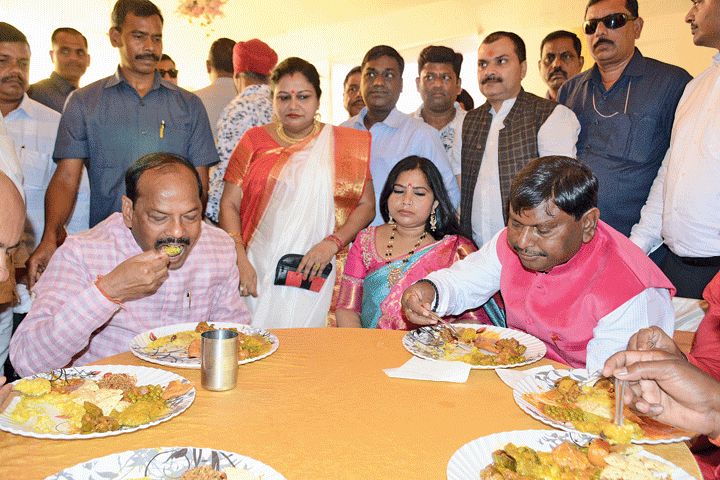 ---
---
Chief minister Raghubar Das partook of the Kali Puja bhog at Union tribal affairs minister Arjun Munda's ancestral home in Ghorabandha, some 15km from the steel city, on Tuesday and the two leaders said they were confident of the party returning to power in the state.
The puja feast included khichdi, fried potatoes, fried brinjal, mixed vegetables, papad, paneer and kheer.
"There are several leaders from other political parties impressed with the leadership skills of Prime Minister Narendra Modi are trying to join BJP," said Das before going with Munda and the Union minister's better half, Meera Munda, to enjoy the meal.
"People of the state are with us as they have seen us deliver on all fronts. We will be returning with thumping majority in the Assembly," the chief minister added.
Hussainabad BSP MLA Shiv Pujan Mehta met Das at the chief minister's Agrico residence in Jamshedpur on Sunday. Though the visit was described as "routine" to exchange greetings, it has sparked speculation.
Das claimed that MLAs are joining the BJP on their own accord. "The BJP does not accept any condition," said Das before leaving for Ranchi in the afternoon.
Arjun Munda, who has been hosting the Kali Puja feast for nearly two decades, refused to read much into the Haryana and Maharashtra election results. "We are on way to form government in Haryana and Maharashtra and we have improved our vote share percentage in Haryana. I am confident... we will return to power comfortably in Jharkhand," he said.
He said that the BJP leadership would decide on giving poll tickets to the defectors from other parties.
Saryu flutter
State food and civil supplies minister and Jamshedpur West MLA Saryu Roy, known for raising voice of dissent against the chief minister, created a flutter at the bhog ceremony.
"Going by the huge crowd and number of MLAs from BJP who have turned up at the Kali Puja bhog ceremony it appears that Arjun Munda is by far the most popular leader of the state," said Roy. It was seen as another bid to undermine Das in the party.
"The timing of the statement — when it is almost certain that the next election would be fought with Raghubar Das as CM candidate — is an attempt to underline groupism among BJP MLAs," a senior BJP leader told The Telegraph.
More than 20,000 people attended the bhog ceremony. Prominent among those present included Tata Motors Jamshedpur plant head Vishal Badshah, Tata Steel vice-president (safety, health and sustainability) Sanjiv Paul, Jusco MD Tarun Daga, cabinet minister Raj Paliwal, Jamshedpur MP Bidyut Baran Mahto, Dhanbad MP P. N. Singh, and a host of MLAs.