Shaheen calls PM for tea
The protesters believe that the Prime Minister needs to hear them out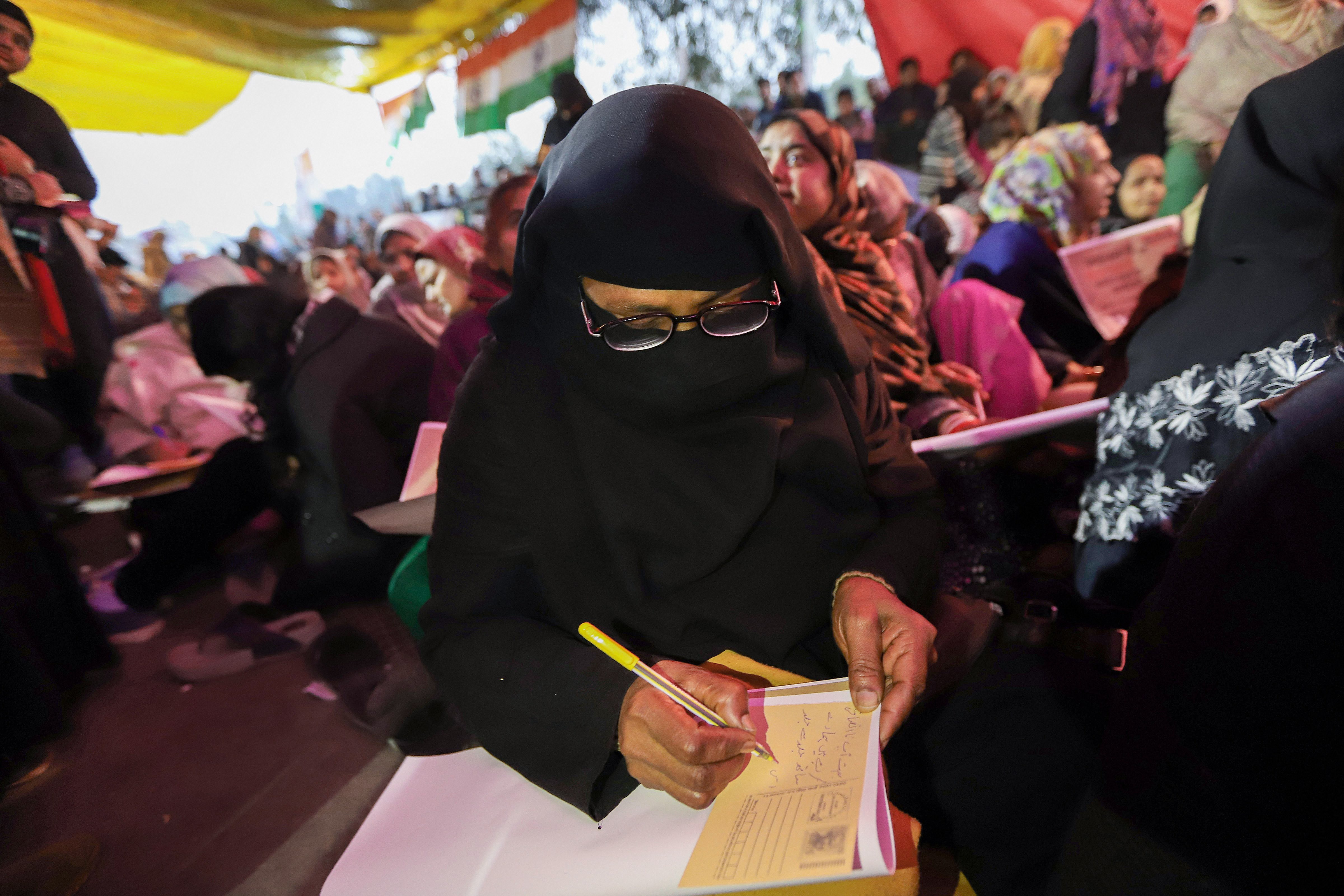 A woman writes a message on a postcard addressed to the Prime Minister during a demonstration against the citizenship (amendment) act and the NRC at Shaheen Bagh on Saturday
(PTI)
---
New Delhi
|
Published 18.01.20, 09:51 PM
|
---
If the Prime Minister fancied a steaming cup of tea on a cold January evening, he could have visited Shaheen Bagh on Saturday. Except that it would have been served with a lot of scalding hot questions.
The largest and lengthiest women-led agitation in the country against the Citizenship (Amendment) Act invited Narendra Modi to tea from the open stage in the evening.
The protesters believe that the Prime Minister needs to hear them out and understand why they are occupying a road on the Yamuna's banks for more than a month now.
Modi, who had participated in several "Chai Pe Charcha (Talk over Tea)" events during the 2014 Lok Sabha campaign to underline his avowedly humble beginnings as a tea seller, did not turn up. But many people from across the National Capital Region, even the odd film industry personality from Mumbai, did.
Shaheen Bagh resembled a carnival with its art installations, open library and voluntary kitchens. The protesters kept breaking into impromptu speeches.
Opposite a 35ft-tall steel map of India that students from Jadavpur and Visva-Bharati universities had prepared and decorated with slogans against the new citizenship regime, stood a young professional, M.H. Raza, saying this was one place he was happy flaunting his patriotism.
"Nowadays, even when Muslims go for Haj, they carry the Tricolour along. Never before had they been so desperate to prove their patriotism. This place is an inspiration because we are finally coming out on the streets to reclaim the patriotism that was always ours," he said.
"The PM may not come but protests like Shaheen Bagh have put his government on the back foot. Every day a minister says something different…. Amit Shah says there will be an NRC; Modi says 'We haven't talked about it yet'; one minister says 'You don't need papers', others say 'You don't need to be persecuted (in a neighbouring Muslim country) to get citizenship'. The sixth year of the regime is not over and they have already run out of reasons to rule us."
Shaheen Kausar, one of the women leaders of the protest, told this newspaper: "When he brought in the triple talaq bill, he (Modi) had said he had so much sympathy and respect for Muslim women. Where is his sympathy when women are out here for 34 days, even on nights when the temperature falls below two degrees. He has not even sent a representative to meet us."
Shaheen Kausar added: "All communities are here to listen to his Mann Ki Baat (an allusion to Modi's monthly radio broadcast)…."
Bollywood actor Sushant Singh and his wife Molina, a classical dancer, were among the visitors to Shaheen Bagh on Saturday night. Singh has participated in the protests in Mumbai and is one of filmdom's faces of resistance against the new citizenship regime.
"Those who have been invited will come, don't worry. Whether our achchhe din (good days, as Modi had promised during the 2014 campaign) comes or not, theirs will," he said to cheers from those that got his sarcasm.
Referring to an unverified video where a man claims the protesters are being paid, he said: "When I jumped into this struggle, I was told to think about it. You don't know what you may have to sacrifice…. No one paid us to come here. Oh yes, they gave us a cup of coffee and offered us water, and a cauldron full of love."
Sameeksha, a filmmaker who led a group of students from Ambedkar University, said: "No one chooses to sit in the cold."
Most of the women students had not told their parents that they would be at Shaheen Bagh.
"There's been a lot of discussion in our classes about the different sections of society affected by the act…. We know we are judged by our simple act of coming here, so we try to bring along fresh faces every time so they can see for themselves what's going on," Shivam, an alumnus who was part of the group, said.
An employee of a law firm stood in the crowd watching groups of protesters walk the length of the road, stopping to hear the voices in every huddle.
"Earlier, I had kept silent when spammed with communal WhatsApp forwards. Now I have started to reply with facts, articles and answers," he said. "Shaheen Bagh has given us a voice; the silent majority cannot afford to remain silent any more." He wanted to be identified only by his citizenship: "Indian."