Secret trips to West Asia
Doval's visits seek to balance ties with Israel and Iran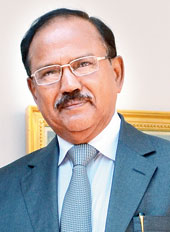 ---
---
New Delhi, Sept. 6: National security adviser Ajit Doval made secret trips to Israel and Iran in late August as part of a diplomatic thrust into West Asia that seeks to balance ties with the two rivals.
Doval visited Israel's biggest nuclear facility, two senior officials independently confirmed to The Telegraph. In Iran, they said, Doval asked about the possibility of India's navy using the Chabahar port on the Gulf of Oman.
In both countries, Doval also discussed key upcoming visits. President Pranab Mukherjee is expected to visit Israel next month, while Prime Minister Narendra Modi may travel to both Israel and Iran within the next one year.
Doval's visits followed Modi's United Arab Emirates trip on August 16-17. They have not been made public because of the sensitive nature of the subjects he took up and the tensions that divide West Asia, the officials said.
But the secret trips underscore India's focus on developing a blueprint for strategic cooperation with West Asia, something foreign secretary S. Jaishankar had first hinted at in July after delivering a lecture in Singapore.
Doval's visits came amid a more public embrace by the Modi government of both Israel and Iran than India has witnessed in recent years, sparked by a growing recognition that some diplomatic balance between the two is critical for New Delhi's West Asia interests.
"You cannot sustain, in the long term, Indian interests in West Asia without maintaining strong relations with both Israel and Iran, and also with the Gulf countries," Talmiz Ahmed, former Indian ambassador to Saudi Arabia, Oman and the UAE, said from Dubai. "Let us reject the notion that India has to pick a side. It does not."
Doval is known to have made secret visits to conflict zones like Iraq for sensitive negotiations aimed at securing the release of trapped Indians, including nurses and workers held captive by the Islamic State. But his trips to Israel and Iran had a different context.
Israel, like India and Pakistan, is a known nuclear power that is not a signatory to the Non-Proliferation Treaty. Unlike India, though, Israel has not separated its civilian and military nuclear facilities -- and it's rare for a country to take a visiting national security adviser to a closely guarded strategic asset like the Negev nuclear facility near Dimona, 35km off the Dead Sea.
Tel Aviv is believed to have started the nuclear reactor in the late 1950s with French assistance, but very little is formally known and confirmed about its nuclear programme.
The airspace above the facility is closed. A Libyan civilian plane was shot down by Israeli troops in 1973, killing 108 passengers, after it refused to change its course.
Doval's visit to the facility points to the deepening strategic trust between India and Israel although officials remain unwilling to confirm explicitly any plans for formal nuclear cooperation.
Dimona is home to the largest Indian-origin population in Israel -- over 7,500 Indian-origin Jews --- and Modi is likely to visit the city when he travels to that country.
In Iran, India had committed in May to investing $200m to develop the Chabahar port. Officially, India wants to use the port only for transit and trade, as a gateway to land-locked Central Asia.
But in meetings with Iranian officials during his visit, Doval discussed the possibility of a more long-term base for the Indian navy, a dramatic proposal that could not have been made on a trip known publicly.
Doval's secret visits followed a meeting between Modi and Iranian President Hassan Rouhani in Ufa, Russia, on the margins of the Shanghai Cooperation Organisation summit there in July where they agreed to "significantly upgrade the bilateral relationship". Iranian foreign minister Javad Zarif visited India last month.
Modi also met Israeli Premier Benjamin Netanyahu in New York last September, on the sidelines of the United Nations General Assembly. Later, on Netanyahu's birthday, Modi wished him publicly on Twitter, calling him his "friend".
Israel's defence minister, Moshe Ya'alon, is expected to make a second trip in one year to India by December. He had also visited in February.
Doval's trips are of a piece with the Modi government's larger West Asia focus in recent months.
In April, New Delhi had led evacuation efforts from war-torn Yemen, pulling out not only 4,600 Indians but also over 1,000 people from 25 other countries. Diplomats here have described the initiative as emblematic of Modi's hopes about a more assertive role in the region.
On July 20, answering questions at a Singapore think tank where he had just delivered a lecture, Jaishankar hinted that the government was preparing a blueprint for West Asia.
"A country like India will set out its own goals for different parts of the world, and we will come up with something for the Middle East as well," Jaishankar had said.
Modi made his first trip to the region last month, visiting the UAE before India hosted the Emirati foreign minister this past week.
Romancing Israel and Iran simultaneously, though, is tricky. Israel has been the most vocal in criticising the US and other global powers for striking a nuclear agreement with Iran, under which sanctions against Tehran may be eased.
But it can be done, Ahmed argued.
"Is it a diplomatic challenge? Yes," the former diplomat said. "Is it impossible? Not at all."