Scientists decry cow dung 'anti-radiation' claim
Experiments by Saurashtra University represent a 'classic example' of a study designed to reach a predetermined conclusion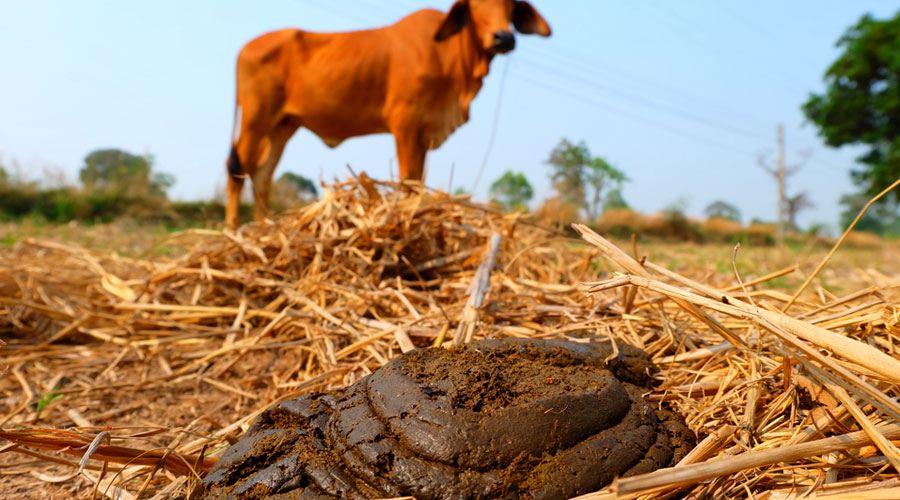 The experiments purportedly showed that cow-dung cakes partially blocked radiation from radioactive caesium.
Shutterstock
---
New Delhi
|
Published 26.01.21, 02:47 AM
|
---
A group of Indian scientists has decried a Union government agency's invocation of experiments by physicists at Gujarat's Saurashtra University to claim cow dung can shield people from radiation.
The experiments purportedly showed that cow-dung cakes partially blocked radiation from radioactive caesium. The Rashtriya Kamadhenu Aayog, a unit under the Union fisheries, animal husbandry and dairying ministry and tasked with cow conservation, has cited these findings to support a claim made last October by its chairman, Vallabhbhai Kathiria, about cow dung being "anti-radiation".
The scientists said on Monday that the experiments represent a "classic example" of a study designed to reach a predetermined conclusion, and that they are "sad to see" physics teachers in a state university willing to indulge in pseudoscience.
Some have likened the cow-dung study by the Saurashtra University physicists to "papers" on heaven and hell published by scientists in Pakistan in the 1980s during the reign of Zia-ul Haq.
Parallels have been drawn with what Pakistani physicist Pervez Hoodbhoy had documented in Pakistan during the 1980s. One university professor of physics in Pakistan had written a paper on the speed at which heaven was departing from Earth and another scientist had published a paper on the temperature of hell, Hoodbhoy had once recalled to this newspaper. 
"Both (the Indian instance now and the Pakistani parallel decades ago) illustrate cases of academics betraying their training to please political dispensations," said Aniket Sule, an astronomer at the Homi Bhabha Cent­re for Science Education, Mumbai.
Sule was among the 600-odd scientists from across the country who had last October questioned Kathiriya's claim, made at a media conference.
"Cow dung protects everybody. It is anti-radiation. It prevents radiation. If it comes home, the entire home will be eco-friendly, free of radiation. This has been proven through science," Kathiriya had said.
He had then held up a device that he claimed could be used to reduce radiation from mobile phones.
In response to the challenge from the scientists, Kathiriya wrote back asserting that cow dung was "radio-protective". He attached a single-page document describing how the experiments at Saurashtra University had shown that cow dung cakes can partially block radiation.
In the experiments, Saurashtra University physics teachers used a radiation counter to show how hexagonal, spherical and chip-shaped cakes of cow dung blocked about 50 per cent of radiation.
The scientists, in a public statement on Monday, underlined flaws in the experiment's design, highlighting that it lacked "controls" to determine how other substances would impact the radiation.
What would have happened if instead of using cow-dung cakes, the experimenters had used camel-dung or donkey-dung cakes, the scientists asked.
"Without these comparisons, the data only points to the fact that introducing some solid partition in the path reduces the (radiation) count," they said.
The scientists also underlined that radioactivity is a statistical phenomenon and that experiments measuring radiation counts require multiple readings, not single readings.
They added that the experiments had not shown any meaningful difference in radiation counts when the cow-dung cakes' thickness changed – something that should have occurred if cow dung indeed blocked radiation.
"Either they (the experimenters) are themselves ignorant about the flaws in their study or they are willingly peddling such a false narrative for petty favours," the scientists said in the statement, signed by the Breakthrough Science Society, a non-government network of researchers across the country.
"We resent the use of a section of the academic community to peddle pseudoscience."
Soumitro Banerjee, professor of physics at the Indian Institute of Science Education and Research, Calcutta, said the claim on cow dung and radiation could not be ignored because it came not from "fringe groups" but from a central government agency.
"This has a detrimental effect on the health of science," Banerjee said. "Some scientists are likely to divert attention to cow dung research because it is easy to get funding support for that topic."
Sule said that to enhance public understanding of science, the scientific community needed to voice its opposition to misleading claims.